Paris' Palais de Tokyo reopens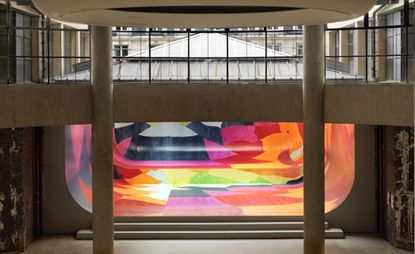 (Image credit: Andre Morin)
Wallpaper* Newsletter
Receive our daily digest of inspiration, escapism and design stories from around the world direct to your inbox
Thank you for signing up to Wallpaper. You will receive a verification email shortly.
There was a problem. Please refresh the page and try again.
Last Thursday the Palais de Tokyo reopened its enormous doors. And they remained open for 28 hours straight. The extended free access - complete with eclectic round-the-clock programming - was the first glimpse at a major expansion project that adds 14,000 sq m to an already impressive destination for contemporary art in Paris.

Interestingly, the expansion was not a new build; rather it was an existing space, dating back to 1937, that had been closed off from the public for three decades. The architecture firm of Lacaton & Vassal was responsible for the overhaul, which primarily focused on filling the cavernous lower level with natural light from clerestory windows and adding a train station-style glass roof to the main gallery. Unlike most cultural spaces in Paris, which are funded by the city, this one was supported by the French state.

In French a makeover is known as a 're-looking', and this strikes as a better, if not more conceptual, way to understand the recent changes as the Palais de Tokyo still comes across as very much unfinished. A massive suspended sculpture by Peter Buggenhout, incorporating twisted bits of metal and other industrial materials, appears as if it's a remnant from the construction, preserved for posterity. Walls are still unpainted and it was unclear whether a pile of timber, cordoned off by caution tape, was rubbish or an art installation (likely the former).

Which is not to dismiss the extensive contribution of Lacaton & Vassal, who also oversaw the building's first major renovation in 2002. Speaking to W*, Lacaton said that as a continuation of their first 'intervention', they wanted to explore the possibilities of the space and explore its full potential and capacity. Of the windows, Lacaton says, 'It gives a quality of transparence. There's now a certain lightness and even fragility.' She adds that the inherent beauty of the space allows it to maintain an 'in-progress' look and feel. 'My wish is that after every exhibition, it would become empty and then recomposed again,' she states. 'There is a real freedom of use.'

Compared with museum projects that strive for in-your-face architectural impact, this state of rawness feels just about right. On Friday afternoon, with ten hours still left in the public view, new president and longtime curator Jean de Loisy proudly quipped in a mock Italian accent that the look was 'brutta, brutta!' (Translation: ugly.)

Among the various artists invited to create site-specific works within the 22,000 sq m space, W* 2011 guest editor Christian Marclay stole the show with his stained-glass comic-strip windows near the entrance, which explode with 'shrruuuuf', 'splorch', 'kra-sakk!' There's also an intricate interpretation of the Big Bear constellation in twine and black light by Julien Salaud entitled 'Grotte Stellaire' (star-studded cave) in one of the basement rooms.

Windows facing out to a courtyard shared with the Musée d'Art Moderne are currently covered in culturally charged text illustrations by Dan Perjovschi, further proof of windows as art medium. One reads: 'A history of mankind, from Big Bang to Big Mac.'

The Palais de Tokyo will officially open on 20 April, with 'Intense Proximity', a Trienniale exhibition. A second restaurant to complement the existing café, Tokyo Eats, is forthcoming, as is a 400-seat screening room.
ADDRESS
13, avenue du Président Wilson
75116 Paris
Receive our daily digest of inspiration, escapism and design stories from around the world direct to your inbox