Bosco Sodi's recipe for Brussels sprouts
Gather round for Bosco Sodi's simple yet imposing recipe for Brussels sprouts.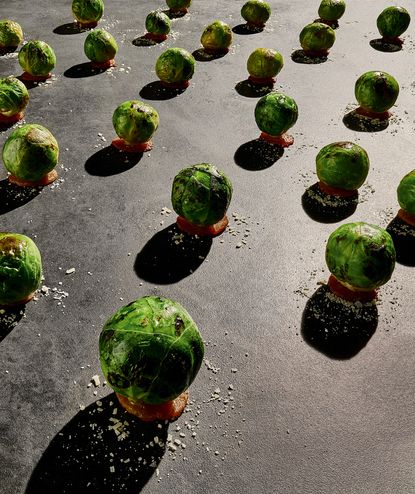 (Image credit: Photography: Neil Godwin)
Mexican artist Bosco Sodi devised his recipe for Brussels sprouts, which calls for Parmesan cheese, bacon and cherry tomatoes, 'one time when there wasn't much to choose from in the fridge'. 'It's quick and healthy, and is excellent paired with good bread and wine,' he tells us. With its alluring charm and embrace of serendipity, the dish calls to mind the artist's monumental spheres, handcrafted from local clay at his Casa Wabi art centre in Oaxaca, Mexico. Fired in a makeshift kiln on the beach to achieve terracotta-hued, cracked and scorched surfaces, these primordial, planetary forms celebrate the endurance of traditional craft and the beauty that can be found in imperfection.
As featured in our monthly Artist's Palate (opens in new tab) series, a Wallpaper* homage to our favourite contemporary art
Bosco Sodi's recipe for Brussels sprouts with Parmesan cheese, bacon and cherry tomatoes
6 bacon slices
olive oil
600g Brussels sprouts
125g butter
300g cherry tomatoes, halved
1 tbsp Dijon mustard
red wine vinegar
50g Parmesan cheese, grated
Method
Fry the bacon in olive oil until it is crunchy, then remove and dab with a paper towel to soak up the fat. Cut the bacon into small pieces. Cut each sprout into four pieces, then fry in butter until they are brownish on the outside. Add the cherry tomatoes and mustard and fry for about 4-5 minutes, gently mixing the tomatoes with the sprouts. Stir in the bacon pieces, then transfer everything to a plate. Add a little extra virgin olive oil and some red wine vinegar and mix together. Top with Parmesan. Ready to eat!!!

Bosco Sodi's solo show, titled 'What goes around comes around' and including specially created new works, will take place at Venice's Palazzo Vendramin Grimani, Venice, 20 April – 27 November 2022, boscosodi.com (opens in new tab)
A version of this article appears in the April 2022 issue of Wallpaper*, on newsstands now and available to subscribers
TF Chan is a former editor of Wallpaper* (2020-23), where he was responsible for the monthly print magazine, planning, commissioning, editing and writing long-lead content across all pillars. He also played a leading role in multi-channel editorial franchises, such as Wallpaper's annual Design Awards, Guest Editor takeovers and Next Generation series. He aims to create world-class, visually-driven content while championing diversity, international representation and social impact. TF joined Wallpaper* as an intern in January 2013, and served as its commissioning editor from 2017-20, winning a 30 under 30 New Talent Award from the Professional Publishers' Association. Born and raised in Hong Kong, he holds an undergraduate degree in history from Princeton University.
With contributions from