Artist's Palate: Cindy Sherman's gnocchi with sage and butter sauce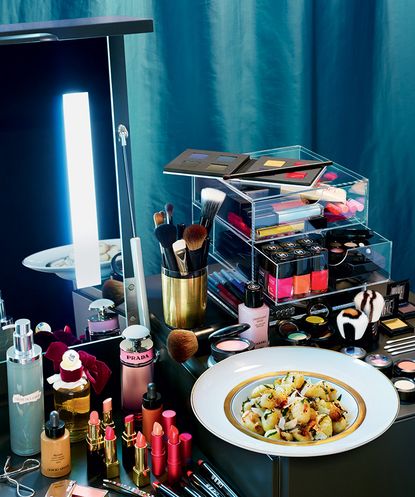 (Image credit: John Short)
Wallpaper* Newsletter
Receive our daily digest of inspiration, escapism and design stories from around the world direct to your inbox
Thank you for signing up to Wallpaper. You will receive a verification email shortly.
There was a problem. Please refresh the page and try again.
Cindy Sherman is the conceptual portrait photographer with herself as sole subject, lauded by Billy Bragg in Cindy of a Thousand Lives. At once photographer, model, make-up artist, hairdresser, stylist and wardrobe mistress, she's also a dab hand with a ball of potato and flour. 'This step is more complicated to explain than it is to execute,' she warns when describing how to use a floured fork to make her gnocchi crescent-shaped and ridged – the better to catch extra sauce. Her images of film-noir starlets, porn models, hitchhikers, clowns, socialites and Old Master milkmaids all require viewing rather than explaining. They can be funny and grotesque, disturbing and nostalgic – and frequently sunburned.

Ingredients
Serves 4
1.5lb potatoes, preferably organic (not Idaho potatoes or new potatoes)
1 cup all-purpose flour
⅔ cup freshly grated Parmesan
(For the sauce)
1 tbs butter
minced shallot
½ tsp freshly chopped sage

Method
Boil the potatoes, unpeeled, in abundant water. Do not test too often by puncturing them with a fork or they will become waterlogged. When cooked, drain and peel as soon as you can handle them. Purée through a food mill or potato ricer while still warm.

Add most of the flour to the mashed potatoes and knead into a smooth mixture. Stop adding flour when the mixture is soft, smooth and still slightly sticky. If you add too much flour and knead it too long, the gnocchi will be tough; too little and the dough will be hard to work with.

Let the dough rest for a few minutes, covered (I use an upside-down bowl). Working in batches, shape into sausage-like rolls about as thick as your thumb, then cut the rolls into ¾in lengths. I usually then roll each piece slightly to form a ball.

Take a fork with long, rounded slim prongs. Working over a counter, hold the fork sideways, with the prongs pointing from left to right (or right to left) and with the concave side facing you. With the other hand, place a dumpling on the inside curve of the fork just below the points of the prongs and press it against the prongs with the tip of the index finger pointing directly at and perpendicular to the fork. While pressing the dumpling with your finger, flip it away from the prong tips and toward the handle of the fork so that you're slowly and gently rolling over the tines. It helps if the tines are floured.

As it rolls to the base of the prongs, let it drop to the counter. The dumpling will then be somewhat crescent-shaped, with ridges on one side formed by your fingertip. This is not just a capricious decorative exercise. It serves to thin out the middle section of the dumpling so that it will cook more evenly, and to create the little grooved traps in its surface for the sauce to sink into and make the gnocchi tastier.

After making about 4-6 of these, I roll them in a bowl of semolina flour to coat, and lay each batch on a cloth to rest until I'm done with them all. Melt the butter in a medium-sized skillet. Sauté the shallots for 2 minutes, then add the sage. Drop the gnocchi (as many portions as you like so long as they're not crowded) into 4 quarts or more of boiling salted water. In a very short time they will float to the surface. Let them cook just 8-10 seconds more, then lift out with a slotted spoon and transfer to the skillet. Toss with the sauce, then put in bowls. Grate over some Parmesan, and grind a little pepper on the top. Serve hot.
INFORMATION
Photography: John Short. Interiors: Maria Sobrino: Food: Nicolas Ghirlando
Receive our daily digest of inspiration, escapism and design stories from around the world direct to your inbox