Artist's palate: Charles Gaines' Southern-style candied yams
Try out this recipe from artist Charles Gaines, which sits somewhere between candied yams and sweet potato pie, as featured in our monthly Artist's Palate feature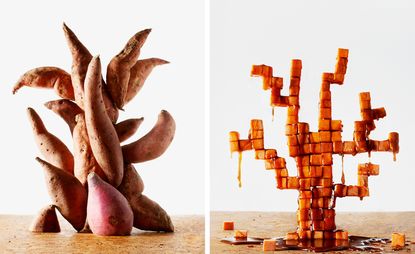 (Image credit: Nicolas Polli)
A groundbreaking conceptualist and educator, American artist Charles Gaines explores how art can conform to systems, and work against them. Employing rules-based processes, he generates grid-like compositions, often involving the structures of trees, faces, music and language. Gaines attributes his detailed formula for Southern-style candied yams to his mother, Amelia. 'It is tricky because I couldn't get exact measurements from my mom, but came up with my own proportions that come close in taste to my mom's yams,' says Gaines, who was born in Charleston, South Carolina. 'It is traditional Southern-style, but the difference is the use of milk, [which is] not usual in a Southern yam recipe'. The resulting sweet-meets-root vegetable flavour sits somewhere between candied yams and sweet potato pie.
Ingredients
5 medium-sized yams (or sweet potatoes)
8 tbsp salted butter
1 tsp ground cinnamon
¼ tsp ground clove
½ tsp ground nutmeg
¼ tsp ground ginger
1 cup brown sugar
3/4 cup granulated sugar
1 tbs pure vanilla extract
½ cup heavy cream (or double cream)
Method
Preheat the oven to 350 degrees F/180 degrees C.

Boil the yams until the skins loosen and the yams are slightly softened but still firm. Allow to cool just enough to be able to handle them and then peel off the skin. (They should be easy to peel at this point, with the skin coming off with little effort.) Cut the yams into ½in slices and place in a 8"'x12" baking dish, layered in rows like fallen dominos.

Melt the butter in a pan. Once melted, turn off the stove and add the cinnamon, clove, nutmeg, ginger, ½ cup brown sugar, ½ cup of granulated sugar and vanilla extract, then mix all together. In a separate bowl, mix ¼ cup granulated sugar with the cream, then add this to the candied mixture.

Pour the candied mixture over the yams, cover the dish with foil and cook for 25 minutes, then remove from the oven and baste the yams with the candied mixture. Sprinkle the top with the remaining brown sugar, then cover and return to the oven for another 20 minutes.

Allow the dish to sit for ten minutes before serving.
RELATED STORY
* As featured in our monthly Artist's Palate feature
Harriet Lloyd-Smith is the Arts Editor of Wallpaper*, responsible for the art pages across digital and print, including profiles, exhibition reviews, and contemporary art collaborations. She started at Wallpaper* in 2017 and has written for leading contemporary art publications, auction houses and arts charities, and lectured on review writing and art journalism. When she's not writing about art, she's making her own.
With contributions from