Artist's Palate: Ulla von Brandenburg's orangettes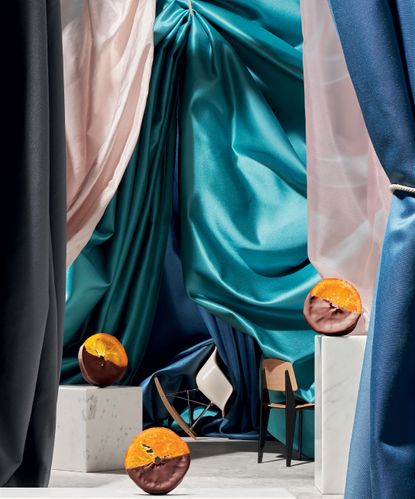 (Image credit: TBC)
From the Technicolor skateboard ramp at the heart of the Palais de Tokyo in 2012 to the seven monumental stage curtains at this year's Art Basel Hong Kong, German artist Ulla von Brandenburg's work is always theatrical. 'Sweet Feast', a new project for London's Whitechapel Gallery, was inspired by a 1973 exhibition of European sweets that was abruptly halted when a group of children devoured the exhibits. Mobilising 100 primary school pupils, von Brandenburg has created a video re-enactment of the event as a discussion of Britain's changing relationship with the EU. Her contribution to our artist's recipe series is naturally a sweet treat – orangettes, made from whole discs of orange rather than just the peel. Dig in.

Ingredients
1 orange
70g sugar
2 tsp lemon juice
2 tsp brandy
100g plain chocolate

Method
Wash the orange, then poke a number of holes in it with a bamboo skewer. Put in a pan with some water and set over a medium heat. When it begins to simmer, reduce the heat and boil for 2 minutes. Adjust the heat so that it is boiling steadily.

Drain the water away, then return the orange to the pan with fresh water and set over a medium heat. Repeat as above.

Once the orange has been boiled twice, return it to the pan with more water and leave it for about an hour to remove the astringency.

Slice the orange into 5mm-thick rounds, then arrange them in a large pot and add half the sugar, the lemon juice, brandy and 150ml water. Set over a medium heat. Once it starts to simmer, cover with foil, reduce the heat and continue to simmer for 15 minutes, then turn off the heat. Remove the foil to add the remaining sugar, then replace the foil and set aside to cool.

Once cool, set over a medium heat again. Bring to a boil, then immediately reduce the heat to low and simmer, covered, for 10 minutes. Turn off the heat and leave to cool. Then repeat this step. If there is any juice left after the second boil, simmer it a bit more. The orange slices should start to turn transparent but be careful not to boil too much.

Preheat the oven to 100C. Dry the slices on a drying rack. Line a baking tray with baking paper, then arrange the slices on the tray and bake for 40 minutes, turning halfway. The slices should now be dehydrated, sparkly and transparent. Transfer them to the drying rack and leave to cool. Roughly chop the chocolate, then place in a glass bowl set over a pan of simmering water and allow to melt, stirring well. Carefully coat half the orange slices with chocolate, then place on a sheet of baking paper and put in the fridge for 20 minutes to cool and harden.
As originally featured in the October 2018 issue of Wallpaper* (W*235)
INFORMATION
'Ulla von Brandenburg: Sweet Feast', in partnership with Le Prix Marcel Duchamp, is on view at Whitechapel Gallery from 21 September 2018 – 31 March 2019. For more information, visit the Whitechapel Gallery website (opens in new tab)
ADDRESS
Whitechapel Gallery
77-82 Whitechapel High Street
London E1 7QX
TF has been editor of Wallpaper* since December 2020. He is responsible for our monthly print magazine, planning, commissioning, editing and writing long-lead content across all our content pillars. He also plays a leading role in multi-channel editorial franchises, such as our annual Design Awards, Guest Editor takeovers and Next Generation series. He aims to create world-class, visually-driven content while championing diversity, international representation and social impact. TF joined Wallpaper* as an intern in January 2013, and served as its commissioning editor from 2017-20, winning a 30 under 30 New Talent Award from the Professional Publishers' Association. Born and raised in Hong Kong, he holds an undergraduate degree in history from Princeton University.