London's Ikoyi named Best Restaurant 2023
Ikoyi scoops Wallpaper* Design Award 2023: discover the London restaurant's new home, with interiors by Studio David Thulstrup and a menu that 'pushes the boundaries of deliciousness'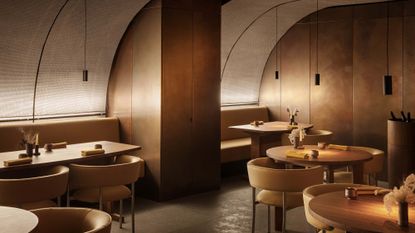 (Image credit: Irina Boersma César Machado)
Ikoyi's rise has been nothing short of meteoric. Since opening in London's St James's in 2017, the restaurant – which channels chef Jeremy Chan and co-founder Iré Hassan-Odukale's cultures and experiences into an original cuisine with an emphasis on West African flavours – has received two Michelin stars, earned a coveted spot on the World's 50 Best list and, among those in the know, garnered the sort of bright-eyed enthusiasm that recalls the early days of Noma.
To these impressive credentials, it can now add a one-of-a-kind new home in the brutalist office block-turned-cultural hub that is 180 The Strand – and the title of Best Restaurant in the Wallpaper* Design Awards 2023.
Ikoyi's David Thulstrup-designed interiors
Designed by Danish architect David Thulstrup (who, incidentally, created the interiors for Noma's current location in Copenhagen – voted Best Restaurant in the Wallpaper* Design Awards 2019 – and met Chan and Hassan-Odukale through Wallpaper*), the street-level space reflects the founders' vision of global modernism – 'placeless, free, unfixed and personal'.
Taking cues from their mood boards, whose contents ranged from the set designs of Ridley Scott films to cathedral architecture and Richard Serra sculptures, Thulstrup's interior is minimalist but lavishly textured.
Wall panels are patinated copper, a reference to the building's exterior cladding, while the floor is lined with slabs of grey stone, hammered to achieve a gently dappled appearance. A woven steel mesh, evoking the sieves used to sift spices, stretches all the way across the ceiling of the main dining room. Seating is upholstered in leather from Sørensen, a Danish supplier known for its eco-conscious approach, while the tables are custom-made by Benchmark Furniture in British red oak, which has a naturally ruddy hue.
'I wanted to create an environment that is very dense, almost like fire,' explains the architect. 'All the surfaces have richness and depth to them and, as you get closer, you discover new layers of experience.' Not only does the steel mesh lend itself to a fascinating interplay with light ('we wanted the restaurant to look glowing and cosy, like a lantern,' says Chan), it also directs the gaze towards an open kitchen that stretches the full width of the dining room.
Significantly larger than the original, the new Ikoyi includes a reception area, lined with three custom-made ageing chambers (for beef, poultry and fish respectively), a lush back garden, and a private dining room. Concealed by a chocolate-coloured curtain, the latter seats six on a curved banquette, around a generously proportioned circular table with an embedded lazy Susan.
A palate-enlightening menu
Just as the space has transformed, so has the cuisine, now presented as a tasting menu of 26 courses. 'Compared to the old restaurant, which was bold, joyful, spicy and sharp, the new restaurant pushes the boundaries of what deliciousness is,' says Chan. 'We want to help guests discover flavours they're not familiar with.'
Take, for example, plantain, an Ikoyi signature. Originally dusted in raspberry salt and served with a scotch bonnet emulsion, it is now made into a paste and steamed in a 3D-printed mould, to ensure a perfect structure every time. The new iteration comes with a herb and spice emulsion that 'is spicy, but also fudgy and herbal,' says Chan. 'Some people are going to find it mind-blowing, some are going to find it challenging.'
Diverse cultural references abound in dishes such as the drunken chicken toast, a chicken sausage marinated with vin jaune infused with African peppercorns and served with a mushroom emulsion on soft toast that has been caramelised in chicken fat. 'There's a reference to French and Nigerian cooking, but also Chinese-style drunken chicken and the burger buns at Shake Shack. It's really unusual and delicious,' Chan enthuses.
He is just as pleased with the final dish, a frozen nut butter made from 'unbelievably intense' almonds from a regenerative farm in the south of Spain, served with a blondie made from heritage grains. Complementing these culinary innovations is a set of tableware created in collaboration with a multicultural group of craftspeople based in France, Japan, Norway, Sweden and the UK.
Meanwhile, head sommelier Lorenzo Lentini has created wine pairings with equal emphasis on classic wine regions and lesser-known areas, and restaurant manager Dominik Jurasz has devised a non-alcoholic pairing of international teas.
Altogether, the new Ikoyi is a cohesive, eye-opening and palate-enlightening experience, a credit to its pair of founders who refuse to rest on their laurels, and the architect in whom they have found a kindred spirit. 'We've come a long way in a short space of time,' says Chan. 'We want to give hope to a new generation of chefs to be bold and creative, and to take massive risks.'  
The winners of the Wallpaper* Design Awards 2023 are revealed in the February 2023 issue, available in print, on the Wallpaper* app on Apple iOS, and to subscribers of Apple News +. Subscribe to Wallpaper* today (opens in new tab)
ikoyilondon.com (opens in new tab)
studiodavidthulstrup.com (opens in new tab)
TF has been editor of Wallpaper* since December 2020. He is responsible for our monthly print magazine, planning, commissioning, editing and writing long-lead content across all our content pillars. He also plays a leading role in multi-channel editorial franchises, such as our annual Design Awards, Guest Editor takeovers and Next Generation series. He aims to create world-class, visually-driven content while championing diversity, international representation and social impact. TF joined Wallpaper* as an intern in January 2013, and served as its commissioning editor from 2017-20, winning a 30 under 30 New Talent Award from the Professional Publishers' Association. Born and raised in Hong Kong, he holds an undergraduate degree in history from Princeton University.