Artful chocolate gifts for every taste
Dig into our edit of the best chocolate gifts just in time for Easter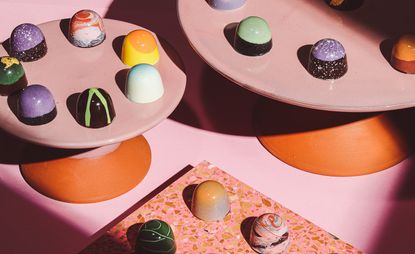 (Image credit: press)
These chocolate treats from boutique studios and confectionery legends look as good as they taste. Whether you prefer dependably delicious chocolate bars or more complex polyhedrous pralines, these treats are a delectable Easter treat for all your loved ones.
Chocolate gifts that raise the bar
Alain Ducasse Easter eggs
Alain Ducasse sculptural praline-filler Easter Eggs are unmatched when it comes to luxury chocolate taste. After establishing himself as one of the most lauded chefs in Europe, Ducasse opened his Paris-based confectionery to explore his lifelong fascination with the art of chocolate making.

The result is sweet treats that live up to the top-chefs exacting standards. The Easter eggs, or accompanying animal-shaped treats launched for the holiday, are perfect gifts for the most discerning gormands in your life.
Noon nootropic chocolate
Wellness brand Noon has just launched a dark chocolate that makes you feel good, and not just because it is satisfying your sugar cravings.
The brand blends cacao with eight other nootropic herbs, including echinacea (for alleviating fatigue) and American ginseng (used to reduce nervousness), to make you feel relaxed and gently energised without a sugar crash afterwards. Created in colaberation with therapeutic drug developer Neurotheryx and New York chocolate makers Kahkow, the Noon chocolate bar maganges to taste as good as it makes you feel.
BRIK Chocolate
The creations from London-based chocolatiers Brik are a perfect Easter gift for any design lover. The brand's handmade bars are designed to look like architectural materials-- from terrazzo to marble and charred wood--and come in innovative flavour combinations like matcha and raspberry or salted caramel and passionfruit.
Bantu
Bantu is a new, ethically-minded chocolate brand that uses a regenerative agriculture approach on its Cameroon cocoa farm--planting thousands of banana, plantain, and avocado trees-- to enhance the region's biodiversity.
Their range of five chocolate bars vary from intense to subtle, with the intense berry and toffee flavours of Voodoo 83% being the richest and Nostradamus 35%, a sweet blend of toasted white chocolate, hibiscus, and cocoa, being a bar for gentler pallets.
Casa Bosques
Casa Bosques is the brand for art lovers who love chocolate. Established by Savvy Studio, a New York- and Mexico City-based creative studio, the brand calls on a network of artists and designers to collaborate on one-of-a-kind chocolates. Past contributors include the conceptual artist Lawrence Weiner, textile artist Megumi Shauna Arai, and DeVonn Francis, the founder of the gastronomic collective Yardy.
The chocolate itself is made from beans grown exclusively for Casa Bosques on a farm in southern Mexico, and is blended with intriguing flavours such as beetroot-stained dried apple slices and Castile flower with pistachio.
Pierre Marcolini
Pierre Marcolini is the authority on chocolate, so a box of his creations is the best choice for those looking for a guaranteed crowd-pleaser. We would recommend indulging in Marcolini classic chocolate tablets or champagne-filled truffles.
Oro de Cacao
Oro de Cacao infuses the traditional expertise of Swiss chocolate-making with an exuberant, Instagram-worthy aesthetic. Founded by Swiss industrialist, musician and conceptual artist Dieter Meier, Oro blends its kooky aesthetics with equally kooky flavour combinations, like figs and white pepper, or bananas and cinnamon.
What really makes Oro special, though, is its unique production process, which preserves the authentic aroma of the cacao bean and releases its rich taste without any bitterness.
Marchesi 1824
Prada-owned Pasticceria Marchesi is one of the world's most elegant destinations for sweet treats. When it comes to chocolate, the Milanese landmark's Assorted Cremini box is an infallible choice. The cream-filled candies are made from fine cocoa and hazelnuts from the hills of Piedmont and come in milk chocolate, whole hazelnut, dark chocolate and Sicilian pistachio flavours. While these chocolate gifts' pastel and gold packaging makes them look like they came right off Marie Antoinette's dessert trolley.
Londoners can visit the Marchesi on Mount Street or new new Prada Caffe space at Harrods which also has a selection of delicious pastries and cakes on offer.
Pars pralinen
Artist and chocolatier Kristiane Kegelmann makes angular, multi-coloured chocolate praline pieces that look nothing like any chocolate you have ever seen before. Kegelmann crafts and sells the chocolates at her Berlin store, Pars, where she collaborates with regional farmers, distillers, and pharmacists to create sweet treats that taste as beguiling as they look.
Favourites include the Limo Omani & Walnut chocolate, which blends Persian limes with cardamom, as well as the Maca Ginseng chocolate that combines a ginseng elixir from pharmacist Dr Jaglas with bitter dark chocolate.
Receive our daily digest of inspiration, escapism and design stories from around the world direct to your inbox
Writer and Wallpaper* Contributing Editor
Mary Cleary is a writer based in London and New York. Previously beauty & grooming editor at Wallpaper*, she is now a contributing editor, alongside writing for various publications on all aspects of culture.