We're in loaf: chef Niko Romito opens first permanent store in Milan
Laboratorio Niko Romito in Milan sells a delectable selection of speciality breads, spreads, biscuits and more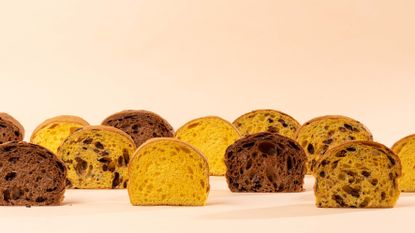 (Image credit: Niko Romito)
Eclectic, with a multifaceted soul that goes from coastal to pastoral cuisine, Abruzzese (the food of Italy's Abruzzo region, east of Rome) has always been a great drive and inspiration for acclaimed, self-taught chef Niko Romito. So much so that he established Accademia Niko Romito, a vocational school, in Castel di Sangro, southern Abruzzo, that trains young wanna-be-chefs to be professionals in the tradition.
Laboratorio Niko Romito, Milan
After the success of his three-Michelin-star restaurant Reale, also in Castel di Sangro, and following a series of pop-up stores, the chef is now opening Laboratorio Niko Romito, his first permanent store, in the heart of Milan. The boutique, located in the Brera district, nods to a traditional neighbourhood shop while also providing a contemporary interpretation of food.
Romito recalls with fondness spending time in his father's pastry shop as a child and being enveloped in the scents of freshly baked goods. 'This is where my passion for bread and baking comes from,' says Romito. Fittingly, at Laboratorio, he has created a variety of breads, including a particular type that can be stored in the fridge and, once reheated in the oven, can be enjoyed hot, just as freshly baked.
'The accurate research work we carry out every day at Laboratorio Niko Romito permeates and drives all our choices: from the ingredient selection to the food preparation, from the processing techniques to the aesthetic packaging design. Highest quality products need to be at everyone's home,' states the chef.
Laboratorio will also offer and showcase a limited-edition panettone wrapped in a linen bag and packaged in a refined red box.
The chef's flagship store is a gem in the heart of Milan and, as Romito explains, aims 'to bring my research and my vision of my gastronomic culture'. He continues, 'I am more and more convinced that a new food culture based on health, on a significant decrease of the use of sugars and animal fats, has to be shared on a larger scale. My goal was to bring my gastronomic experience to all homes.'
Receive our daily digest of inspiration, escapism and design stories from around the world direct to your inbox
Maria Cristina Didero is an independent design curator, consultant and author, who has contributed to many publications over the years; she is currently Milan editor of Wallpaper* . Didero has consulted for companies such as Vitra, Fritz Hansen, Lexus, Fendi, Louis Vuitton, Valextra among others. Based in Milan, she works internationally, curating exhibitions for institutions: some of her most recent projects include Nendo: The Space in Between and The Conversation Show at the Holon Design Museum, Israel; FUN HOUSE by Snarkitecture at National Building Museum, Washington D.C.; SuperDesign a project about Italian radical design, NY; Vegan Design, or the Art of Reduction by Erez Nevi and The Fish and The Crowd by Carlo Massoud, Milan. In April 2022 she curated a Mathieu Lehanneur exhibition at the Triennale in Milan called The Inventory of Life, while in July she debuted a project at the MK&G in Hamburg titled Ask Me if I Believe in the Future, alongside a series of ongoing collaborations. She was appointed 2022 Curatorial Director of Design Miami/. She is currently preparing two projects for Milan Design Week 2023.