Concrete plans: inside KAAN Architecten's Rotterdam offices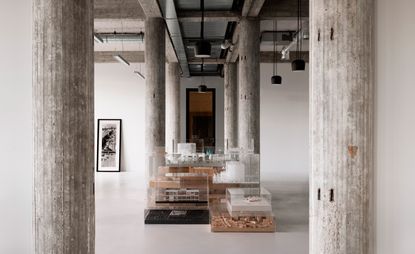 (Image credit: Simone Bossi)
Due to an expanding studio, Rotterdam-based KAAN Architecten has relocated to new offices in the former De Nederlandsche Bank HQ, offering an opportunity to design a bespoke environment to suit its working needs and reflect its architectural philosophy.

The robust brick facade of the building, which stands out beside taller structures along the Maas River near the Erasmus Bridge, was originally designed by Professor Henri Timo Zwiers between 1950–1955 and has an entrance hall decorated with mosaics by Dutch artist Louis van Roode.
KAAN Architecten partner Dikkie Scipio wanted to create a space which would encourage sharing of knowledge and also bring back to life the existing architectural identity of the building.

Inside, the industrial-style concrete space has a wide rectangular plan of 1,400 sq m with high ceilings and large windows which cast light into the core of the building. Concrete columns delineate the space – as do vast connecting corridors between meeting rooms, informal spaces and an open-plan working area for the architects at the heart of the design.

The new building has an architectural heritage of its own, which the team looked to adapt for over 80 work stations and refine with new materials, while preserving its character; dark walnut surfaces and floors have been used to create a velveteen contrast to roughly exposed concrete ceilings and columns.
INFORMATION
For more information, visit the KAAN Architecten website (opens in new tab)