Frank Sinatra's Palm Springs retreat is renovated with nostalgic 1960s interiors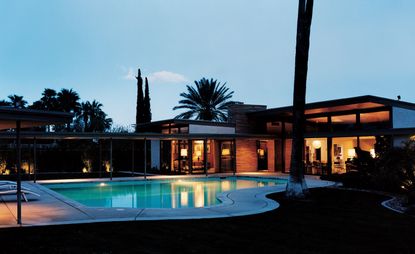 (Image credit: Victoria Sambunaris)
Wallpaper* Newsletter
Receive our daily digest of inspiration, escapism and design stories from around the world direct to your inbox
Thank you for signing up to Wallpaper. You will receive a verification email shortly.
There was a problem. Please refresh the page and try again.
Search for the phrase 'party at Frank Sinatra's house' on YouTube and you'll be treated to footage of Paris Hilton and Lindsay Lohan shaking their tail feathers in one of Palm Springs' most fabled homes. The occasion for Paris and Lindsay's booze-fuelled bacchanal at Casa Sinatra was the 2007 Coachella music festival.

On one hand, the spectacle that unfolds on YouTube can be seen as a sad commentary on the diminished wattage of today's pop stars versus those of Sinatra's era. Those inclined to a more sanguine interpretation, however, might submit the video as evidence that the Rat Pack spirit – guys and dolls bumping and grinding into the wee small hours – remains alive and well in the 21st century.

Sinatra commissioned the house in 1947 as a refuge for his young family – his first wife, Nancy Barbara, and their two children, Frank Jr and Nancy. The marriage dissolved several years later and so did the dream of a cosy retreat intended for wholesome family fun. In various biographies of Sinatra and his second wife, actress Ava Gardner, the Palm Springs house is generally painted as a den of intemperance and debauchery, a place where alcohol and sex frequently collided to operatic effect.
Given the iconic stature of the house's owner, it's only natural that the history of the place has become clouded by myth and gossip. One delicious tale suggests that Marlene Dietrich and Greta Garbo used the famous piano-shaped swimming pool for lesbian trysts. A crack in the sink in the master bedroom is preserved as a shrine to the moment when Sinatra supposedly threw a champagne bottle at Gardner in a fit of rage.

Long-time denizens of Palm Springs recall that Sinatra would hoist a Jack Daniels flag between two soaring palm trees next to the pool as a signal that the house was open and the liquor was flowing.

Certain facts about Twin Palms (as the house came to be called) can be confirmed with a higher degree of certainty. Sinatra commissioned the place after he made his first million dollars as a testament to his success as a crooner, heartthrob and rising star of the silver screen. It was the first residential commission for E Stewart Williams, a Californian architect whose distinctive style would later help shape the image of Palm Springs as a bastion of classical modernist architecture in California's Coachella Valley.
When New York media executive Eric Ellenbogen purchased the property three years ago, his research led him to Williams' daughter-in-law, Sidney, who unearthed the floor plans. 'I wanted to understand the original layout of the house before I did anything, but I wasn't interested in doing a dry historical restoration or a nostalgic Hollywood movie-set version of what Palm Springs was like in the 1950s,' he says. 'I wanted it to be evocative of Sinatra and his era, but it had to have a life of its own.'

With that in mind, he enlisted the services of Darren Brown, a New York-based interior decorator who had helped to solidify Palm Springs' cachet among young hipsters with his work at the Parker hotel, a project he directed while working in the office of Jonathan Adler. 'Darren's approach isn't dogmatic. He doesn't have one specific look or style that he tries to force on every project,' says Ellenbogen. 'Whenever I stayed at the Parker, I thought "This is the vibe that I want for my house."'
RELATED STORY
The architects who built Palm Springs: Albert Frey
For his part, Brown was relieved to find a client with the intellectual curiosity and imagination to look beyond the clichés of midcentury California modernism. 'When most people think of that period, they think of immaculate Neutra houses and Julius Shulman photographs of spare, elegant interiors with just one or two pieces of modern furniture,' Brown says. 'The reality of that time period was more nuanced. There were plenty of floral chintzes and comfy club chairs in those sublime modern houses. I wanted to embrace a little of that Lucy and Desi spirit.'
Working in tandem, Brown and Ellenbogen developed an aesthetic for the renovation that has its roots in the fashionable Palm Springs houses of the late 1940s, but moves into the haute-bourgeois Beverly Hills-style luxury of the 1960s. The mix of furnishings includes items from Ellenbogen's own collection, as well as pieces purchased at local vintage stores and secondhand shops. The assemblage is unexpected, idiosyncratic yet highly personal.

A set of Jacques Adnet chairs surrounds a dining table by Paul Frankl. Temple rubbings from Thailand hang alongside abstract paintings. Chairs by Paul McCobb and T H Robsjohn-Gibbings, as well as drapes made from vintage fabrics by Jack Lenor Larsen and colourful Italian ceramics from the 1950s, spice up the eclectic décor.

To keep an element of authentic historical texture, Brown preserved the original fixtures in the master bathroom, including the Raymond Loewy taps, and re-installed Sinatra's recording equipment and sound system, which had been exiled to the garage.
'The house pays homage to the legend of Sinatra. It still feels very masculine and groovy, but it's not a museum,' insists Brown. 'We used lots of great modern furniture, but we also used pieces that have a more natural, crafty, handmade feeling. We wanted opulence as well as comfort. The mix says as much about Eric as it does about Frank.'

The house also underscores the dramatic disparity between contemporary notions of luxury and leisure and the more modest aspirations of an earlier generation. 'Sinatra was already a big star when he built this house, but it's a quarter of the size of a typical McMansion today,' says Ellenbogen. 'There was a kind of simplicity and loveliness to that way of life that people seem to have forgotten. The bathroom is just a bathroom, not a bathroom pavilion. Of course, it doesn't hurt that it was Sinatra's bathroom.'

As originally featured in the October 2008 issue of Wallpaper* (W*115)
INFORMATION
For more information, visit the Sinatra House website
Receive our daily digest of inspiration, escapism and design stories from around the world direct to your inbox