How Donald Wexler and William Krisel turned Palm Springs into a Hollywood retreat
In 2012 (W* 152), we met architects Donald Wexler (1926-2015) and William Krisel (1924-2017), in their natural habitat, Palm Springs, a place that they, along with Albert Frey, E Stewart Williams and William Cody, turned from dust to diamonds. Wexler earned his reputation as an innovator with his steel-framed prefabs, going on to design the second home for actress Dinah Shore, while Krisel, architect of the Twin Palms Estates an elegant tract of holiday homes, was renowned for designing a slew of housing from LA to the San Fernando Valley. Both architects had Palm Springs in common, and lived to watch their legacies unfold.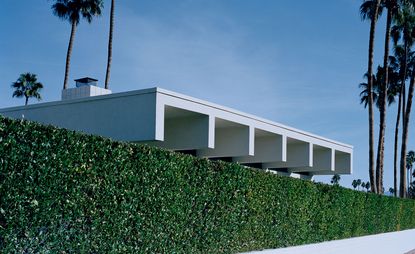 (Image credit: Christopher Griffith)
Wallpaper* Newsletter
Receive our daily digest of inspiration, escapism and design stories from around the world direct to your inbox
Thank you for signing up to Wallpaper. You will receive a verification email shortly.
There was a problem. Please refresh the page and try again.
Pat Rizzo and his Orchestra up the tempo and the dance floor swells with men in retro casuals and women with red lipstick and Mad Men hairdos. It's the annual gala benefit at the Canyon Country Club, the big ticket event of Palm Springs Modernism Week, and the glitterati, archi-literati and anyone who likes to party are there (dress code: glamorous country club). Propped up against the bar in a baseball cap and sneakers is 86-year-old Donald Wexler (1926-2015), one of the founding fathers of 'desert modernism' and creator of the backbone of Palm Springs – its schools, hospitals, banks and airport – from the 1950s to the 1980s.

Wexler is of a generation that includes Albert Frey, E Stewart Williams and William Cody, who based themselves in the tiny desert enclave and turned its dust to diamonds. During Modernism Week, he takes on a god-like status. House owners open up their modernist gems to allow the public a snoop, and Wexler puts in guest appearances at talks, lectures and screenings. He's loving the limelight that has finally found him. 'It's great. I'm fascinated by the number of people who are interested in my work and amazed that people see things in it.'
He's self-effacing, softly spoken, and says quietly: 'I wonder what would have happened if I had been working in LA; whether I would have been recognised. I think the interest has come about because of the location, because of Palm Springs.'

It's pouring with rain, and the buffet, which should have spilled on to lawns harnessing a backdrop of the snow-peaked San Jacinto Mountains, is laid out in a dark corner. A line forms to pick at cheese and pineapple sticks and sausage rolls (menu: ironic; non-glamorous). In this weather, the space feels like a downbeat 1960s community centre. I ask Wexler whether his buildings only really work in the desert sunshine. 'No, they certainly work in the rain,' he says. He hails from Minnesota, so he has lived the gamut of weather conditions, and knows that buildings need to be adaptable.

Indeed, it was the balmy Californian climate, combined with an urge to meet his hero, Richard Neutra, that drew him west in 1950. During their meeting, Neutra offered him a two-year job working on high-rise housing in Chavez Ravine. When Cody, who had moved to Palm Springs to improve his health, approached him to work on the Tamarisk Country Club, it was a no-brainer. Back then, the town was a golf-and-glamour hideaway frequented by movie stars, media moguls and industrialists. 'I really enjoyed it here. I was single when I came and we made our own entertainment – playing volleyball, hanging by the pool. It was a creative community, there was a lot of talent.'
Working for wild-man Cody was a tougher challenge. Cody drank heavily, partied hard and worked irregular hours, often in tights and a bandana in scorching summer heat. A chaotic genius, he conjured up some of Palm Springs' most treasured gems, such as The Horizon Hotel and the Spa Bathhouse. 'Cody was awfully talented, but I didn't see him much. Sometimes we would go days without seeing him. I really liked Bill, but I couldn't work for him.'

In 1952, Wexler set up his own firm with Richard Harrison and started experimenting with lightweight steel to make prefab housing. Seven of his steel-framed prefabs still stand in Palm Springs, six of which have been taken back to their original form, and these earned Wexler the reputation as an innovator. Not that he saw it that way: 'We were four firms here striving to do as well as we could within the limitations of the environment. We tried to work with the heat, the sun, orientation and materials. We didn't think we were doing anything pioneering or avant-garde. We didn't think anyone cared.'

But care they did, and commissions from mayors and movie stars rolled in. In 1961, he split from Harrison and struck out alone: 'I did practically every type of building – schools, federal jobs, more houses than I can remember – but my goal was to stay small and keep busy.' In his late thirties, he took on the biggest challenge of his career: Palm Springs International Airport. 'The brief was that it had to be comfortable for visitors and a gateway to the community.' He chuckles. 'You would never hear that now.' He left the high life to Cody, John Lautner and decorator Arthur Elrod, but starry projects followed him, the most striking of which was a 7,000 sq ft second home for actress Dinah Shore. A slick renovation today retains the low-level living and high-octane glamour of Wexler's original design.
The celebrity razzmatazz that wraps Palm Springs in its starry veil has guaranteed Wexler a place on the 'Walk of Stars' – a stretch of tacky plaques on the sidewalk of Palm Canyon Drive dedicated to residents such as Bob Hope, Ginger Rogers, Liberace, Sophia Loren and Elizabeth Taylor. Frey, who came to Palm Springs in 1941 and set the experimental ball rolling, and E Stewart Williams, who build Frank Sinatra's first house here and the Palm Springs Art Museum, are also there. My driver, a camp minister who calls himself Desert Richard and has chauffeured everyone from Diana Ross to the Ashanti King of Ghana, describes the sidewalk as a must-see. Who knows what the dapper, Swiss-born Frey would have made of it.

The next day, I pass the sidewalk again, this time with architect William Krisel (1924-2017), another Palm Springs' legend – though unlike Wexler, he never moved there but worked out of LA. He, too, has a star in the sidewalk. We are en route to Twin Palms Estates, an elegant tract of 85 holiday homes he designed in the late 1950s. We drive under a covered bridge that leads to a nudist colony and is known locally as the 'bridge of thighs'; we pass pet boutiques selling couture for cats and doggy jewellery, and tourist shops touting wind chimes and bumper stickers. 'It's gotten very tacky downtown,' laments Corinne, Krisel's wife of 58 years. Corinne sometimes posed for the late photographer Julius Shulman and laughs at the mention of the photo of her in a swimsuit at a Twin Palms Estates home.

When Krisel first came to Palm Springs in 1955, he and his partner Dan Palmer were designing tract housing around LA for builders Robert and George Alexander. They had just completed Corbin Palms, 287 contemporary ranch homes in the San Fernando Valley, when Robert got sick. 'He came to recuperate in Palm Springs and saw its potential as a second home destination for middle-class Angelenos,' says Krisel. In 1955, the Alexanders asked Krisel to design Ocotillo Lodge, a luxury motel with swimming pools, stunning views and a branch of the Windsor, one of LA's finest restaurants. Wealthy weekenders were lulled into staying and escorted to the nearby Twin Palms Estates where they were encouraged to buy holiday homes. It was a canny marketing ploy. And it worked.
We reach Twin Palms and pull up outside the Menrad house, built in 1957. There are two vintage cars in the garage and a front garden symmetrically planted with cacti. Chris Menrad, an ex-New York trader, greets us. He bought the low-slung house 12 years ago and called on Krisel to advise him on its renovation, and he has recently purchased another on the estate. 'There's not a day goes by without me getting a call from someone wanting to restore one of my houses,' says Krisel. 'Normally I say no, but Chris researched everything and I did the landscaping front and back'. It's a museum piece; everything, right down to the paint colours sourced on eBay, mimics the original. Krisel loves seeing it burst back into life. 'Restoring my Palms Springs houses is a population occupation with the gay community,' he says. 'Many make a living from it. I'm indebted to them for all this has done for my career in its final days. I'm 86, and their enthusiasm keeps me going.'

All the houses on the estate are the same size (1,600 sq ft) and have the same basic floor plan, though Krisel added twists to make them different. 'I varied rooflines [his signature is the butterfly], colours and landscaping so nobody felt they were living in a cookie-cutter tract,' he says, and everyone had a pool, air-conditioning, a carport and a landscaped garden including two mature palm trees. The price tag? $6 per square foot. (Add a couple of zeros for today's value.) Twin Palms was, and still is, utterly seductive, and more estates followed. By the time he gave up his practice in 1979, Krisel had created 2,500 post-and-beam houses in Palm Springs.

'I can't even tell you the number of Krisel houses that have been torn down and changed,' says Michael Neu, an interior designer from LA who has recently modernized a Krisel house in the nearby town of Rancho Mirage. It is one of the few desert communities flush with cash; Harvey Weinstein, Bill Gates and Goldie Hawn have homes there and 80 per cent of Rancho is gated. Krisel designed 14 homes in the non-gated part, but even here, telephone poles and lighting cables run underground so as not to interrupt the views. Neu adds, 'Palm Springs is the only place I know where the developer gets more recognition than the architect, so although Krisel designed hundreds of houses, they are also known as Alexander Homes. This is why it has taken so long for Bill to get the recognition he deserves.' Krisel explains: 'Back then, most people didn't really know what architects were. We weren't starchitects or "talkitects". We were just professionals; we did our work, the developer took the credit.'
Like Wexler, Krisel is watching his legacy unfold and shaping it with enthusiasm. The day before we meet, he had given a sell-out lecture in Rancho Mirage, regaling an audience of more than 300 people with anecdotes. 'I went to Taliesin West for an interview with Frank Lloyd Wright when I was studying at the University of Southern California. I sat at his feet as he asked, "So why do you want to be an architect?" I replied that I wanted to build houses for the masses. He said. "You're wasting your time, we don't need any more architects. I'm still alive".'

Lloyd Wright visited Palm Springs in 1947 to scope out a house designed by Neutra for Edgar Kaufmann, a shared client. More than a decade earlier, Lloyd Wright had built Fallingwater for Kaufmann. On seeing Neutra's creation, he gave Kaufmann a giant cactus and told him he had made the right choice of architect. Lloyd Wright died in 1959, just as Wexler and Krisel were hitting their strides. Had he made it to Palm Springs then, he might have eaten his words.

As originally featured in the May 2012 issue of Wallpaper* (W*152)
INFORMATION
For more information, visit the Modernism Week website
Receive our daily digest of inspiration, escapism and design stories from around the world direct to your inbox
Emma O'Kelly is a contributing editor at Wallpaper*. She joined the magazine on issue 4 as news editor and since since then has worked in full and part time roles across many editorial departments. She is a freelance journalist based in London and works for a range of titles from Condé Nast Traveller to The Telegraph. She is currently working on a book about Scandinavian sauna culture and is renovating a mid century house in the Italian Lakes.