A hole in one: celebrating 21 years of life-enhancing stuff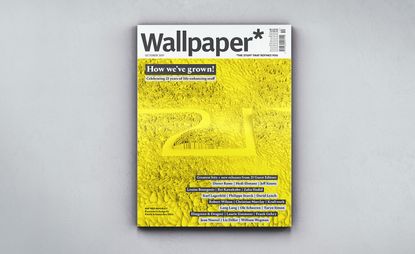 (Image credit: TBC)
This month marks Wallpaper's coming of age: our 21st anniversary. It's also my tenth year as editor-in-chief, having switched from being creative director in April 2007. I must confess that my coming of age came a number of years earlier. Time flies.

One of the earliest projects I worked on in my new role was our inaugural October Guest Editors' Issue. Now, many media outlets have given over their editorial reins to appropriate talents in order to bring a fresh perspective and generate some PR buzz. But because of Wallpaper's multi-faceted editorial remit, we felt our spin on the concept should be equally all-encompassing – we would invite not just one, but up to three diverse creatives each year who would reflect our offering, but also push us to try new things.
So year one saw a purist industrial designer, Dieter Rams, an iconoclastic artist, Jeff Koons, and a much-more-than-a-fashion-designer fashion designer, Hedi Slimane. To rebalance the unintentional male bias for 2007, the next year saw Louise Bourgeois, Zaha Hadid and Rei Kawakubo bring art, architecture, and fashion girl power to our pages. Subsequent editions have seen Karl Lagerfeld, Philippe Starck, David Lynch, Robert Wilson, Kraftwerk, Christian Marclay, Lang Lang, Ole Scheeren, Taryn Simon, Laurie Simmons, Elmgreen & Dragset, Frank Gehry, Jean Nouvel, William Wegman and Liz Diller have fun at our expense. That makes 21 in total, and therefore a convenient excuse to take a retrospective look, as well as request some updates for our latest issue. (Our thickest issue yet, the spine also happens to measure a serendipitous 21mm)

In addition to a 20-plus page section within the magazine, each of our Guest Editors was also invited to design a cover. Many called for unusual paper technologies – Hedi used specialist printing inks to simulate glitter, whereas Karl invited readers to strip the Dior Homme suit off his muse by means of a peelable layer. Starck constructed a transparent front cover using three layers of tracing paper. And Kraftwerk's Ralf Hütter tacked on a pair of 3D specs, to go with his 3D cover portrait and portfolio of exclusive images tied to key Kraftwerk compositions.

If I had to pick one favourite project it would be Zaha's. Her cover was a gatefold construction using multiple die-cuts, while inside she produced a 16-page die-cut sculpture, which was a take on her 'Lotus' room installation at that year's Venice Biennale. 'I want to put a big hole in the magazine', she told us. We dutifully obliged.
Zaha was profiled by art critic Matthew Collings, who visited her at her London offices and provided a pleasant distraction from discussions about cement. Collings and 'Big Z', as he affectionately called her, hit it off immediately. 'Her architecture is the greatest art of the moment,' he said.

So it's a huge pleasure for me and I think a fitting tribute to Zaha (who tragically passed away 18 months ago) that this anniversary issue's cover was created by Zaha Hadid Architects and its principal and torchbearer, Patrik Schumacher.

Enjoy this special issue and raise a glass to Big Z.

Tony Chambers, Editor-in-Chief

As originally featured in the October 2017 issue of Wallpaper* (W*223)
Our thickest issue yet, the spine also happens to measure a serendipitous 21mm, in keeping with our celebration of 21 years, and 21 guest editors
INFORMATION
The October 2017 issue of Wallpaper* is out now. Subscribe here (opens in new tab)