Pierre Yovanovitch's playful debut furniture collection is 20 years in the making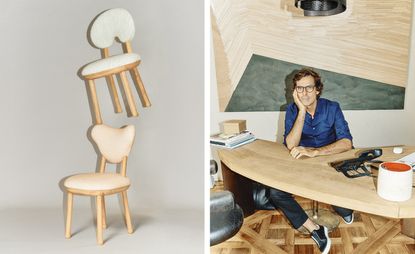 (Image credit: Thomas Chéné)
When French interior architect Pierre Yovanovitch unveiled his furniture at R & Company gallery in New York recently, he did so under the title 'Oops'. This might suggest that his show materialised by happy accident, or that it is somehow slight or slapdash. However, his presentation of 24 unique pieces – alongside his selection of art and objects from R & Company and elsewhere, including works by Wendell Castle, Joaquim Tenreiro and the Haas Brothers, plus two custom paintings by Claire Tabouret – is testament to a tremendous amount of effort.

'I started one year ago, but I really started 20 years ago,' says Yovanovitch. The designer has spent his career seeking out and working with French artisans, customising the traditional techniques that underpin a timeless collection of subtly playful pieces.

We are sitting in a small reception room in his Paris atelier, which occupies a five-storey, 18th-century hôtel particulier in the second arrondissement. Before his expanding team of 30 moved in last year, the beautifully wrought iron and wood staircase was fully restored and punctuated with a branched suspension light that descends for 18m – designed by Yovanovitch, unsurprisingly. His slim frame has settled into one of his sofas, upholstered in duck-egg blue fabric handwoven by US expert Sam Kasten. Between us is a version of an irregularly-shaped glazed ceramic table that is included in the show. And behind me is a silver Erwin Wurm cabinet in the form of a headless, besuited figure, which stands like a surrealist sentinel. Every detail here has been judiciously considered, but the result is warm and welcoming rather than intimidating.
Yovanovitch wants his first-ever solo show and furniture debut to encourage people to appreciate the more free-spirited, humanist aspects of his approach. Hence a pair of curvaceous chairs christened 'Monsieur and Madame Oops'. He refers to a couple of standing lamps as 'James' and 'Marsha', a nod to the fictional US president and first lady played by Jack Nicholson and Glenn Close in campy film Mars Attacks!, while another lighting piece has been named 'ET'. With its bulbous, blown-glass head and shroud-like base, the similarity to the endearing alien is irrefutable. 'I wanted to desacralise the objects, so I came up with these fun names. In this métier, it is important to not think so seriously,' he says. 'It's serious because, of course, you have financial challenges and so forth. But at the same time, why not have fun? It's a lifestyle; it's about being happy.'

Yovanovitch has been operating his eponymous practice since 2001, steadily building a reputation for a pure style where natural materials assume distinctive, modern forms. In his streamlined yet animated interiors, he layers contemporary art and commissioned designs, typically by the likes of Daniel Buren, Tadashi Kawamata, Not Vital, Georg Baselitz, Mathieu Lehanneur and Imi Knoebel. The suggestion is of a more elemental sensibility – as in, distinct expressions of colour and form over subject matter. Yovanovitch sources midcentury treasures by Paavo Tynell, Axel Einar Hjorth and TH Robsjohn-Gibbings that aren't as easily identifiable as pieces by Jean Prouvé and Charlotte Perriand. And, although he has been conceiving custom furniture all along (his angled or curvilinear sofas are a recurring motif), this exhibition speaks to a vision that is broader and more holistic.

In the past five years, Yovanovitch has designed the high-end Hôtel Marignan in Paris; Christian Louboutin's beauty boutique in the Galerie Véro-Dodat; the interior spaces of art dealer Kamel Mennour's Paris and London galleries; the north pavilion of Kering's Paris offices; La Patinoire Royale, a private contemporary art museum in Brussels; and residences from the Hamptons to Tel Aviv. Common to all these projects is a certain collector's spirit. He has a gift for recognising long-term value among talents who are well-known but not overexposed that description is just as apt for Yovanovitch himself.

Zesty Meyers, co-founder of R & Company with Evan Snyderman, speaks of their collaboration with Yovanovitch with boundless enthusiasm. '[Pierre] is becoming the superstar of 21st-century France. I think he has captured the French spirit and has brought it into the future.' What Meyers finds most impressive is how the designer has constantly evolved, discreetly and seemingly independently of any external influences. 'He cares, and that is why he's not a one-hit wonder,' Meyers says. 'I don't think many people have seen most of his work. There's no one else doing this. I have rarely come across something like this that will be this impactful. He's tipped the scale and the world is about to find out.'

Yovanovitch says he hopes people discover something meaningful in his work – perhaps the physicality of a solid walnut frame with its astonishingly seamless woodwork, or the playfulness of his teddy-bear-shaped armchairs, this time rendered in sheepskin. 'I like doing things that are very poetic. With the bears, it's like a [cute] animal drawn by hand. You see that, and then you see the craftsmanship. You feel nature and man.'

The craftsmanship aspect is key. For Yovanovitch's show, all the artisans are credited – ceramicists Armelle Benoit and Salomé Gendron, cabinetmaker Hugo Delavelle and glassblower Matteo Gonet, to name a few – reinforcing how tradition and craft remain crucial to contemporary design. 'It's like haute couture,' the designer says.

Fashion, incidentally, is not an unfamiliar environment for him. After graduating from business school, Yovanovitch spent eight years working for Pierre Cardin in Brussels and Paris, first focusing on licensing but eventually moving into menswear and accessories design. Yet he had a passion for interiors, and he gradually transferred his understanding of textures and materiality from one realm to the other. He says each project has helped him to arrive at this point. 'My taste is the same, but more and more I want things to be as simple as possible. We don't need ornaments – I think design should be very warm. It's not about [making] a statement. I want furniture that you're happy to live with, that's comfortable.'

But Yovanovitch is underselling his own ambition, as evidenced in his enlisting Claire Tabouret to paint a fresco in the chapel at Château de Fabrègues in Provence, which he bought in 2009 and spent years restoring. The artist's portraits of 85 lifesize, costumed children were unveiled in July this year after a four-week residency. 'I'm proud to do something like this, because I like the idea the artist's work will remain after me,' Yovanovitch says.

As originally featured in the October 2017 issue of Wallpaper* (W*223) – on newsstands 15 September
INFORMATION
All prices on request. 'OOPS, Curated by Pierre Yovanovitch' is on view until 25 October. For more information, visit the R & Company website and Pierre Yovanovitch website
ADDRESS
R & Company
82 Franklin Street
New York 10013
Receive our daily digest of inspiration, escapism and design stories from around the world direct to your inbox