Virtually experience the shapes and colours of Pierre Charpin
Take a digital 3D tour of Pierre Charpin's show 'Similitude(s)' at Paris' Galerie Kreo that explores colour and geometry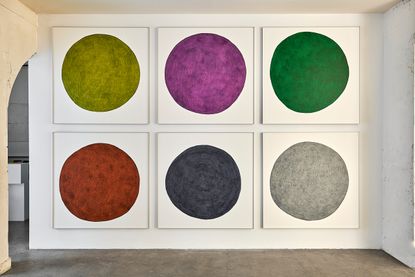 (Image credit: Courtesy Galerie Kreo,Pierre Antoine.)
'I have never been one to create something new for the sake of it,' reflects Pierre Charpin ahead of the opening of his latest show at Paris' Galerie Kreo. 'In other words, what I am drawing today has a reasonably pronounced, direct, intelligible, and conscious connection to what I have already drawn, created or, in some cases, simply sketched.'

'Similitude(s)' is the French designer's seventh solo exhibition with the Paris gallery since 2000, the last, Marbles & Clowns, opened five years ago. As the name suggests, this show, and each one leading up to this point, has tracked his artistic progression and his longstanding fascination with sensuous form and intense colour. The exhibition, that opens today following the easing of lockdown restrictions in France, finds Charpin navigating a space which he says is 'somewhere between what I have already achieved and what I have not yet managed to accomplish'.

Working with a diverse palette of materials including enamelled lava stone, glazed earthenware, mirror and metal, the new pieces encompass coffee and side tables, vases and mirrors, lights as well as a number of drawings. The pieces, some of which he began work on four years ago, are gathered in an original scenography conceived as a succession of vertical and horizontal landscapes.
Greeting visitors at the exhibition's entrance, six large circles of intense colour are arranged in a grid. Conjured in India ink and coloured pencils the circles' deep colours and uneven textures draw the viewer in. Nearby an arrangement of vases with generous, rounded silhouettes are rendered in an equally compelling black glazed earthenware.

'I am thinking of the combined presence of colour and geometry in my formal language,' explains Charpin. 'For example, geometry gives shape to colour and colour "de-geometrises" shape; it creates a "warm geometry" which is perceived emotionally, rather than quantitatively.'
In an adjoining room, the geometry continues with a series of five metal-framed tables with inlaid tops made from contrasting cuts of enamelled lava stone. On the surrounding walls, a pair of kaleidoscopic mirrors made from cuts of opaque and reflective glass multiply the surrounding objects.
On another plinth, Charpin has created a series of cylindrical Lunettes vases topped with mirrored rectangles. Each rectangle is punctured with two holes designed to frame displayed blooms. Up above, carefully balanced compositions of black spheres and light tubes serve as luminous mobiles, framing the space while at the same time illuminating it.
Trained as an artist but working in design since the early 1990s, Charpin has previously stated that he envisages his furniture designs primarily as objects, where form comes before function. In Similitudes this is certainly true, his furniture inhabits the space but it also invites visitors to use it, perfectly demonstrating Charpin's distinctive brand of warm minimalism.
INFORMATION
'Similitude(s)' by Pierre Charpin is on view 20 May – 31 July at Galerie Kreo
ADDRESS
31 Rue Dauphine
75006
Paris
France
Receive our daily digest of inspiration, escapism and design stories from around the world direct to your inbox