Resurrecting a disused grain silo, Heatherwick Studio creates a temple to modern African art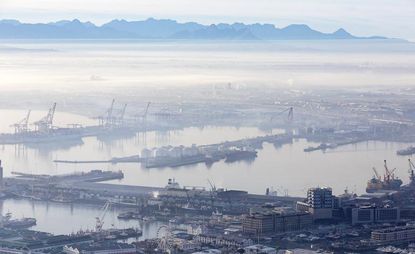 (Image credit: Iwan Baan)
Looming over Cape Town's V&A Waterfront – a mixed-use development bordering the Atlantic and interwoven with colonial structures and contemporary volumes in glass and steel – is a concrete silo. Built in 1921, it was where grain would be gathered, graded and eventually disseminated. This was the tallest building in sub-Saharan Africa for half a century, and as such, a defining feature of the city's skyline. Designed with a view that it would last forever, it nonetheless fell into disuse in 2001, eventually ravaged by floods, plunderers and bird droppings.

This September, however, the silo will receive a new lease of life as it reopens as the Zeitz Museum of Contemporary Art Africa (MOCAA). Restored and transformed by Heatherwick Studio, with the backing of the Waterfront and German philanthropist Jochen Zeitz, this is the first museum on the continent dedicated to contemporary art from Africa and its diaspora, a long-awaited symbol of cultural prowess, and a towering architectural accomplishment.

The silo's revival is a tale of determination and ingenuity. Designer Thomas Heatherwick first visited the site in 2005, when he had yet to receive the commission. There was no central space then to walk into, he recalls, just a warren of basement tunnels, above which there were two cellular structures with a total of 116 upright tubes – rectilinear ones in the lift tower (populated with vertical conveyor belts and fireman poles), and cylindrical ones in the bins annex.
It was another six years before the Waterfront decided to redevelop the silo. There was temptation to tear it down, but CEO David Green resisted. 'The building has real soul and character,' he explains, 'I was drawn to the idea of repurposing the industrial architecture, and leaving that for future generations to enjoy.' Heatherwick, now introduced to Green via Design Indaba founder Ravi Naidoo, had arrived at a similar conclusion: 'A gigantic building made from tubes was a pretty strong starting point. We wanted to draw out something that only this building could give.'

They wanted it to house something of civic significance. Spurred on by the dearth of museums of scale in Cape Town, Green approached a number of international institutions with experience in foreign outposts, but ultimately settled on the art collection of Zeitz, a former chairman and CEO of Puma (see W*120). Working with South African curator Mark Coetzee, Zeitz was amassing 21st-century African art and scouring the continent for an appropriate brick-and-mortar venue to show it – so it was natural that he and the Waterfront would pool their resources. He'd already come across Heatherwick's UK pavilion for the 2010 Shanghai Expo, and was keen to work together.

The UK pavilion would come to inform the design of Zeitz MOCAA in another way. In commissioning that structure, the British government had allotted a significantly smaller budget than other Western nations, so Heatherwick decided to make a sixth of the site (the Seed Cathedral) memorable, while minimising expense elsewhere. At Zeitz MOCAA, he was working with a budget of R500m (about £30m), generous by local standards, but paltry in comparison to those of Renzo Piano's Whitney ($422m) and Herzog & de Meuron's Tate Modern extension (£260m). His design, therefore, focused on one standout interior element, an atrium, which would join the two structures of the silo into one, and serve as the museum's primary draw.

The preexisting tubes were regular, says Heatherwick, 'but cutting through them in a three- dimensionally curving plane, something unexpected happens.' He would carve out the atrium within these tubes in the same way one would take a hot wire to a block of butter. Eschewing regular geometric shapes, he took a grain of local corn, not unlike the grains that would have been stored in the silo in ages past, and scanned it digitally to obtain an organic, asymmetrical form. This form, cut into the concrete tubes, would produce a void with plenty of sharp angles. 'It became a destruction project, not a construction project. Our job was more about careful removal than addition.'

Easier said than done. The silo is almost a century old, meaning the original concrete had set to its hardest form. The void was also difficult to visualise in situ, so builders had to rely on GPS and lasers to track progress, and the cylinders had leant against each other for stability, so a new support structure had to be installed while the void was hollowed out. Heatherwick was adamant there shouldn't be beams and pillars ('that would distract from the lightness we wanted'), so instead he added a new layer of concrete sleeving to reinforce the remaining parts of each cylinder.

The resulting atrium, which took between two and three million man-hours to complete, is the beating heart of the museum. Its sheer size and swooping curves give the impression of a cathedral, made all the more spectacular by the light that streams in through skylights that now cap the cylinders. The cross section of the original concrete is laid bare, its rougher surface contrasting with the smoothness of the new sleeves. One partially exposed cylinder now contains a spiral staircase; another two have been fitted with glass lifts, their mechanisms embedded into the new concrete sleeve to allow unobstructed views from the lift car. One has to ascend the building and see the atrium from varying heights to experience its full effect.

Other parts of the silo have been entirely excavated to accommodate galleries. Financial constraints and institutional demands (the museum had high expectations for the amount of wall and floor space, and favoured a white cube format) meant that these are mostly nondescript, and on some occasions cramped. But Heatherwick believes that lack of architectural detailing makes the spaces 'available to disrupt and mess with', and hopes that, in time, more walls on the periphery of the building could be knocked down to reveal coves of concrete. Happily, original architectural features have been preserved elsewhere. The basement tunnels, which will be used for installations (the first being Angolan artist Edson Chagas' Luanda, Encyclopedic City, which won the Golden Lion at the 2013 Venice Biennale), retain old machinery, signage and even dirt, while the Centre for the Moving Image, on ground level, appropriates the interior surface of the cylinders as screens for video projection.

The silo's exterior, originally coated in magnolia paint, has been water-jetted to reveal the concrete in its textured glory. On the upper levels (which house the sculpture garden and the Silo Hotel, designed independently of the museum), Heatherwick cut back the façade and installed generously proportioned convex windows. As the budget couldn't stretch to curved glass, he came up with a faceted design instead, an inspired compromise that 'steals views from all around'. Depending on the angle of installation, each triangular panel reflects either the skies, the landscapes of Table Mountain, Lion's Head and Signal Hill, nearby buildings, or the Atlantic waters with Robben Island in the distance. 'You get this collage of a different kind, which a single plane reflecting from a single angle doesn't give.' Illuminated at night, the windows take on a lantern-like appearance, a nod to one of the silo's original functions as a beacon for incoming ships.
It's a fitting metaphor for Zeitz MOCAA, a homecoming call for African and diaspora artists, who have mainly shown abroad due to a lack of appropriate venues on the continent, and a shimmering lure for art admirers of all stripes. Whether it can stand shoulder-to-shoulder with the world's top museums is yet to be seen, and will depend on the appeal of its artistic collections and the resolve of its administration. This being South Africa, Heatherwick admits there is inevitably 'a slightly ragged dimension, an unruliness... the big deal is making it happen at all'. But perhaps he need not be so modest, for the architecture is already making waves within the creative community. The artist Isaac Julien, whose work had turned Zeitz's interest towards African art years ago, wrote after a preview tour that Zeitz MOCAA was 'one of the most sensational spaces for art on the continent and in the art world'. One can hardly ask for a better start.

A version of this article originally appeared in the October 2017 issue of Wallpaper* (W*223)
INFORMATION
Zeitz MOCAA opens on 22 September. For more information, visit the website (opens in new tab)
ADDRESS
Zeitz Museum of Contemporary Art Africa
V&A Waterfront
Silo District
Cape Town 8001
TF has been editor of Wallpaper* since December 2020. He is responsible for our monthly print magazine, planning, commissioning, editing and writing long-lead content across all our content pillars. He also plays a leading role in multi-channel editorial franchises, such as our annual Design Awards, Guest Editor takeovers and Next Generation series. He aims to create world-class, visually-driven content while championing diversity, international representation and social impact. TF joined Wallpaper* as an intern in January 2013, and served as its commissioning editor from 2017-20, winning a 30 under 30 New Talent Award from the Professional Publishers' Association. Born and raised in Hong Kong, he holds an undergraduate degree in history from Princeton University.