In the studio with Tobia Scarpa: 'Architecture just fell on me, I was not fast enough to move away'
Following in his father's footsteps, Italian designer and architect Tobia Scarpa has quietly made a name for himself while staying true to his quest for simplicity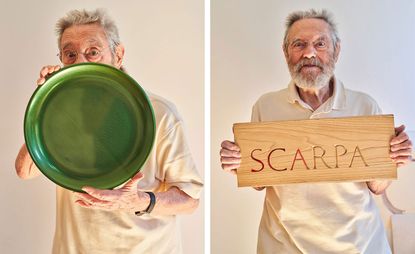 (Image credit: James Mollison)
Years ago, the architect and designer Tobia Scarpa was asked what he dreams about. He replied, 'One of my dreams would be to have my own little boat next to my house, or a boat big enough to hold me for a lifetime and drift away.' Now 87, Scarpa's boat-owning days are over, though his passion for boatbuilding remains undimmed. The image of water, as well as the sense of sunlit solitude that one associates with sailing, continues to be present in his work.
The son of leading modernist architect Carlo Scarpa (1906-1978), Tobia Scarpa was born in Venice in 1935, and has always had a privileged relationship with water. Fittingly, his current studio in Treviso is located near the Sile river, which was once used to transport goods to and from Venice. Water imposes a sense of isolation and privacy, and Scarpa does not yearn for the spotlight. He has never been associated with a school of architecture or design, instead detaching himself from the mainstream so he can create freely. 'The secret to the highest quality is to pass unnoticed; when you work towards beauty, you don't have to show it off,' he says.
Scarpa's famous last name comes with a certain burden – his father Carlo was an exceptional talent, who had the unique distinction of teaching architecture at the Accademia di Belle Arti in Venice while not being officially an architect, having refused to sit for the certification exams that became obligatory in Italy after the Second World War. When I ask Tobia about his first encounter with architecture, he answers with a smile: 'There was not a first time. Architecture just fell on me all at once, and I was not fast enough to move away. I felt obliged to say yes.'
Tobia Scarpa's collaboration with Afra Bianchin
As Scarpa drinks his morning coffee in front of a pencil drawing, he tells me that he was never one for academic study. 'I was a dyslexic child, so I had some problems at school. I never liked schools, nor did I like rules. I had to find my own way. I believe that's what makes a man – the pleasure of his own satisfaction. I also had a problem to solve: I could not become a competitor of my father.' To distinguish himself, he decided to dedicate his creativity to the production of objects, rather than buildings.
Scarpa met his partner in work and life, Afra Bianchin (1937-2011), between the desks of the IUAV University of Venice – they would graduate on the same day in 1957, and collaborate on all their projects for more than five decades, across architecture, restoration, exhibition design, graphics and teaching. Regardless of the field, Scarpa has always approached design by developing a close relationship to objects, exploring their secrets and interrogating their details. His first love was glass. Venini, the renowned Murano glass manufacturer that had worked with his father, offered Scarpa many commissions and gave him the chance to experiment with form and colour in the great Venetian tradition.
The spark between Afra and Tobia Scarpa ignited in 1959 with the 'Pigreco' chair, their first project together, conceived for a decorative arts course taught by Franco Albini at the IUAV. A year later, they opened their design studio in Montebelluna, Afra's hometown. They lived in nearby Trevignano, in a home with the wildest garden.
In the late 1950s, the studio became a leading player on the industrial design scene, thanks to collaborations with several pioneering furniture brands, including Molteni & C and UniFor. The Molteni family also commissioned Tobia to design Casa Molteni, their home near Carimate – he was building many private houses at the time.
In 1970, Afra and Tobia won the Compasso d'Oro award for the 'Soriana' armchair, produced by Cassina the previous year. Born of experiments in expanded polyurethane, the 'Soriana' (also available as a sofa) offered unprecedented levels of comfort and has become an icon of 20th-century furniture. It has since been reissued in more sustainable materials, and a recent limited-edition comes upholstered in Japanese denim, in keeping with the design's unconventional spirit.
In the tumultuous 1960s, the Scarpas participated in the establishment of lighting brand Flos, which quickly achieved international success. They designed many of the brand's signature pieces – including the remarkable 'Fantasma' floor lamp (1961), comprising a polyester cocoon stretched over a metal frame; the aquiline 'Biagio' table lamp (1968), carved from a single block of Carrara marble; and the slender 'Papillona' floor lamp (1970), with an inverted pyramidal lampshade of prismatic glass.
For B&B Italia, they designed the 'Coronado' collection of armchairs and sofas (1966), pioneering the use of cold polyurethane filling, which is elastic, flexible, allergen-free, and allows for shorter production times; while for Stildomus, they made the 'Torcello' bookcase (early 1960s), whose wooden panels were joined by a metal profile. Their client list further included Knoll, Fabbian and Veas. Today, many of their creations have achieved classic status, and appear in the permanent collections of the world's most prestigious museums.
Between the 1960s and 1970s, a time of tremendous change in Italy, Afra and Tobia conceived their projects in line with evolving ways of living but consistent with their vision: comfortable, elegantly functional, and detached from volatile trends. As he once told design critic Cristina Morozzi: 'I have devoted my knowledge and ability to companies. I make things as I know how, and I try to be simple, without arrogance.' Coming from an architecture background, Tobia looked at design as a limitless playground, a space to have fun and experiment.
Architecture and spirituality
In a 2018 interview with Elle Decor Italia, Scarpa said, 'My life goal was to be an architect. I have witnessed many professional deaths, and this experience changed my understanding of my purpose. I eventually realised that the intellectual awe that arises from the creative dialogue leads to boundless dimensions of the soul. One who accepts this awe has the opportunity to grow spiritually.' Like his design, his architecture is ascetic, rigorous, and with a devotional honesty.
Scarpa has always been a wine lover. For a few years during the 1990s, he made his own wine on a 2,000 sq m plot that was once woodland. Looking at the wine cellar he created in 2010 for the Tenuta delle Ripalte winery, on the Tuscan island of Elba, one can truly grasp this 'spiritual growth' he talked about. A monolithic block, set on a slope with a view of the sea, Tenuta delle Ripalte is a bridge to infinity that springs from the heart of the rock. It's a secluded yet boundless space, simultaneously delicate and strong, with clever hidden mechanisms that transport barrels across the levels.
Well before the Ripalte, the union between functionality and spirituality characterised the partnership between Scarpa and Treviso-based fashion behemoth Benetton, which began in 1964. The family empire gave him his first architectural commission, its HQ in Paderno di Ponzano, Veneto. Thus began a long story of mutual esteem and collaboration with 'il Signor Luciano', as the architect calls the brand's visionary co-founder Luciano Benetton. They proceeded to work together on new constructions, renovations of historic buildings and conversions of recent structures, all demonstrating aesthetic and functional research of the highest quality and adhering to Scarpa's design signature.
Among Scarpa's recent projects are the Gallerie dell'Accademia in Venice, which was finished last year after a decade of construction, and the former Church of San Teonisto in Treviso, transformed into an auditorium and exhibition space complete with a movable row of seats – a commission funded by Luciano Benetton in gratitude for their decades-long collaboration. Also in the centre of Treviso, right in front of the Duomo, is the Galleria delle Prigioni. This imposing 19th-century Habsburg prison has been reborn as a public gallery, while preserving historical features such as the signage and a number of original jail cells. In a dramatic gesture, Scarpa dug a tunnel across the cells, opening up the space and totally shifting the visitor's perception. 'I can modify things, as destiny put me in this position, but I don't want to erase what came before me,' he explains.
Looking to the future, Ca' Scarpa, in the centre of Treviso, is dear to the architect. Once the Church of Santa Maria Nova, the building is now dedicated to the study of Carlo Scarpa's architecture, 'a gift from Signor Luciano' and part of the cultural circuit of the Benetton Foundation. Directed by the Italian-Japanese researcher and architect Mauro Pierconti, it is not conceived as a museum but rather a place for research, and will contain both father and son's private libraries. The open space, marked and punctuated by iron columns, concrete floor and a modular installation system, nods to the legacy of the Scarpa family.
From the end of the 1950s, through the prolific 1970s, to the 2000s, when he kept a lower profile, Tobia Scarpa has dedicated his life to design and architecture. He has imagined, researched and created a functional, poetic world for which we are in debt. Spiritual yet practical, interested in new techniques and in the use of materials, this force of nature – who resists being called 'maestro' – has transformed lamps into sculptures, armchairs into timeless places of rest, buildings into visionary bridges between functionality and beauty. Perhaps the ultimate sign of his humility is his insistence that his success can be attributed to his last name and family legacy. As he quipped while receiving his Compasso d'Oro for lifetime achievement in 2008, 'anyone can become a baker, but you can only be a natural-born architect'.
INFORMATION
A version of this article appears in the October 2022 issue of Wallpaper*, available in print, on the Wallpaper* app on Apple iOS, and to subscribers of Apple News +. Subscribe to Wallpaper* today!