Inside Casa Molteni, the Molteni & C family's Tobia Scarpa-designed home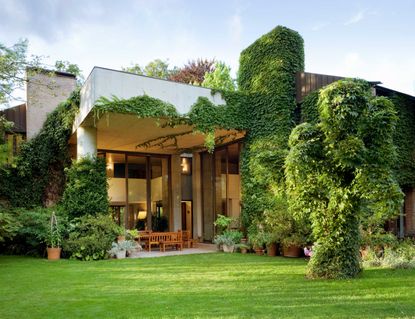 (Image credit: Claudio Sabatino)
It would be easy to imagine the Molteni family living in a sort of show home, a homage to sleek modernity surrounded by all their factory's latest pieces. In reality, while Casa Molteni has iconic qualities (it is, after all, the work of Tobia Scarpa, son of Carlo Scarpa and a major Italian architect in his own right), it is a much-lived-in, much loved, 30-year-old home. The three-storey house is located near the family business in Brianza, the furniture capital of Italy, where the brand rubs shoulders with the nation's other big names – Cassina, Cappellini, Minotti, Flexform, Poliform and B&B Italia.

Casa Molteni sits in a lush sloping garden in a gated community, just outside the village of Carimate. But this is no over-manicured development. The gate-keeper at the main entrance operates out of a cavern-like office embedded into the landscape and covered in vines, and on the Moltenis' own gate, their surname has been written below the buzzer in pencil.

The land – originally the local castle's vineyards and orchards – was sold in the 1960s and turned into a golf course and housing plots. Of the Moltenis' neighbouring houses, around a dozen are by noted architects of the 1960s and 1970s, including Vico Magistretti's Casa Cassina. But while many other residents treat their houses as weekend retreats, the Moltenis have lived here full time since the house was completed in 1986 – this is where Molteni & C's president Carlo and his wife Luisella brought up their three children, Francesca, Giulia and Giovanni.
Molteni&C had been working with Scarpa since 1972, and as well as designing furniture, the architect had revamped Molteni's showrooms in Milan, Rome and Paris. So Carlo felt confident in giving him a pretty open brief.

'The Scarpas (Tobia and architect wife Afra) had built themselves a very simple but interesting house in Trevignano,' says Carlo. 'It was very dramatic and without any doors. I wanted ours to be similar to that, but a little bit more normal.' Casa Molteni does have some doors – all floor to ceiling in birch with iroco trim – but not many, so the eating and sitting spaces segue into one another.

In fact the Scarpas' own house, rather than being replicated, served as inspiration. For a start, it was on a very different sort of site – flat and surrounded by vineyards – whereas, says the architect, who is now in his late seventies: 'this house is on a hill and the light plays a particular role. I remember that during the conversations with the family I discovered that 
Mrs Molteni was a great lover of gardens and flowers.' The idea of the house in Trevignano was left in the background as a leitmotif, allowing Scarpa to work on creating a building that would take advantage of the plot and make allowances for a large Japanese cherry tree and other existing flora.

The result is an L-shaped plan, with a basement for car parking, services and staff quarters; extensive communal living spaces, inside and out, on the ground floor; five bedrooms on the first floor arranged around a balcony; and a roof terrace with views to the Alps, Lake Como and Milan. Journeys between floors are made up and down an unobtrusive, space-saving staircase – there are no big sweeping, mansion-style gestures here.
The entrance is just as unassuming. Once through the gate, visitors make their way up a winding brick stairway to a low-key front door. This opens onto one of several living rooms, and immediately you know you're in a special place, furnished with many of the newly reissued Gio Ponti collection for Molteni & C.

Off this living room is a small study with a multi-hued Vitra sideboard – Molteni distributes the Swiss manufacturer in Italy. This is the only ground floor room with a curtain rail at the window, but Luisella never got round to putting curtains up as she likes to be able to see her garden, created by landscape architect Margheriti Piante.

The main living space is an informal dining room that leads straight on to a sitting room with a fireplace that stretches the full length of one wall. The family is keen to point out the Venetian stucco detailing on the curved mantelpiece, and Guilia has no qualms about homing in on a small portion where the paint is missing. As a child, she would fashion her own awning out of a sheet to keep the sun out of the room. This sheet was then stuck to the stucco causing the paint to come away.
The family takes their casual meals at a long 1980s Luca Meda prototype dining table, sitting on Aldo Rossi chairs from the same period. From here they can see straight out to the covered patio through a pair of double-height French windows. 'These doors are always open in the summer and it's like living outside,' says Carlo. Above this space is the balcony, and Guilia has fond memories as a child of hanging over it to listen in on the adults' conversation.

Off the large kitchen, with its Molteni units and Carrara marble work surface, is the more formal dining room, dominated by a heavy 1940s oval table that used to sit in the president of the Bank of Italy's boardroom. Luisella admits that when the children were young it was a noisy house – hardly surprising given all the Venetian-style cement-and-gravel flooring (with not a single rug in sight on the ground floor), brick and cement walls and iron beams. But she likes the industrial chic of the shell, which reminds her of the sparse interiors of the art galleries of Manhattan in the 1970s.

Yet because these materials are offset by the warm wooden doors and window frames, the colourful artwork and the eclectic mix of wood and upholstered furniture, the Casa Molteni never feels cold or unwelcoming. It's also rich with design invention from earlier decades. 'With all the prototypes around, the house is like an archive,' says Carlo. 'Sometimes I surprise myself with the good pieces we made in the past.'

As originally featured in the December 2012 issue of Wallpaper* (W*165)
INFORMATION
For more information, visit the Molteni & C website (opens in new tab)