Introducing the June 2022 Escapes Issue of Wallpaper*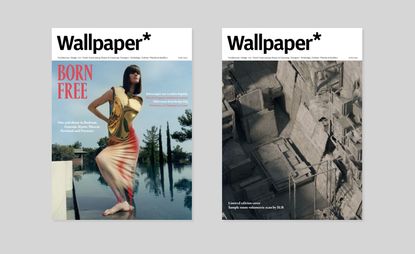 (Image credit: Dham Srifuengfung, Jason Hughes, Sub)
Few brands have shaped our understanding and appreciation of sport as much as Nike. The apparel behemoth marks its 50th anniversary this year, and reaffirms its innovative spirit with the unveiling of the Serena Williams Building in Portland, encompassing one million sq ft and bringing all its design, consumer insights and merchandising teams under one roof for the first time. As its chief design officer John Hoke describes, it's a 'once-in-a-generation project, to build an environment that leverages design to spark creativity and craftsmanship at the next level'. This issue includes a ten-page exclusive reveal, courtesy of photographer Mahmoud Mfinanga and our US editor Pei-Ru Keh, which also shines a light on the brand's pioneering approach to inclusive design.
We are equally proud to present a tour of Balenciaga's freshly unveiled London flagship, a stripped-down space that stands apart from its New Bond Street neighbours. The store is a prime example of 'Raw Architecture', as championed by the fashion house's artistic director Demna, working with architecture studio Sub. Beyond its otherworldly allure, the new store is remarkable for reducing the use of virgin materials to achieve a lighter environmental footprint. Sub's Niklas Bildstein Zaar and Andrea Faraguna have also created our limited-edition cover, which shows a volumetric scan of the newly reorganised sample room in their Berlin studio.
Elsewhere, we highlight a series of eye-opening, soul-salving destinations around the world. For our newsstand cover and main fashion story, photographer Dham Srifuengfung and fashion director Jason Hughes headed to Amanruya, a placid and perfectly appointed retreat on the shores of Bodrum. Our beloved 'The Trip' series makes a happy return: photographer Olgaç Bozalp and magazine editor TF Chan deliver a snapshot of Muscat, highlighting contemporary architecture that represents varying views on Omani identity and introducing the artists currently representing the sultanate at their first Venice Biennale pavilion. Meanwhile, photography editor Sophie Gladstone presents an absorbing visual essay of Doha, whose investments in art, architecture and design are reaching critical mass ahead of the 2022 Fifa World Cup.
The unveiling of a new pavilion at Provençal winery and art centre Château La Coste is always cause for celebration, even more so when the pavilion is listed as the final work of Oscar Niemeyer. We asked Deyan Sudjic, Wallpaper* contributing editor and director emeritus of London's Design Museum, to assess the building and reflect on the late architect's legacy. Further afield, we check in at Marufukuro, a new hotel in Kyoto with an unusual past life as the headquarters of gaming giant Nintendo, and answer the call of the wild at Casa Azul, a Studio MK27-designed residence in the glorious seclusion of Brazil's Atlantic Forest. There's even a sprinkle of wanderlust on our Artist's Palate page: take your tastebuds on a journey with Cao Fei's Singapore laksa. Safe travels, and enjoy the issue.
Bill Prince
Acting Editor-in-Chief
INFORMATION
Receive our daily digest of inspiration, escapism and design stories from around the world direct to your inbox
Bill Prince is a journalist, author and former acting editor-in-chief of Wallpaper* (March 2022-April 2023). Prior to taking up the role, he served for 23 years as the deputy editor of British GQ, before which he worked at EMAP (as assistant editor of Q Magazine) and IPC (where he began his career at NME). In addition to editing, writing and brand curation, Bill is an acknowledged authority on travel, hospitality and men's style. His first book, 'Royal Oak: From Iconoclast To Icon' – a tribute to the Audemars Piguet timepiece at 50 – was published by Assouline in September 2022.