Niemeyer pavilion enriches the landscape at Château La Coste
Château La Coste's latest architecture addition is a sculptural pavilion designed by the late, great Oscar Niemeyer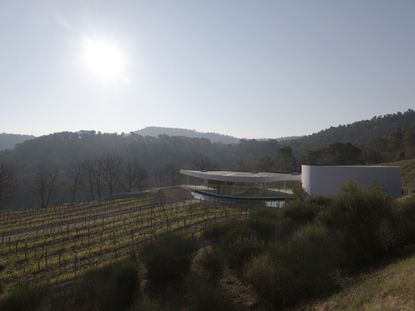 (Image credit: James Reeve)
The latest addition to Château La Coste's ever increasing collection of architectural pavilions and art installations is billed as the final project drawn by Oscar Niemeyer. As recently as 2020, the owner of a Leipzig tram factory proudly claimed that a 40ft concrete and glass sphere, pinned to the top corner of one of his buildings and housing a restaurant and bar, represented Niemeyer's last design (see W*241). As it turns out, Paddy McKillen, the founder of Château La Coste, has simply taken longer to finish his rather more substantial project. And even now, ten years after Niemeyer's death, just a few days short of his 105th birthday, there are still schemes being worked on that carry his name.

Set in the rolling landscape of Provence and home to works by the likes of Frank Gehry, Tracey Emin, Tadao Ando, Louise Bourgeois, Jenny Holzer and Ai Weiwei, Château La Coste now has an 80-seat auditorium that sits inside a circular white concrete drum, attached like a hinge to a teardrop-shaped, 4,000 sq ft glass-walled gallery. It sits in a dip in the vineyards that surround the hotel at Château La Coste, and is reached by a path that curls languidly through the vines, entering the pavilion across a shallow reflecting pool. These are motifs familiar from Niemeyer's earlier buildings. He used water everywhere, from Brasilia to his office building for Mondadori on the edge of Milan. The confrontation of a drum-shaped solid element, with transparent free form glass, is a paraphrase of the cultural centre in Le Havre that he finished in 1983.
Niemeyer's astonishingly long architectural career began in the 1930s when he was a young assistant in a team supervised by Le Corbusier designing Brazil's ministry of education in Rio de Janeiro. In the 1940s, he met Juscelino Kubitschek, then mayor of Belo Horizonte, the city in which he designed his first independent buildings. After the war, Niemeyer sparred with Le Corbusier to shape the multi-authored United Nations building in New York. When Kubitschek became Brazil's president, he appointed Niemeyer as the architect of his new capital city, Brasilia.

As a communist, Niemeyer left the country in 1964, when the army took over the government. While in exile, he built the headquarters of the French Communist Party in Paris, a venue later selected by Miuccia Prada in which to show a collection. He is certainly the only architect to have been awarded both the Pritzker Prize and the Lenin Peace Prize.

After 2006, Niemeyer became increasingly frail, though that did not stop him from marrying his 60-year-old assistant Vera Lucia Cabreira at the age of 98. In 2011, McKillen visited his studio in Rio, above the beach at Copacabana, to talk about Niemeyer's project for him. 'Oscar beckoned me towards a picture in his office of swimmers on Ipanema Beach, suggesting the building would be inspired by the female form,' McKillen recalls. 'I remember clearly his many questions on the vineyards at Château La Coste, and how he expressed his love for a good glass of red wine.'
By that time, the architect's sight was deteriorating. He relied on his sense of touch to feel architectural models, and lightboxes to read the drawings made for him by his staff. He could no longer manage to do his party piece for the flow of visitors who came to see him. Until he was well over 90, he would ask them to name any of his many buildings, produce a pen and, without pausing to think, capture its essence with a single fluent black line on a sheet of butcher's paper pinned to an easel. His assistant would unpin it, fold it up and present it as a gift.

Niemeyer had long since stopped travelling. He never saw the Serpentine Pavilion, unveiled in his absence in 2003. Nor did he go to the opening of his last sizeable project finished while he was still alive, the ill-fated Niemeyer Cultural Centre in Spain, which closed nine months after it opened in 2011, before reopening the next year under new management.

Jair Valera, an assistant who had worked for Niemeyer since 1974, went to see Château La Coste on his behalf in 2010. He walked the site, chose a location and went back to Brazil. In conversation with Niemeyer, he came up with four or five proposals. McKillen selected the one that has finally been realised. It sits on land protected by the local authority as agricultural, and so it took a protracted period of persuasion to secure the necessary permissions before McKillen's team built the structure standing here today.
The Château La Coste project is unlikely to be the end of it. In Brazil, the appetite for posthumous Niemeyer projects, large and small, is seemingly insatiable. The year after Niemeyer's death, his office, which by then was being run by Valera, alongside Niemeyer's granddaughter, the late Ana Elisa Niemeyer (also an architect), picked up several large new projects, including a research park in northern Brazil and an aquarium planned for a coastal suburb of Rio. Back in France, with the final touches applied as we write, Niemeyer's pavilion at Château La Coste opens to the public this month.
INFORMATION
chateau-la-coste.com (opens in new tab)