Annie Morris' totemic inauguration of Château La Coste's Oscar Niemeyer Pavilion
British artist Annie Morris becomes the first artist to take on the newly completed Oscar Niemeyer Pavilion at Château La Coste, Provence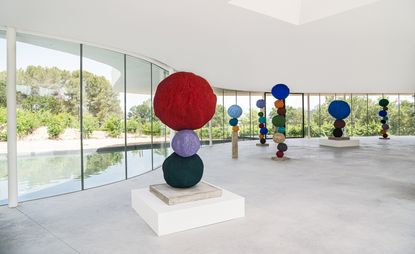 (Image credit: courtesy of Château La Coste © Stéphane Aboudaram )
Nestled in the bucolic, vineyard-dappled wonderland surrounding Château La Coste sits what is claimed to be Oscar Niemeyer's final building. This is contested, but regardless, the two-part pavilion that opened earlier this year is a quintessentially Niemeyer structure: sinuous curves, crisp white concrete walls reflected in a shallow adjacent pool, and a near 360-degree glass facade, adjoining a cylindrical auditorium.
Such a significant building calls for a significant inaugural exhibition, a task to which British artist Annie Morris has risen. Co-curated by Georgina Cohen, her exhibition is a congregation of the artist's Stacks, totemic towers of vibrantly pigmented spheres of varying sizes. There's a rhythm to these works, alternating between precarity and stability, and despite their vibrancy, they carry a more poignant symbolic weight. As the artist told us in a 2021 interview, Stacks were initially created in grief following the tragic stillbirth of her first child in 2014, but have since evolved into a 'joyous obsession'.
At the heart of this obsession is raw pigment, which Morris hand-sources and applies to the surface of her plaster and sand spheres. 'I have always been drawn to raw pigment. I wanted to try and capture pigment as it is, and before it dries,' Morris told us last year. 'It has a certain lightness and richness that feels very alive and fragile.' Raw pigments create a velvet-like surface that swallows light. There's Morris' frequented palette: ultramarine, viridian and ochre – and more recently, the addition of lavender and pale greens inspired by recent visits to Provençal vineyards.
RELATED STORY
Morris' smaller, newer sculptures – often comprising a three-sphere stack – carry more figurative qualities, suggesting the female form or pregnant body. The pigment experimentation continues in a group of paintings, which are assembled to form a vast, 15m-wide mural. These are accompanied by tapestries and drawings, which, like Morris' sculptures, occupy a space between figuration and abstraction.
Outdoors, in the latest addition to Château La Coste's vast art and architecture trail, Morris has installed a monumental 6m-bronze Stack sculpture, which sits face-to-face with Louise Bourgeois' Crouching Spider, creating a cross-generational dialogue on themes of femininity, motherhood and birth.
As Morris says of her new show, 'My sculptures are about holding onto something that's fallen, and to express the hope and defiance of life. The vibrant pigment on the surface is a way of trying to freeze the moment when paint hasn't yet dried, and is caught in its most raw form. They assemble to create abstract paintings that escalate upwards and express the fragility we all feel in our lives.'
INFORMATION
Annie Morris' exhibition runs until September 2022 at Château La Coste. chateau-la-coste.com
ADDRESSVIEW GOOGLE MAPS
2750 Route de La Cride
13610 Le Puy-Sainte-Réparade