Nike's Serena Williams Building: an exclusive first look
The latest addition to Nike's world HQ in Oregon, the Serena Williams Building brings the brand's entire design team under one roof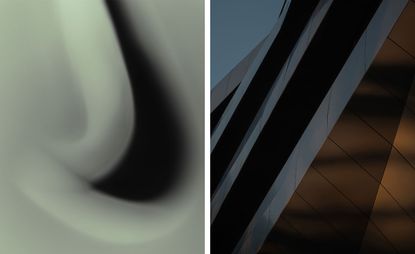 (Image credit: Mahmoud Mfinanga)
Even the most hardened cynics are likely to find their pessimism dissipated by Nike's emotive and triumphant messaging. With a whopping reported revenue of $44.5bn for fiscal year 2021 and ranked as the world's most valuable apparel brand for the seventh year running, the sports behemoth clearly means more to people now than ever before. That's saying a lot, considering that Nike, which turns 50 this May, faces stiff competition from more nimble, industry-disrupting start-ups with each passing year. But the brand's uncanny ability to innovate and exceed expectations, rather than coast along on past successes, proves one of its 2022 messages: that 'progress is never done'.
Unveiling Nike's Serena Williams Building
That progress takes a new shape in May 2022 with the long-awaited opening of the Serena Williams Building on the sprawling Nike World Headquarters in Beaverton, Oregon. Named after the tennis great, as per the Nike tradition of naming campus buildings after sports legends, the building encompasses a mammoth one million sq ft and brings Nike's design teams, consumer insights teams, and apparel and footwear merchandising teams all under one roof for the first time.
'This is a completely new era, a next generation,' says chief design officer John Hoke, who joined the company as a retail designer back in 1992. 'We haven't been assembled as a design team in nearly three decades, so to put that concentration and energy back on one floor, all disciplines, all product types, I can't wait to see what's going to happen. When I started, there were probably 80 of us in the entire design organisation, and there will be 800 of us here. There's been a lot of growth.'
Designed by the Portland-based Skylab Architecture, the building stretches across the equivalent of 140 tennis courts, with its footprint elegantly disguised in a layout consisting of three wings (a nod to the company's namesake, the winged Greek goddess of victory) and a tower.
'Skylab's Jeff Kovel and I coined the idea of two buildings coming together as "the handshake": Bill Bowerman and Phil Knight's first handshake to start the company more than 50 years ago,' says Hoke, who trained as an architect and spent his early years working at Michael Graves. 'It reflects central foundational thoughts about the company. And as an organising principle, it worked really well to break down the scale.'
Light-footprint design
Each wing is progressively taller, from three to six storeys, echoing the sloping topography of the site in order to facilitate the flow of rainwater. Designed with a focus on water efficiency, wetland conservancy and material usage, the building uses collected rainwater for its sanitation system, and water-efficient fixtures so that it consumes 69 per cent less water than a typical building of the same size. It is also verified as salmon-safe, with environmental protections on water quality and habitat in place.
'We are trying to build a world-class product and creative centre, and we wanted to have a profound experience for employees that really sparks curiosity and imagination,' says Hoke. 'We wanted to do that in an ecological way, with a lighter footprint. It's a big building, but it's LEED-certified platinum, dark-sky compliant, with lots of recycled materials, solar power, the list goes on.'
At the nexus of the wings is the main tower, which, at ten storeys tall, provides the highest vantage point in all of Washington County. The view is best experienced from the observation deck that wraps around one of the building's four restaurants. Here, the architectural evolution of Nike World Headquarters is on full display, from the original cluster of nine all-white buildings dating back to 1989 and an extension encompassing 13 more buildings (all by the Portland-based TVA Architects) to the Sebastian Coe Building (2019), where corporate functions reside, by Oregon firm ZGF, and the LeBron James Innovation Center (2021), by the Seattle-based Olson Kundig. It's clear that Nike is no longer holding back from flexing its design muscle.
Aside from abundant work space, a variety of meeting areas, and wellness rooms for mental health on every floor, the Serena Williams Building is equipped with 200,000 sq ft of innovative lab space for testing, presenting and developing new products. Consumer labs, located on the first two levels, are fully rigged to imitate retail environments, enabling teams to trial and present ideas in-house or to key retail partners in a tangible and compelling way. 'This area is almost like a two-storey mall. Some of them, you open the door and you're in a completely different world,' Hoke says.
Alongside these are immersion rooms, equipped with wraparound visual projection onto three walls and theatre-quality sound to help design teams visualise products and bring concepts to life in new ways. Each of Nike's brands will have a dedicated room to use as they see fit, 'from doing product builds to scale to putting an entire season's worth of product on a wall. This is the first time we've been able to do that,' asserts Hoke.
A once-in-a-generation project
Harnessing the power of design is at the top of Hoke's mind. The idea to unify all the design departments came about almost six years ago, when he and then-CEO Mark Parker 'began to think about how we wanted to create an atmosphere around Nike's creativity', he recalls. 'It all began with a quick brief: how do we create the next home for the next creative era, for the next 50 years. This is a once-in-a-generation project, to build an environment that leverages design to spark collaboration, creativity and craftsmanship at the next level. It's our hope that this building creates that power of place, like the Bauhaus in Germany or the Eames Office in California. There's something about this magnet of energy that is hard to put your finger on, but creates the future.'
Product and social innovation
Naming the building after Serena Williams is significant. Apart from the unprecedented levels of innovation and dominance that she has brought to tennis, Williams' contributions off the court have been equally outstanding, if comparatively lesser known. At Nike, the launch of Serena Williams Design Crew (SWDC) in mid-2021 – a partnership between Nike designer-mentors and a ten-strong cohort of up-and-coming designers to create a collection bearing Williams' name – sees all sides wielding diversity to design a more equitable future. Williams instigated the initiative and takes an active role in vetting applicants and critiquing the designs put forward. Each cohort relates to a different city; the first group was from New York and the second honed in on the Midwest. Mentorship of the third group of apprentices, all from Los Angeles, is currently underway.
'There is no finish line to this work,' says Jonathan Johnsongriffin, vice president and head of global brand defining creative and brand innovation, who has been at Nike for 16 years. 'With each cohort, the designs become more innovative and expressive of the different perspectives that we're bringing in. [SWDC] has been a huge catalyst for our international community. We never have a problem finding mentors, managers, peer mentors. There is such a gravitational pull to the programme.
'My journey at Nike has been about being an example through different impact programmes, and working with some of the best athletes in the world to continue to show why having diversity and empathy in design is so important. We've seen how diversity of culture, ethnicity and background experience really pushes design and innovation. It's not a secret. Creating a narrative, a product, an aesthetic and an expression gets so much better when you have different perspectives in the room.'
Jarvis Sam, vice president of global diversity, equity and inclusion, echoes this. 'We truly believe that sport has the power to change the world. The design principles of storytelling, empathy and human connection have all become the mode of how we think about diversity, equity and inclusion at Nike. We look to have that same focus in product innovation and social innovation.'
Sam continues, 'Purpose has to be the centre of everything we do in the next 50 years – not an add-on, not an initiative, but deeply rooted in our philosophy. Initiatives like SWDC are about our commitment to women beyond just [seeing] her as a consumer, but her as a teammate. When we listen to the voices of signature athletes like Serena, [we elevate topics like] how we centre women in our business, how we think about her experience as a woman of colour.'
Reaffirming the presence of women in sports at all levels is very much a focus of Tania Flynn, a 17-year design veteran at Nike and vice president of women's apparel product design. 'Designing for women is personal and it comes at a time when we're really investing more in her than ever before,' she says. 'In the past, we may have been speaking to a fitness enthusiast, but now, she's every woman. It's about embracing all the forms, shapes and ages she comes in. It's not just about options, it's about choice. Coupled with this amazing building, where all of our teams – product creation, design, marketing, tech development – will be working together, our priorities are to create apparel that will serve, support and empower her as she takes on the world.'
By improving the design of garments for women at their various life stages, Nike puts the real needs of women at the forefront of functionality and innovation. Says Hoke, 'The magic of Nike is that unique fusion of athletic possibility, the science and innovation of studying and knowing athletes better, and then this audacious imagination and restless curiosity. We exist to burst through barriers and stare down the status quo, and not accept the boundaries that athletes are faced with. We can help make all athletes better, from Olympic to first-time.'
INFORMATION
nike.com (opens in new tab)
skylabarchitecture.com (opens in new tab)
Pei-Ru Keh is the US Editor at Wallpaper*. Born and raised in Singapore, she has been a New Yorker since 2013. Pei-Ru has held various titles at Wallpaper* since she joined in 2007. She currently reports on design, art, architecture, fashion, beauty and lifestyle happenings in the United States, both in print and digitally. Pei-Ru has taken a key role in championing diversity and representation within Wallpaper's content pillars and actively seeks out stories that reflect a wide range of perspectives. She lives in Brooklyn with her husband and two children, and is currently learning how to drive.
With contributions from