Tom Pigeon creates prints for Team GB ahead of 2020 Olympics
Ahead of the 2020 Tokyo Summer Olympic Games, Tom Pigeon has designed prints for the Great Britain and Northern Ireland Olympic Team, inspired by classic posters from the 1960s and 1970s and Russian constructivist art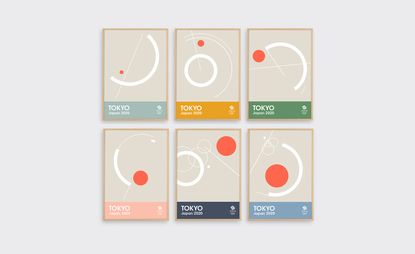 (Image credit: TBC)
Scottish studio Tom Pigeon has designed a series of abstract prints for the Great Britain and Northern Ireland Olympic Team, depicting some of the events Team GB will compete in during the upcoming 2020 Tokyo Summer Olympic Games. The screen-printed artworks feature circles, lines and dots that combine to evoke the dynamic movement involved in six of Team GB's key sports: sailing, gymnastics, athletics, cycling, rowing and swimming.
'I didn't want it to look like a person made out of shapes running on a track because that would just be cheesy,' says Kirsty Thomas, creative director at Tom Pigeon, who worked with Team GB's merchandising team to develop the collection. 'We talked about including the name of the sport,' she adds, 'but the customer will know what it is so then it becomes a conversation piece to see if other people can figure it out.'
Thomas was given free rein to create designs in her signature pared-back, playful style. Inspiration came from classic Olympic posters from the 1960s and 1970s, as well as the bold, graphic aesthetic of Russian constructivist art. As a nod to the host city, each print also incorporates a red circle referencing the rising sun of the Japanese flag. 'The circle gave the designs some parameters and was fun to play with,' says Thomas. 'It represents different things in each print so it took a while to get right.'
Proceeds from the sale of the print series go straight to the British Olympics Association, which receives no annual government funding. According to Thomas, there is a possibility that special editions in gold, silver and bronze could be made for medal winners following the Games. In the meantime, sports fans can purchase their favourite design online direct from Team GB or Tom Pigeon, as well as from selected retailers.
INFORMATION
tompigeon.com (opens in new tab)