Balenciaga New Bond Street: the otherworldly majesty of the house's new London flagship
Art director Niklas Bildstein Zaar and architect Andrea Faraguna of Berlin-based studio Sub introduce Balenciaga New Bond Street, a stripped-down space made to evoke 'the warehouse, the carpark, the emptied gallery'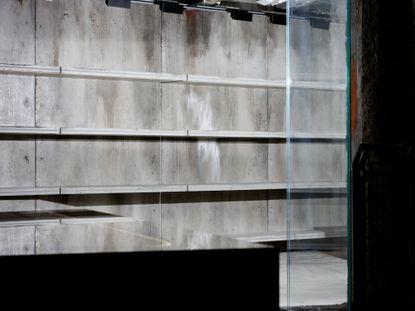 (Image credit: Leon Chew)
A gaping crack reveals itself in the middle of a concrete floor as if caused by some Dionysian commotion. Its presence suggests turmoil, energy, and release. A sense of anticipation clings to the air: what has caused the rupture? Here, on the second level of Balenciaga's new London flagship store, the crack has been deftly carved and then filled in with putty-coloured resin. It is a meticulous, 92cm-long character in a fictional set, typical of the projects by art director Niklas Bildstein Zaar and architect Andrea Faraguna of the Berlin-based studio Sub.
Balenciaga's artistic director Demna decided to strip the brand's stores back to a new kind of textural experience billed as 'Raw Architecture'. The concept involves fewer virgin materials and thus a lighter environmental footprint. Elements from construction sites, civil engineering projects and abandoned spaces influenced the renovation of the store on London's Sloane Street, which was unveiled last year. The new flagship, located at the intersection of New Bond Street and Conduit Street in the heart of Mayfair, iterates the same aesthetic over three floors. It is an exercise of decor and artifice.
Enter through a thick stainless steel door and you will find a seemingly abandoned concrete galaxy. Synthetic, biscuity mud is scattered underneath floating concrete shelves that line the large windows. Thick iron beams supporting the building have the patina of rust. Walls, doors, and floors appear weathered. Faraguna says, 'It looks like we found the perfect location in the middle of the city that was already stripped down, and we've just added some appliances, lights, and new elements. But of course that wasn't the case.'
Sub's interventions derive from the vocabulary of everyday urban life. Things we might recognise are combined through a process of montage. Bildstein Zaar says: 'The crack is quite funny because it is something you do notice. We are in the business of creating a certain atmosphere and, in order to do so, there are some signifying elements or archetypes that guide the language. This combination of archetypes creates the atmosphere, but it is quite particular.'
The store is an atemporal background to Balenciaga's seasonal collections, which themselves often riff on notions of what is classic, what is now. Bildstein Zaar and Faraguna's research is driven in part by the pursuit of artificial authenticity. Their studio has both a virtual-world and real-world department, yet it is focused squarely on the intersection of the two. The store echoes decrepit and weathered venues that Bildstein Zaar feels are defined by a certain attitude and euphoria, that evoke a menacing decadence: 'The warehouse, the carpark, the emptied gallery – places that have hosted a palimpsest of activities.'
Each floor represents a stage of deterioration or construction with stained and cracked concrete, oxidised steel, distressed textiles, and synthetic dirt throughout. Sections are sliced away in the manner of American artist Gordon Matta-Clark, exposing the dramatic foundations of the building. A core sealed with glass slabs reveals the ghost of the original staircase and an empty lift shaft. The building, which dates to 1939, wasn't prepared to host the amount of concrete the duo had in mind – what you see has been engineered to give the impression that it is very heavy, yet often it is a veneer. What looks like an extremely weighty pillar might be a mere 1.5cm of expertly moulded concrete.
A range of artisans was employed to recreate a compendium of real-world textures. 'You cannot go into a space and just paint a bit of rust residue randomly without understanding how these things form, otherwise it will spiral out of control and become some sort of Planet Hollywood kind of artifice. There really needs to be a psychological backstory to what you are doing,' Bildstein Zaar says. Dozens upon dozens of panels with stains, cracks, calcification and efflorescence that were sampled for the project remain crammed into Sub's studio.
Previously, Sub has collaborated with Balenciaga on designing all-encompassing show scenography, most notably A/W 2022's giant glass rotunda snow globe, which sent models through an artificial blizzard. The same otherworldly majesty is here too. Downstairs the mud has descended into a pile in the empty stairwell. Iron girders protrude from the walls. Lights evoking explosion-proof lamps designed for harsh and hazardous environments are lowered and ominous. In photographs the store will seem more severe than its reality and this, Bildstein Zaar says, is where the tension lies in making physical experiences today: 'The concept of an image, a photograph for example, is a cold thing. It's something frozen in time, something confined by a logic imposed by someone else. But when you find yourself in the space, you arrange your own logic, and you find that it doesn't feel cold at all. I think it feels homey and welcoming.'
24-25 New Bond Street feels like a space alluding to an event that's just occurred – or about to be revealed. 'You have a moment in which you understand the store, it's very clear, very straightforward, but something is touching you profoundly because you want to understand what's going on,' Faraguna says. With its stained surfaces and nonchalant grandeur, it might look like happenstance, but this is an operation of extreme precision.
INFORMATION
24-25 New Bond Street, London.
Opens 26 March 2022.
balenciaga.com
Receive our daily digest of inspiration, escapism and design stories from around the world direct to your inbox
London based writer Dal Chodha is editor-in-chief of Archivist Addendum — a publishing project that explores the gap between fashion editorial and academe. He writes for various international titles and journals on fashion, art and culture and is a contributing editor at Wallpaper*. Chodha has been working in academic institutions for more than a decade and is Stage 1 Leader of the BA Fashion Communication and Promotion course at Central Saint Martins. In 2020 he published his first book SHOW NOTES, an original hybrid of journalism, poetry and provocation.
With contributions from