The most innovative designs in home fragrance
Our edit of objects that will make your room smell as good as it looks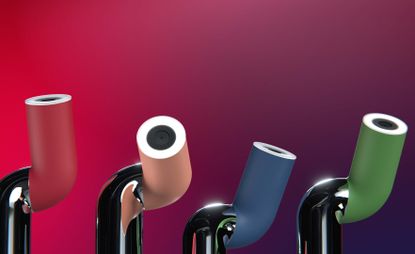 (Image credit: Moooi)
Home fragrance gets a new look with this selection of inventive tools for decorating and scenting your domestic space. From scented papers to lava rock potpourri, these objects outshine any candle.
Piro by Moooi
Dutch design icon Moooi has delved into robotics with Piro- a dancing scent diffuser that combines the brand's keen aesthetic eye with a playful sensibility and keen interest in new technologies. The brand developed Piro in collaboration with the US-based design company Ideo, who are best known for their human-centred approach to technology. Along with dancer and roboticist Catie Cuan, who choreographed the graceful movements of the diffusers, the group seek to explore how something as seemingly cold as a robot can be infused with warmth and beauty.
Infra Luna by Byredo
Created in collaboration with French designer and light artist Benoit Lalloz, Byredo's Infra Luna is a unique design item that simultaneously illuminates and perfumes the home using an innovative heating mechanism.
Instead of burning candles, Infra Luna melt the wax into liquid to potently diffuse scent throughout the room, while a coloured candle cap can be placed over the candle to create a moody wash of light in the colour of your choice.
The Townhouse Collection by Jo Malone
Jo Malone's ability to continuously produce scents that are equal part inventive and accessible has garnered it a cult status within the fragrance world. The brand's new Townhouse Collection presents a new range of characteristically distinctive scents with new packaging that references the architectural details of Georgian architecture. In keeping with the brand's traditional sense of English sense of refinement, the five candles are rendered in delicately textured bisque ceramic and hand-applied with fine details that evoke the cornices and columns of classic English manors. Each of the scents represents a different moment of life within a townhouse, from the sunlit garden breakfast evoked Fresh Fig & Cassis to the nights spent by a crackling fire with Glowing Embers.
Perfumed papers by Ponsont
Crafted by perfumer Justin Vaughan, Ponsont transforms a simple everyday object- paper- into a unique tool for scenting a space. A booklet of the paper strips, which are made out of tree-free cellulose, can easily be kept in your back pocket and given to friends or lit up for your own instant hit of aromatic bliss.

The brand's bold graphic design makes it instantly eye-catching, but it's the unique, painstakingly crafted fragrances that stay with you. Vaughn is a fragrance virtuoso, who draws his inspiration for the scents from everything from Rothko paintings to drugstore candy.

Find out more about the brand's fragment Re-made collaboration with Wallpaper* in this month's issue.
Light candle by KANA x Evermore
Evermore's distinctive black candles get a new summertime look courtesy of ceramic powerhouse Kana London. The collaboration sees Evermore's vegan waxes contained within a playful gingham design by Kana, and are perfect for use either indoors or outside.

Once the candle is fully burned, the containers can be re-purposed as a chic bowl or serving dish for long-lasting usage. Available in two of Evermore's most refreshing summertime fragrances, 'Flore' and 'Light,' these candles are a sure-fire way to infuse some extra ambiance into long summer evenings.
'Deep Forest Soil to Form' scent and soil diffuser by Frama
The bold, yet elegant, aesthetic that has come to define Danish and Korean design is on full display in this original room diffuser. With 'From Soil to Form,' Copenhagen-based design studio Frama and Seoul creative agency Be My Guest make elements of the natural world suitable for a domestic setting.
The home diffuser consists of nine Korean red soil spheres contained in a pinewood box. Each of the spheres can be coated in 'Deep Forest' essential oil and then liberally scatted around the house, or kept in the box and displayed as a unified piece.
Monarchia potpourri totem by Mad et Len
Mad et Len takes its name from Proust's famous madeleine, a pastry-turned-portal into a nostalgic journey through time. Like Proust, the French fragrance brand is fascinated by how sensory experiences can transport us back into the past.

Handcrafted in a secluded village in the French Alps, Mad et Len products come in iron vessels that, with their blackened and hammered texture, could have easily been made by a medieval ironmonger. For this innovative take on potpourri, the brand has filled one of their signature containers with lava rocks sourced from the Sahara. A few drops of their hand-crafted musk and honey scent can be periodically pipetted onto the rocks for a rugged take on the typical dried flowers.
Incense1 by Affix Works
Affix Works has collaborated with the London-based perfumers at Cremate to create incense cones that mix natural scents of pine and lemongrass with industrial tones of creosote and tar. To correspond with the launch, Affix has commissioned designer Dean Edmonds to create a series of limited-edition incense holders. The designs range from a bright green steel tree, a minimalist pine block, and a lacquered steel ring.

Says Edmonds of the project, 'I'd like to think of each burner as a stage for the cone – some capable of holding many, others with a single offering. I guess they a nod to ritualistic objects although clearly conceived of practical materials within my practice; they could also seem like specimens collected.'
INFORMATION
affix-works.com
store.wallpaper.com
evermorelondon.com
costabrazil.com
ponsont.com
diptyqueparis.com
Mary Cleary is the Beauty & Grooming Editor of Wallpaper*. Having been with the brand since 2017, she became an editor in February 2020 with the launch of the brand's new beauty & grooming channel. Her work seeks to offer a new perspective on beauty, focusing on the pioneering personalities, product designs, and transformative trends within the industry.