Zoë Paul creates fragranced art for Diptyque exhibition
For Diptyque's 60th anniversary exhibition, 'Le Grand Tour', Athens-based artist Zoë Paul creates a unique fragranced artwork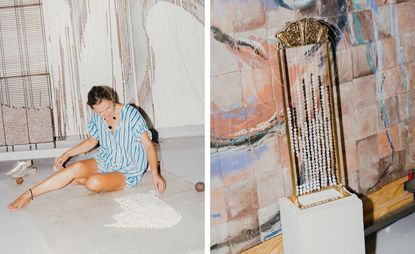 (Image credit: Marco Argüello)
The artist Zoë Paul hadn't planned to end up in a cave. A few months prior, the French perfumery maison Diptyque had approached her to take part in its 60th anniversary show, which opens in Paris 14 September with pop-ups around the world to follow. The exhibition features original works by nine artists.
Of these artists, five have created editioned objects fragranced by Diptyque perfume, with Paul drawing inspiration from Greece; Joël Andrianomearisoa from France; Johan Creten from Italy; Hiroshi Sugimoto from Japan; Rabih Kayrouz from Lebanon.
These five destinations were chosen because they were places Diptyque's founders, Christiane Montadre-Gautrot, Yves Coueslant and Desmond Knox-Leet, have often travelled to or taken inspiration from.
When the trio launched Diptyque in Paris in 1961, it was not a fragrance house but rather a chic curio shop packed with knick knacks – an ode to the wonders that can be found through travel. Each item was selected for its intriguing design or compelling story, be it a bistro sugar holder or Indian incense sticks.
'Le Grand Tour' harks back to that origin story, but with a more elevated collection of artist-designed objects, befitting the brand's evolution into a luxury house. Like Diptyque's founders, Paul knows what it is like to be in between places, having been raised between the UK and Greece by South African parents escaping the apartheid regime.
She is now settled in Athens and much of her work is informed by Greek traditional crafts. Using materials closely tied to her surroundings, such as clay and wool, or scavenged industrial waste, Paul creates works focusing on the corroding effect of modern technology on our sense of community.
Notable works include a series of rusted refrigerator grilles interwoven with wool tapestries that examine the effect that the arrival of domestic refrigerators had on rural Greek communities. Since people could keep food longer, rather than share it with others before it spoiled, they tended to stop eating together; crafting together also ceased, with the arrival of mass-produced objects.
Paul's 2017 installation La Perma-Perla Kraal Emporium also examined the link between craft and community by inviting visitors to roll clay beads together. As people sat together, they inevitably started talking, transforming a gallery, which tends to encourage isolated observation, into a relaxed communal space. Paul's work for Diptyque, The Cave of Chiron, referring to the centaur of Greek mythology, incorporates all of these facets.
Myth and Diptyque fragrance inspire artwork
A curtain of clay beads, fired for days over a metal drum, forms an image of a single hand, held together by a hand-pressed gold tin frame. For Paul, this curtain technique was a natural choice for a project with Diptyque: 'There's a fragility to it, in the same way that the perfume has this fragility to it and it hangs in there,' she explains.
Paul visited the Greek village of Milies – the inspiration for perfumer Olivier Pescheux's eponymous fragrance for Diptyque – after receiving the maison's commission. 'What struck me the most about the place was its profound spirituality,' she recalls. 'Following the road to the village, quite by chance I came upon Chiron's cave. It was surrounded by laurel bushes and little violet-coloured wild irises. Inside, the space opened out, taking on an unexpected resemblance to a sepulchre.'
Inside the cave, Paul found the inspiration she was looking for. Mythical Chiron is a healer and practitioner of herbal medicine. His name translates as 'hand', a symbol of healing and protection, and one that the artist already had in mind before her visit. As she describes it, when she first smelled Diptyque's Milies perfume, a rich blend of cypress notes, fig trees and immortelles, 'I was thinking about these hands crawling their way out of the earth, because the perfume smelled kind of soily and earthy'.
On a personal level, she found being in Chiron's cave so affecting that it 'kicked into place' a desire to start seeing a healer herself, and examine more closely how she uses imagery in her work: 'It got me thinking about what these symbols mean; it's not so much about religion as it is something that brings people together spiritually. The figure of the healer is something which brings people together, there's a lot of reaching out of hands, of holding hands.'
To reaffirm this sense of spirituality, Paul looked to the village's ornate Orthodox church to create the frame for The Cave of Chiron. She found a reliquary craftsman (with a studio 'filled with drawers of diamonds' and 'the little toe of a priest') to handcraft the tinware crown that sits atop her artwork, holding a ceramic dish imbued with the fragrance. 'I wanted to make something that was in between the feeling of nature and these two spiritual places in Milies – the church and the cave,' says Paul.
'Something that combined their energies,' she adds. For Paul, there is not much difference between the art people have on the walls or the table they eat off – 'everything should have that energy'. It's a philosophy reflected in her use of everyday materials to create a communal atmosphere.
A special energy
Creating a communal atmosphere is not so far off, in turn, from the mission of Diptyque's 'Le Grand Tour'. The brand's UK managing director Amanda Morgan explains: 'In the past 18 months particularly, people have been looking for sensory experiences – visually or through fragrance – to heighten everyday life. That's what's exciting about having our 60th anniversary at this moment. There's a different level of excitement and of gratitude.'
In its early years, Diptyque was a cultural scene in and of itself. During the day, the Paris shop would play music, from Beethoven to The Rolling Stones, and at night the crowd that had gathered there would flow into the Orphéon nightclub next door.
Some time later, the Diptyque trio created three candles fragranced with hawthorn, cinnamon and tea, the first of many strange but intoxicating perfumes that would define the brand in the decades to come. 'Le Grand Tour' is in some ways a recreation of that founding ethos. The exhibition is a collection of finely crafted art instillations, each with its own story, bringing people together and creating a special energy.
For those in London, The Cave of Chiron can be viewed and purchased from The Selfridges Corner Shop 6 September to 3 October.
INFORMATION
diptyqueparis.com (opens in new tab)
Mary Cleary is the Beauty & Grooming Editor of Wallpaper*. Having been with the brand since 2017, she became an editor in February 2020 with the launch of the brand's new beauty & grooming channel. Her work seeks to offer a new perspective on beauty, focusing on the pioneering personalities, product designs, and transformative trends within the industry.
With contributions from