Through the lens of photographer Caroline Tompkins
Here, Caroline Tompkins discusses her techniques for remote and in-person shoots, new ways to depict climate change, and her upcoming book on women, sex and fear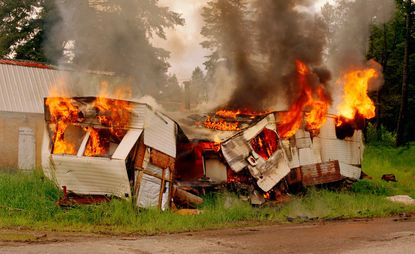 (Image credit: Caroline Tompkins)
'Through the lens' is our monthly series that throws the spotlight on photographers who are Wallpaper* contributors.
For Wallpaper's 25th Anniversary Issue, we asked New York-based photographer Caroline Tompkins – known for her intimate portraits and strangely familiar American landscapes – to turn her lens on five creative luminaries. With a seamless combination of remote and in-person portraits, Tompkins depicted architect Frida Escobedo in Mexico City, designers Andrea Trimarchi and Simone Farresin of Formafantasma in Italy, artist and urban planner Theaster Gates in Chicago, artist and co-founder of Owenscorp Michèle Lamy in Paris, and designer Oki Sato of Nendo in Tokyo.
Here, Tompkins reveals more from behind the scenes, and discusses her practice and upcoming project.
Wallpaper*: Describe your style and process
Caroline Tompkins: I'm not a very loud person. I'll never be one of those photographers that dominates a set, but maybe it's because I don't have a nose drug habit. I refuse to yell 'Yaaaas.' I'm sensitive though. I look people in the eyes and smile a lot. I always show up interested. I think I'm funny in a disarming way. On my best shoots, I go through image archives beforehand and come to set with poses, lighting styles, moments I want to emulate. Sometimes I shoot film just because I want someone to trust me. If the person doesn't understand how the camera works, they'll give you more of their time.
W*: Tell us about how you brought your way of working to the five shoots for Wallpaper's 25th Anniversary Issue?
CT: This shoot was ruled by limitations! Four of the five shoots were shot remotely via an app called Clos using the iPhone camera. This meant I was stripped of all of my technical crutches – no octabanks or light tricks here. My dad used to tell me that a good photograph could be made on any camera, so I was focusing on what I had instead of what I wished I had.
I told all of the subjects to make sure they had someone else holding the camera, which helped me create a proxy of a photographer. Something I found myself doing was mimicking the posing I wanted them to do. 'Michèle Lamy, I want you to lay like this' or 'Frida Escobedo, cross your legs and look to your left like that'. I felt like a choreographer just as much as a photographer.
W*: What do you think is the most interesting thing happening within photography now?
CT: The history of photography has always been driven by technological advances. I'm fascinated by the way the industry is digging its heels into that right now. Everything is so soft, colour darkroom, warm tones, and film grain, but I'm interested in how digital technological advances are changing the medium. I think film guarantees a visual opinion, but digital makes you figure that out on your own. My friend and photographer Tim Schutsky talks about recent digital advances as an unexplored medium, which I quite like. Even though I shoot film, I'm excited for it to not be cool anymore.
W*: What's on your radar?
CT: I listen to a lot of climate podcasts, and they always talk about the best way to take action in regards to the climate is to think about what you have access to (time, money, research, connections) and combine it with what you're naturally good at. I've been thinking lately about how I can use photography in this way. What's an interesting way to depict climate change that's not just something dead, alive, or a big piece of machinery?
W*: What's next for you this year?
CT: I've been working on a body of work for the last few years about women, sex, and fear. Women are taught to both fear men, but also desire them, and have to hold those two truths at once. I've been making pictures that represent those two sides. I've been calling them heaven and hell pictures. I hope to release a book about this work in the next year, which I couldn't be more excited about.
INFORMATION
Receive our daily digest of inspiration, escapism and design stories from around the world direct to your inbox
As Photography Editor at Wallpaper*, Sophie Gladstone commissions across fashion, interiors, architecture, travel, art, entertaining, beauty & grooming, watches & jewellery, transport and technology. Gladstone also writes about and researches contemporary photography. Alongside her creative commissioning process, she continues her art practice as a photographer, for which she was recently nominated for the Foam Paul Huf Award. And in recognition of her work to date, listed by the British Journal of Photography as 'One to Watch'.
With contributions from