Art podcasts in tune with the times
Lend your ears to the best art podcasts to inspire, empower and entertain – hear us out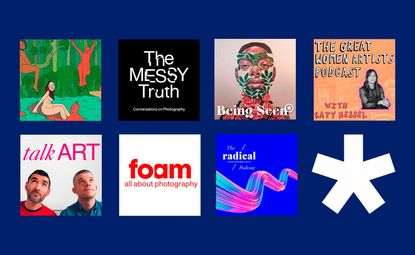 (Image credit: press)
Lean back into an audial world of art history and art futures with our pick of inspiring culture and art podcasts. From the personal anecdotes and witty repartee of art advocate Russell Tovey's Talk Art, to meetings of creative minds in Chanel Connects, the conversations start here.
Chanel Connects
Continuing the premise of its much-heralded debut season last year, the second season of Chanel Connects pairs the best minds in the creative landscape to delve into the future of film, art, dance, music and far beyond. Some featured figures are old friends; others are meeting for the first time, and all are trailblazers across their respective fields. Spearheaded by Chanel Arts & Culture, season two sees photographer Misan Harriman and artist Kehinde Wiley unpack 'Myth Making', while

actor Maisie Williams (Game of Thrones) and musician Grimes go deep 'Into the Metaverse', and artist Anicka Yi discusses what makes us human with filmmaker John Akomfrah. Notably, this season will see Chanel Connects introduce two new episodes in Korean (with K-pop musician G-Dragon, and celebrated cinematographer Hong Kyung-pyo of the award-winning film Parasite) and French (featuring Maimouna Doucouré, recipient of an Academy Gold Fellowship for Women for her film Cuties, and Audrey Diwan, director of Emmanuelle). Through a wide-ranging meeting of minds, ideas and disciplines, Chanel Connects asks 'what happens next?'
Listen here (opens in new tab)
Hope & Dread: Tectonic Shifts In Power In Art
The art world today faces a host of challenges, from monument removal to calls for repatriation, and rethinking museum model hierarchies. The 'Hope & Dread: Tectonic Shifts In Power In Art' podcast, as its name suggests, is a documentary series that asks the big questions with thoughtful and provocative conversations about the future of the art world. Hosted by Allan Schwartzman and Charlotte Burns, the episodes spotlight the perspectives of artists, museum directors, philanthropists to politicians and more. The latest episode, 'Artists: Players or Pawns?' hears from Michael Armitage, Jackson Polys, Tiffany Sia, Hank Willis Thomas and Issy Wood.
Listen here (opens in new tab)
Prix Pictet's: A Lens on Sustainability
As the Prix Pictet's 'A Lens on Sustainability' podcast returns for a third series, creators and thinkers share ideas on photography's relationship and responsibilities towards our world, positioning photography as an influential and responsive medium. The prize is positioned as the global award in photography and sustainability and episodes are themed accordingly: Power, Oceans, Workspace, Food, and Regeneration, featuring on-location interviews and panel discussions. Featuring the likes of Don McCullin, Hannah Starkey, Sebastião Salgado and Taryn Simon, this is an innovative look at contemporary issues through an ever-evolving field.
Listen here (opens in new tab)
Are We On Air?
The inner lives of artists; it's a constant subject of fascination and mystery. Music has long been a means of charting lives and anchoring memories and forms the foundation of the podcast Are We On Air?, created by music curator Arman Naféei. His guests – as star-studded as they are varied – span the intersecting worlds of music, art, film, design and science. Seasons one and two welcomed the likes of Michèle Lamy, Dua Lipa and Marina Abramović. In Season three, which launches in January, listeners can expect contributions from an eclectic mix of voices including Amanda Lear, Carsten Höller Johann König and Rick Owens.
Listen here (opens in new tab)
Intersections: The Art Basel podcast
Spanning art, architecture, music, fashion, design, literature, the new podcast by art fair Art Basel offers listeners access to the voices at the forefront of the creative industries. Presented by UBS, bi-weekly episodes will be hosted by Marc Spiegler, Art Basel's global director who will invite industry-leading guests to take part in one-on-one conversations. The podcast launched with renowned Ghanaian-British architect David Adjaye, and another with producer, rapper and collector Kasseem Dean, aka Swizz Beatz. Other guests have included Lisa Spellman, Kim Gordon and Pamela Joyner.
Listen here (opens in new tab)
'Found: Objects With Meaning' by Wallpaper*
Fresh out of the recording studio, 'Found: Objects With Meaning' is the new podcast from Wallpaper*, created in collaboration with Vodafone Smart Tech. In six conversations with creatives, we'll uncover their personal and professional attachment to objects. We're talking about transformative technologies, favourite tools, inspirational artworks, and the meaning of absent things. Its inaugural guest is legendary American musician, Nile Rodgers in conversation with Wallpaper's transport and technology editor, Jonathan Bell. There's probably no part of the modern musical landscape that Rodgers hasn't travelled through, from his pioneering work with Chic in the '70s to his current status as an esteemed hitmaker, player, composer and producer. 'I thought I was going to be a collector and then I wound up categorising myself as a hoarder because no-one got to see these wonderful things that I collected,' he explains. Keep your ears peeled for more stellar guests sharing stories of the creative and emotional force of objects – both those they have and those that got away.
Listen here (opens in new tab)
Mirror With a Memory
Hosted by American artist Martine Syms, who featured in last year's Uncanny Valley exhibition at San Francisco's De Young Museum, Carnegie Museum of Art's Mirror with a Memory podcast interrogates the meeting point between photography, surveillance, and artificial intelligence. The six-episode series features notable guests including artists Sondra Perry and Lynn Hershman Leeson, author and professor Simone Browne and Forensic Architecture founder Eyal Weizman. The series zooms in on everything from biometrics and covert surveillance operations to racial bias and the environmental impact of AI.
Listen here (opens in new tab)
RELATED STORY
Creative Characters
Creative Characters by font and technology specialists Monotype goes behind the typeface to share stories of those shaping the future of design and creative culture. The bi-monthly series features experts across the creative industries who delve into the evolution of design and offer tips for navigating a career in the field. The launch comes after Monotype unveiled 'Up and Coming', a series spotlighting new and upcoming voices in the world of typography. Guests so far have included Scott Starrett, co-founder and Principal of NYC design firm Tandem and James Sommerville, lettering artist Jenna Blazevich and James Sommerville co-founder of Known_Unknown and former VP of global design the Coca-Cola Company.
Listen here (opens in new tab)
This Being Human
This Being Human explores the global, kaleidoscopic experiences of contemporary Muslim life through the lens of arts and culture. Conceived by Toronto's Aga Khan Museum and hosted by journalist and educator Abdul-Rehman Malik, the podcast aims to amplify cultural luminaries who are redefining what it means to be Muslim today. So far, the podcast has seen interviews with the likes of Pakistani-Canadian filmmaker Sharmeen Obaid-Chinoy and art collector and founder of the Sharjah-based Barjeel Art Foundation Sultan Sooud Al Qassemi.
Listen here (opens in new tab)
Talk Art
This is a podcast with one core goal: to make art accessible. Talk Art was founded in 2018 by actor and avid art collector Russell Tovey and gallerist and former electro-pop band frontman Robert Diament. Through witty, personal and anecdotal insight into the lives of the hosts and their guests, listeners can navigate the important themes and the curiosities of the art world and its relationship to contemporary society. As for the guests, it's unsurprisingly a world-class, cross-disciplinary roster: from Alice Rawsthorn, Paul Smith and Vik Muniz, to Tracey Emin and Edward Enninful. Now a global sensation, the podcast offers all the familial tone of zesty enthusiasts relishing the opportunity to exercise their infectious passion for art. Talk Art: Everything you wanted to know about contemporary art but were afraid to ask, published by Ilex Press.
Listen here (opens in new tab)
The Great Women Artists
The Great Women Artists Podcast, as its name suggests, is a jubilant, varied and insightful celebration of pioneering women in art. Founded by London-based art historian and curator Katy Hessel, the podcast was created off the back of The Great Women Artists Instagram account and invites curators, writers, artists and art enthusiasts to discuss the female trailblazers who have inspired them. From deep-diving into war photographer Lee Miller's career to interviews with leading female contemporary artists including Cecily Brown, Cornelia Parker and Shirin Neshat, the platform highlights how women, past and present, have shaped visual culture. Season five kicked off with the 'Legends' series, which promises episodes on painters Helen Frankenthaler and Pauline Boty and an interview with American painter and mixed-media artist Howardena Pindell.
Listen here (opens in new tab)
Foam Talks: Talent Edition
At a time when many of us are unable to enjoy exhibitions in person, there's a fresh way to experience the work of winners of photographic competition Foam Talent 2020. Mirjam Kooiman, Foam's curator for the Talent Exhibitions, is hosting a podcast. In the first episode, photographer Philip Montgomery and The New York Times Magazine's director of photography Kathy Ryan discuss striking a balance between photojournalism and fine art. Another episode has photographer Rahima Gambo talking with Aziza Harmel, curator and writer, on their work together during the 2019 Bamako Encounters: African Biennale for Photography in Mali, titled 'Streams of Consciousness'.
Listen here (opens in new tab)
Being Seen
Operating in both the audio and visual realms, Being Seen is a platform exploring the gay and queer Black male experience in the worlds of art, fashion, entertainment and activism. Produced by creative studio Harley & Co and writer, activist and author Darnell Moore, the concept delves into how storytelling can be instrumental in changing cultural bias, in everything from awareness around HIV to institutional inequality. The first season, which launched in October 2020, featured guests from across the arts, including actor and musician Luke James and photographer Texas Isaiah. In a distinctive visual twist, each episode is brought to life with licensed and original artwork by leading figures such as Kara Walker, Diedrick Brackens and Ronald Jackson.
Listen here (opens in new tab)
The Messy Truth
Setting out to bring the mysterious inner workings of the photography industry into open conversation, writer and photo director Gem Fletcher launched The Messy Truth art podcast in 2019. Following acclaim from both photographers and the wider creative community, Fletcher has now launched the fourth season, beginning with Farah Al Qasimi then Quil Lemons. Laia Abril is a recent guest, with Ekow Eshun, Coco Capitan and more to come. In the meantime, we recommend exploring previous seasons for conversations with the likes of Carmen Winant, Antwaun Sargent and Eva O'Leary as they discuss visual culture and what it means to be a photographer today. Fletcher sums it up as 'a framework to explore, share, question and debate and most importantly embolden curiosity'.
Sophie is currently Photography Editor at Wallpaper*. Sophie joined the team following the completion of her photography degree in 2018, and works with Photography Director Holly Hay, where she shoots, commissions, produces, and writes on photography. Alongside this, she continues her art practice as a photographer, for which she was recently nominated for the Foam Paul Huf Award. And in recognition of her work to date, Sophie was nominated by the British Journal of Photography for the Futures photography platform in 2021.