Talking art with Russell Tovey, champion of emerging talents
We speak to the actor, art advocate and podcaster about discovering up-and-coming artists, helping them grow, and his latest curatorial endeavour with Bombay Sapphire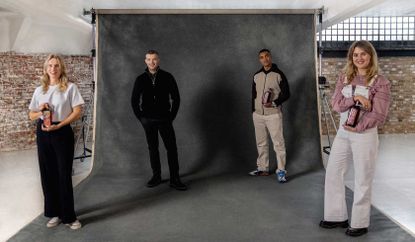 (Image credit: press)
Long acclaimed for his talents on stage and screen, Russell Tovey has also become a leading figure in the art world over the past years, channelling his celebrity into making art more accessible, for audiences and emerging talents alike.

He speaks enthusiastically and often about his personal collection, giving an artistic slant to his interviews with entertainment media, and introducing legions of fans to his favourite artists and institutions. He's involved in a number of non-profit arts organisations, including the Camden Arts Centre, Chisenhale Gallery and Studio Voltaire. The English seaside town of Margate invited him to guest curate its 'Margate Now' arts festival last autumn, and more recently, he was announced as a member of the judging panel for the 2021 Turner Prize – a sure sign of his success as an art advocate.

Most of all, he is known for Talk Art, a podcast series launched in 2018 with gallerist and fellow 'art geek' Robert Diament. It started off as a passion project, says Tovey, 'a way to nerd out and have a reason to talk to our heroes', but has since garnered 1.7 million downloads and become a second career for both of its hosts. What has distinguished Talk Art from other podcasts of its genre, beyond Tovey's and Diament's undeniable charisma and (as the title suggests) conversational tone, is its eclectic lineup. There are blue-chip artists, prominent critics and curators aplenty – highlights have included Rose Wylie, Jerry Saltz and Maria Balshaw – but likewise, cultural icons such as Elton John and Lena Dunham, who offer a rare glimpse into their own artistic interests. There's also a good helping of younger artists such as Jamian Juliano-Villani and Louis Fratino, who are offered the opportunity to reach a wide and dedicated audience.
'The most exciting thing about collecting art, and doing the podcast, and supporting artists, is finding emerging talent,' Tovey explains as we speak over Zoom in late October. 'You can be part of the conversation that helps them grow. And it's so satisfying when you then see these artists go off to have institutional shows and gallery representation, or have their work bought by important collections.'

Tovey discovers these artists by visiting exhibitions, especially group shows, and shows in spaces that cultivate and support younger creative talents. He also has a fondness for Instagram, and the instant connections it has to offer: 'you follow an artist and Like them, slide into their DMs, and suddenly you're having a studio visit'.
'But the best way to find new artists is to talk to artists, and see who they're moving around,' he says. 'It's really exciting when an artist offers up someone else you should have on your radar.'

For his latest curatorial endeavour, Tovey has joined forces with Bombay Sapphire, commissioning emerging talents to create artworks for the gin label's new artist series 'Ripe for Discovery'. (Bombay Sapphire has worked with Tovey before, sponsoring two Talk Art episodes in the series' early days and inviting Tovey and Diament to visit the Edinburgh Art Festival. Tovey sees the new collaboration as a way to reciprocate their support.)

His task was to identify three up-and-coming UK-based visual artists who are at a tipping point in their career, irrespective of their training or medium. Each of them would create a new artwork that would be excerpted to become a limited-edition label for Bombay Bramble, the brand's blackberry- and raspberry-infused gin. The bottles would be available exclusively via Selfridges, and presented in tote bags that feature the full artworks.
Tovey was hands-on with the selection process. While Bombay Sapphire presented him with a longlist, he also prepared a list of artists that he liked. Among them was Charlotte McDonald, whose work is inspired by landscape, nature and their effects on our lives. McDonald won last year's Darbyshire Prize for Emerging Art, for which Tovey was a guest judge. Her new square format oil painting depicts an abstract landscape in autumnal hues, with gestural strokes of red and yellow overlaying a mint green sky. Conceived with the flavours and presentation of Bombay Bramble in mind, the painting is a slight departure from the pastels of her previous work, though the brushwork is characteristically expressive.

'Having grown up in Scotland, she has these skylines in her mind's eye, which she abstracts with colour. There's a fluidity and energy going through her work,' enthuses Tovey.

She is joined by Yorkshire-born painter Alfie Kungu, whose work is a bright, evocative splatter of berry hues and teal, achieved via homemade inks bleeding into each other. 'It was almost like I was using the gin itself to paint with,' explains the artist.
'He has a punchy, confident and vibrant energy,' comments Tovey. 'There's a lot of fun in there, and in the current climate any positivity is really exciting.'

Rounding off the edit is printmaker Rose Electra Harris, who creates dreamlike portrayals of domestic spaces and objects. Raised by her antiques dealer father, Harris grew up around Victorian paraphernalia, which are now given contemporary interpretations in her joyously patterned artwork.

Tovey calls Harris 'the lovechild of Matisse, Hockney, Patrick Caulfield and Betty Woodman': 'What I really like about her work is the fact that she celebrates the overlooked. The gin bottle is an object that could be overlooked, but with her work, and the work of the other two artists on the label, you don't overlook it anymore. They become something collectible, something beautiful that you want to have around you,' he muses.

While the artworks have individual styles, each pairs beautifully with the ruby-hued Bombay Bramble bottle. Tovey also points out that they have in common an embrace of colour and an 'enthralling and enticing' energy. He invited all three artists to participate in an episode of Talk Art (opens in new tab) last week, discussing their inspirations, experiences of participating in 'Ripe for Discovery', and their aspirations for the future.
Beyond offering the featured artists an unusual platform, Bombay Sapphire is also making a donation to the Artists' Benevolent Fund, which supports recent art school graduates in the UK. It's a cause close to Tovey's heart, especially in light of the current pandemic and its economic implications.

'Right now, more than ever, we need to support the arts across all mediums, but especially talent that hasn't fully established themselves yet. It can be a really tricky time, because they haven't quite had the opportunity to put a stamp on the world they're going into.'

'Emerging artists need all the support they can get,' he concludes. 'Anytime you can support them, you have no idea what the power of encouragement can do to someone's confidence to keep going.'
INFORMATION
The Bombay Bramble limited editions, by Alfie Kungu, Charlotte McDonald and Rose Electra Harris, are available exclusively from Selfridges, selfridges.com (opens in new tab)
Bombay Sapphire is donating £10,000, in addition to partial proceeds from the first 3,000 limited-edition bottles to the Artists' Benevolent Fund, artistsbenevolentfund.org.uk
Talk Art: Everything you wanted to know about contemporary art but were afraid to ask, by Russell Tovey and Robert Diament (£20), is available from 6 May 2021. Published by Ilex Press, ilexinstant.com
TF has been editor of Wallpaper* since December 2020. He is responsible for our monthly print magazine, planning, commissioning, editing and writing long-lead content across all our content pillars. He also plays a leading role in multi-channel editorial franchises, such as our annual Design Awards, Guest Editor takeovers and Next Generation series. He aims to create world-class, visually-driven content while championing diversity, international representation and social impact. TF joined Wallpaper* as an intern in January 2013, and served as its commissioning editor from 2017-20, winning a 30 under 30 New Talent Award from the Professional Publishers' Association. Born and raised in Hong Kong, he holds an undergraduate degree in history from Princeton University.