Culinary power couple Margot and Fergus Henderson serve up fresh surprises
Margot and Fergus Henderson, British culinary legends, turn Wallpaper* guest editors. Here, they discuss new ventures, in Somerset and Marylebone, and reflect on their extraordinary careers as creators, respectively, of Rochelle Canteen and St John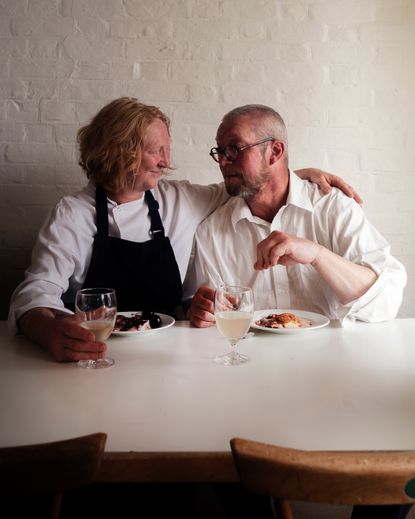 (Image credit: Oskar Proctor)
Together and separately, Margot and Fergus Henderson have revolutionised the British restaurant scene injecting fun, fond memories and fabulousness into what had been a very staid gastronomic landscape. As part of their guest editor takeover of Wallpaper's October 2022 issue, they talk to Caroline Roux about their future projects, and how it all began for an architect-trained Chelsea boy with a love for meat and a Kiwi chef lured to London by a penchant for punk rock.
Love at first bite: Margot and Fergus Henderson
The summer of 2022, for Margot and Fergus Henderson, has been punctuated by art and travel. When we meet in early July, they are just back from Oslo, where they took in the new Munch Museum and Fergus hadn't much liked the paintings. In a couple of weeks, they are off to the opening of an exhibition of new work by their friend Peter Doig in the unlikely location of Filicudi, an island 56km off the coast of Sicily. In between, they are sneaking in their regular two-week holiday on another island, this time the Scottish Tiree, a chilly but beautiful place where Fergus had taken Margot soon after they met. 'Not liking it was not a deal breaker,' she says. 'But it helped that I did.' Now she goes there armed with bottarga ('it adds so much colour!') and tins of anchovies to accompany the local lobster and island lamb for their daily picnics. A favourite location is a Pictish fort.
When you consider that, between them, the Hendersons run two of London's most loved and definitive restaurants – Rochelle Canteen and St John – and both have new projects in development (Margot will be executive chef at The Three Horseshoes, a chic new pub in Somerset that should open next January; Fergus is currently setting up a new St John in Marylebone, to launch in September), this gadding about simply underlines their extraordinary ability to live life to its very fullest. Cookbooks, outside events, baking, winemaking and, in Fergus' case, an almost legendary status on the international culinary scene, are all taken in big, lively strides, with an energy that equally infuses their respective restaurants.
It has to be mentioned, too, that this is in spite of Fergus' diagnosis with early onset Parkinson's in 1997 (he was 34), which has kept him out of his kitchen for 20 years, but not remotely away from its continued creativity. According to his business partner, Trevor Gulliver, 'he speaks fluent chef ', communicating through extravagant noises and hand movements, his brigade effortlessly absorbing his every proclamation.
The Hendersons' relationship to the art world is now as much part of their legendary cultural position as the contents of their daily changing menus. A full 30 years ago, before the increasing alarm about eating meat, Fergus was advocating that the only responsible way to do so was to use every last part of the animal. 'Like chitterlings,' he says. 'It's the pig's poo pipe. You put them with mustard and grill them.' His latest book, launched in 2019, has an entire chapter on tripe.
Meanwhile, Margot was serving the sort of vegetable-based dishes that are now keenly sought after by flexitarians and vegans alike. 'I'd only ever eaten lentils at Cranks before,' says Melanie Arnold, referring to London's first pine-walled, brown-food vegetarian restaurant – a huge 1970s success. She joined Margot at The French House in Soho in 1994, where the pair ran the tiny upstairs restaurant for two years, and has remained her business partner ever since.
You could say that a scintilla of contrariness reeled the art world in. Upstairs at The French House, Margot served corn on the cob as a starter, and tables were sought after. Over at St John, which Fergus opened with Gulliver in 1994, in a former smokehouse near the still-fully-functioning meat market of Smithfield, in an area devoid of much other activity, there was nothing more than white walls and a lack of air-conditioning. Its soaring space still causes first-time visitors to look up, as though they are entering a cathedral.
Margot's place attracted Sadie Coles, a young gallerist adept at dealing with both the infamous YBAs and New York's emerging stars such as Elizabeth Peyton and John Currin, while Fergus' attracted the incorrigible young artists who lived nearby, not least Sarah Lucas and Angus Fairhurst, who shared a studio on nearby Old Street. At first they got drunk and stole the wine on the way out, before realising that this challenging space was their second home and wouldn't survive their pilfering. 'After that, Angus used to come every day,' says Fergus of the late artist. 'He liked cob nuts. He'd wait for the season and then gorge on them.'
It was also at the behest of Coles and fellow gallerist Jane Hamlyn that Margot and Melanie – or Arnold & Henderson as their company is called – transformed themselves into outside caterers for gallery openings. Their style – long tables decorated with wildflowers, piles of bread, and plates heaped with food to be shared among many – has gone on to define the event planning of today.
'Before then, it was all round tables and gold chairs, and a plate of chicken in some indefinable sauce,' says Arnold. They have since taken their exuberant events around the world: to a dinner for Matthew Barney in his studio opposite the UN Building, where the hired equipment failed to arrive; a party for Glasgow's Modern Institute in a decommissioned department store where the electrics blew; a five-day stint in Milan during the furniture fair, embedded in the launch of Raf Simons' superlative textile designs for Kvadrat.
Margot always shops locally. 'I love spending a fortune in Union Square,' she says of the Manhattan farmers' market. 'But I take a few boxes of monk's beard with me, just to remind them why they hired me to come all the way from England.'In fact, Margot is from New Zealand, lured to London in 1984 by the edginess of its recent punk and New Romantic past. She met Fergus seven years later through his sister, Annabelle Harty, when she was working at The Eagle – London's very first gastropub created by the chef David Eyre, who had installed an open kitchen in the long skinny space behind the pub counter – and he was serving up pigeon and peas at an absurdly cool west London place called The Globe. They married nine months later and have three grown-up children.
For his part, Fergus is a fully trained architect, who completed seven years at the Architectural Association in London. 'I designed a building that was a whale with an eating hall inside it,' he says. 'And came second in a competition for Hastings Pier. There was a sushi bar at the end of it.' One of the judges was the radical Cedric Price. Fergus' architect father Brian, who designed Sizewell B nuclear power station in Suffolk, could be blamed for the alternative choice of profession. He introduced his son to the delights of food early with visits to Parisian culinary institution Le Grand Véfour, while his mother Elizabeth, also an architect, would cater for 60 with nothing more than heaving plates of artichokes and huge helpings of brandade and toast.
Interviewing Margot and Fergus – involving as it does two of London's most interesting individuals, and food and wine – is an exemplary affair. While Margot now does much of the talking, Fergus' presence, in his trademark chalked-striped suit, is both rapt and comfortable. In our case, at Rochelle Canteen, the plates included rich brown prosciutto and brilliant orange melon, technicolour rainbow chard with broad beans and roast shallots, and chilled gavi, while Fergus settled into his own plate of crispy polenta with spinach and a poached egg, accompanied by a sturdier claret. It was served by the son of the Scottish artist Martin Boyce. The Hendersons' 27-year-old son Hector was sous-cheffing in the kitchen.
Both businesses suffered during the pandemic, they say. Arnold & Henderson had to close a successful Rochelle outpost in London's ICA; and the opening and closing and table distancing of both St John and its Bread and Wine outpost in Spitalfields simply spilt money madly, though the bakery remained a very going concern. A plan to open a St John in Culver City, on the outskirts of LA, also evaporated. 'I thought LA was a crazy idea,' says Margot. 'If something goes wrong, it's just too far away. I'm full of anxiety about Somerset.' Fergus, though, says he'd rather set his sights on a bungalow at the Chateau Marmont, and that they have many supporters in California who were clamouring for their opening.
Rochelle Canteen, which, until the pandemic, had offered a choice of tables inside a long, low, noisy shed, or outside in a magical garden, now boasts a crystal-clear plastic tent for a semi al fresco experience. Numbers are up. The outside events company has been closed as Arnold & Henderson concentrate on the upcoming Three Horseshoes pub instead. The latter was acquired in 2020 by the independent investor and former gallerist Max Wigram, who lives between London and Somerset with his wife, the fashion designer Phoebe Philo.
'The menu will be focused on produce from the area, which is full of amazing stuff,' says Margot. 'A celebration of vegetables and cheeses!' She describes the restaurant as 'straightforward and humble', though apparently the five bedrooms upstairs will be very glamorous indeed. (The interior designer, Frances Penn, is also local and the daughter of David Mlinaric.) When asked his view of glamour, Fergus' enigmatic reply is, 'it depends which way the glamour is going'.
In Marylebone, the new St John is taking shape along standard lines: no fuss, no nonsense, and a small kitchen offering a small menu. 'A huge bowl of crème fraiche… marrow bone,' says Fergus. Some inspiration has been derived from Le Rubis, in Paris' Marché Saint Honoré, where Fergus and Margot went to eat every day of their honeymoon. They stayed at the Hotel d'Angleterre. That, I say, is the very cliché of the perfect honeymoon. 'Very traditional,' agrees Fergus. 'And it worked!'
INFORMATION
A version of this article appears in the October 2022 Legends Issue of Wallpaper*, available in print, on the Wallpaper* app on Apple iOS, and to subscribers of Apple News +. Subscribe to Wallpaper* today
Receive our daily digest of inspiration, escapism and design stories from around the world direct to your inbox