Three guest editors take over October 2022 Legends Issue of Wallpaper*
Subscribe to Wallpaper* today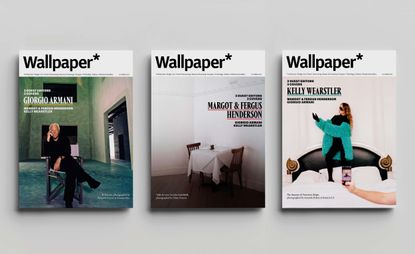 (Image credit: Pierpaolo Ferrari, Oskar Proctor, Amanda Hakan)
Wallpaper* Newsletter
Receive our daily digest of inspiration, escapism and design stories from around the world direct to your inbox
Thank you for signing up to Wallpaper. You will receive a verification email shortly.
There was a problem. Please refresh the page and try again.
Our biggest issue in three years is all about legends. Principal among them are our trio of guest editors: Giorgio Armani, the epitome of timeless style; Margot & Fergus Henderson, leading lights of Britain's culinary landscape; and Kelly Wearstler, the doyenne of American design. Each of them has taken over a section of the magazine, offering a deep dive into the inner workings of their remarkably fertile minds.
The Legends Issue: three guest editors
Giorgio Armani
Mr Armani, a uniquely enduring force in the fickle world of fashion, enlisted Sir Paul Smith as his conversation partner. In a series of emails followed by a spontaneous get-together in Milan, they discuss their role models, design signatures, the virtue of consistency, the tide of technology, what it takes to steer an independent brand amid conglomerates, and what makes them happy. Il Maestro then reveals his top ten creative inspirations, from Eileen Gray to Issey Miyake, with insights that enrich our understanding of his own vision of modernity.
Margot & Fergus Henderson
For Margot and Fergus Henderson – respectively the creators of Rochelle Canteen and St John, two of London's finest culinary institutions – our guest editor invitation has been an opportunity to unpack their cultural clout. Long-standing Wallpaper* contributor Caroline Roux speaks to them about food, art, architecture, and 'their extraordinary ability to live life to its very fullest', and compiles an oral history of their achievements based on testimonies from their family and friends. These are accompanied by Oskar Proctor's photography, which sheds further light on the joys of thoughtful simplicity.
Kelly Wearstler
Kelly Wearstler, who has built a formidable design business while maintaining a playful touch, devotes her guest editor section to technology and craft, to show what happens when these two overlap. In an interview with our contributing editor Tilly Macalister-Smith, she reveals recent and upcoming projects, including a textile design enabled by 3D-printing, and a collection of derrière-inspired marble stools. She also invites photographer Amanda Hakan into her Beverly Hills home (the ultimate Kelly Wearstler space), and shares the stage with five of her favourite contemporary creatives.
Continuing the legends theme, we have replaced our usual Newspaper section with a portfolio of 20 design legends, from Audemars Piguet's 'Royal Oak' watch to Flos' 'Arco' floor lamp. We also add four profiles to our ongoing Icons series. Two household names: William Kentridge, whose art interrogates failed utopias and elevates doubt and dissent; and Tobia Scarpa, who has used architecture and design to explore 'the boundless dimensions of the soul'. Plus, two pioneering talents who are deserving of greater recognition: Demas Nwoko, who draws on traditional African construction to create buildings that are perfectly adapted to their geographical and cultural context; and Vuokko Nurmesniemi, whose bold, joyful textiles have laid the foundations for modern Finnish fashion. Diverse though their approaches and aesthetics may be, there is one quality our legends have in common – the ability to stand the test of time.
Bill Prince
Acting Editor-in-Chief
INFORMATION
The October 2022 Legends Issue of Wallpaper* is available from 8 September in print, on the Wallpaper* app on Apple iOS, and to subscribers of Apple News +. Subscribe to Wallpaper* today
Receive our daily digest of inspiration, escapism and design stories from around the world direct to your inbox
Bill Prince is a journalist, author and former acting editor-in-chief of Wallpaper* (March 2022-April 2023). Prior to taking up the role, he served for 23 years as the deputy editor of British GQ, before which he worked at EMAP (as assistant editor of Q Magazine) and IPC (where he began his career at NME). In addition to editing, writing and brand curation, Bill is an acknowledged authority on travel, hospitality and men's style. His first book, 'Royal Oak: From Iconoclast To Icon' – a tribute to the Audemars Piguet timepiece at 50 – was published by Assouline in September 2022.