Luxury vodka brand X Muse: refined by art, aquifers and amethysts
Blended-barley vodka brand X Muse is an adventure with art and alchemy, created by Jupiter Artland co-founder Robert Wilson and alcohol expert Vadim Grigoryan, as featured in the October 2021 25th Anniversary Issue of Wallpaper*, on sale from 9 September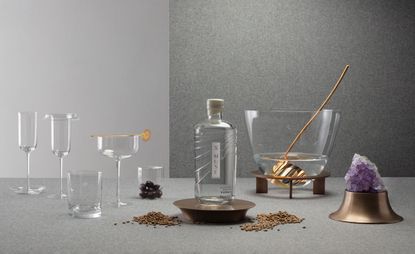 (Image credit: X Muse)
The story of X Muse begins in an ancient aquifer, an underground layer of rock that holds groundwater, beneath the Jupiter Artland sculpture park near Edinburgh. This water source had already inspired American cultural theorist and landscape designer Charles Jencks to create Cells of Life, eight site-specific, otherworldly landforms that form the park's utopian centrepiece.

In 2016, Robert Wilson – who had co-founded Jupiter Artland with his wife Nicky in 2009 – was looking for another use for this precious water. It took synchronicity and serendipity. Both arrived in the form of a dinner invitation from Vadim Grigoryan, an alcohol industry expert and former global director of creativity and luxury at Pernod Ricard. In his career, Grigoryan witnessed the most exciting and frustrating sides of the alcohol industry. 'Things were frequently driven by financial aspects rather than an honest desire to bring something new,' he says. 'One thing that always surprised me was the emphasis on yield, rather than the quality of the ingredients, such as water and grains for distillation.' Grigoryan wanted to transcend consumer trends and transactional value to create a brand that would be culturally enriching and respectful of its ingredients.
Synchronicity was served over dinner. Ideas began to germinate when Wilson and Grigoryan found common ground in philosophy, creative spirit and actual spirits, which often comprise 60 per cent water. Cue serendipity: 'Bingo,' says Wilson. 'I had a use for my precious, energetic water, and the idea of creating a luxury vodka brand with art and art practice at its centre.'

The result is X Muse (pronounced 'tenth muse'). Three key artworks give the new-generation vodka brand life, all of which live at Jupiter Artland. The brand's name is derived from Ian Hamilton Finlay's sculpture X Muse, created in 2005 and installed and sited posthumously in 2008. It depicts the head of Sappho, the Greek lyrical poet whose extraordinary creative gifts led Plato to dub her the 'tenth muse', thus ranking her alongside the Nine Muses of Greek mythology.
Jencks' Cells of Life serves as both the gatekeeper for the vodka's water source and also the inspiration for the bottle shape, which was conceived by packaging designers Stranger & Stranger. It 'echoed the ridges and gentle sweeping lines of Jencks' artwork,' says Wilson. Meanwhile, Anya Gallaccio's The Light Pours Out of Me, a subterranean grotto lined with dazzling purple amethysts, inspired the processing of the water through an amethyst vortex to increase the energy within it.

In his role as artistic and brand director, Grigoryan developed a mission statement for X Muse based on 'the values at the intersection of genuine craft, contemporary art and the alchemical origins of spirit making,' he says. This would require not only a meeting of artworks but a meeting of creative minds.
London-based graphic design studio APFEL took the reins on the multi-element brand identity, inspired by alchemy, sacred geometry, and the art on show at Jupiter Artland. The main logo draws on the lettering carved into Finlay's sculpture, with 'high contrast between the thick and thin strokes and a mixture of serif and sans serif lettering,' explain APFEL founders Kirsty Carter and Emma Thomas. 'For the brand illustration, we researched the alchemical symbols that were used in hermetic texts as a form of notation. The Monas Hieroglyphica is an esoteric symbol invented and designed by John Dee in the 16th century, and its meaning is linked to the essence of X Muse – distilling the sun, moon, elements and fire.'
X Muse's outlook is international, but its heritage is rooted in Scotland, with the founders aiming to bring Scottish spirit-making traditions – synonymous with whisky and gin – to the world of vodka. It required science, research and help from experts at Edinburgh's Heriot-Watt University. Less conventional still was the base ingredient for the drink – not potatoes or wheat, as one might readily assume, but two varieties of heritage barley, Plumage Archer and Maris Otter, inspired by whisky making. 'Together with a group of experts in a blind tasting, we proved my hypothesis that different varieties of barley have

different tastes,' says Grigoryan. 'In vodka, unlike brown spirits or gins, there is nowhere to hide. We wanted to make a sipping vodka that is also great in classic cocktails such as martinis. This is a tremendous task.'

Beyond its alchemic innovations, visual appeal and historical significance is the art of ceremony, or what the brand calls 'ambromoments'. 'With X Muse, we have involved collaborators of the highest artistic quality, who fully understand the importance of detail, design and creativity,' says Wilson. To enhance this idea of ceremony, the brand created the Helicon vodka-tasting workshops, which take their name from Mount Helicon, a source of poetic inspiration and the site of two springs sacred to the Muses in ancient Greek mythology. 'Our Helicon workshops will attempt to recreate that creative blend of experience and pleasure,' explains Wilson.
Design research studio Formafantasma – Wallpaper* Designers of the Year 2021 – teamed up with crystal glass manufacturer Lobmeyr to bring the X Muse Helicon tasting workshops to life, creating elements such as glassware, bottles, glorifiers, tableware and containers for presenting ingredients. The studio also created the X Muse Temple, the physical embodiment of the brand. Founders Andrea Trimarchi and Simone Farresin sought to avoid 'certain clichés in the world of alcohol' and instead sensitively ritualise the 'good side of drinking'. 'There is this part of alcohol that should be recognised and not necessarily seen as evil. This is a way of celebrating this,' says Farresin.

'We commissioned Formafantasma to imagine our ideal tasting experience, full of hidden cues, artistic references and storytelling. What Simone and Andrea did is a perfect example of showing without saying,' adds Grigoryan, nodding to the brand's motto, Plura Latent Quam Patent (more is concealed than revealed).

The brand's draw is also its subtlety. Like any great art, it doesn't give too much away. The creation of X Muse has required many ingredients. It was born from water but brought to life through art, science, design, chemistry, physics and a shared zest for collaboration.
INFORMATION
To buy X Muse vodka (£57 for 70cl), or to find out more about the Helicon vodka-tasting workshops, visit xmusevodka.com
Receive our daily digest of inspiration, escapism and design stories from around the world direct to your inbox
Harriet Lloyd-Smith was the Arts Editor of Wallpaper*, responsible for the art pages across digital and print, including profiles, exhibition reviews, and contemporary art collaborations. She started at Wallpaper* in 2017 and has written for leading contemporary art publications, auction houses and arts charities, and lectured on review writing and art journalism. When she's not writing about art, she's making her own.