L'Orbe introduces a new category of spirit with caviar-infused vodka
Pernod Ricard's experimentation branch Breakthrough Innovation Group has created a world-first for the spirits industry with L'Orbe, its caviar-infused vodka, after five years of research and development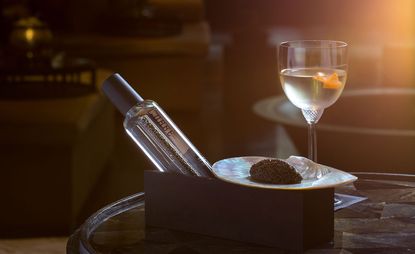 (Image credit: L'Orbe)
Consumer trends in the spirits industry have been gradually shifting over the last decade. Premium and craft products typically not found on the supermarket shelf have been cultivating popular followings, prompting brands and bartenders alike to vie for attention through creating innovative new releases and concoctions.

2019 is set to be an exciting year for one young brand. Founded in 2012, Pernod Ricard's Breakthrough Innovation Group (BIG) has become something of an industry shaper – in 2017 it turned heads with Opn, an interconnected digital 'cocktail library' app – and its latest release directly feeds into its maxim of 'making impossible pairings possible'.

After five years of meticulous research and development, BIG is opening the door on a new category of drink. L'Orbe is the world's first vodka (and white spirit) naturally infused with a fresh produce, caviar. The joining of these two ingredients marks a milestone for the spirits world.
A glance at L'Orbe's bespoke bottle translates the journey that the spirit has gone through to reach its current state. A transparent tube (developed and patented by BIG) runs vertically down the centre, housing dozens upon dozens of caviar pearls. Using a process called micro-encapsulation, the caviar's aromas are naturally diffused into the spirit over the course of six weeks, upon which the vodka has matured to prime tasting state. The consistency and clarity of the vodka remains entirely unaffected both during and after the infusion.

The selection of both the vodka and caviar that constitutes L'Orbe has been a particularly lengthy undertaking, involving pairing and in-house blind testing of 15 different breeds of caviar and six vodkas. When visiting BIG's Paris headquarters, we discovered the recipe was '99.9 per cent there' ahead of its September market launch. Its then-current make-up featured wheat-based Polish vodka and Acipenser Baerii eggs from Siberian sturgeon, harvested from an acquaculture farm in the southwest of France only six weeks prior.

First sampled straight at room temperature, the flavour profile blossoms on the tongue. Eight to nine seconds of smooth vodka is followed by a fresh, savoury caviar taste, which gradually evolves into creamy, buttery and nutty notes. The spirit was next taken over ice with a slice of ginger, which offsets the savoury tones with a unami sensation that gives the vodka definition.
L'Orbe has been seeded across London and Paris' hospitality scenes ahead of release at Fortnum & Mason. Those in Paris can find the spirit behind the bar at the Mandarin Oriental and La Maison du Caviar, the latter of which serves it in its tantalising Cocktail Le Grain.

For those in London, head to Tramp, Sumosan Twiga, Wilton's, Nolita Social at the Bulgari Hotel, The Connaught or Dukes to experience L'Orbe in a varity of configurations. Head Dukes bartender Alessandro Palazzi prefers to use L'Orbe in his Baeri Pearl Martini, served in a chilled glass and garnished with sake-soaked Gibson onions for a flavoursome savoury appertif.
INFORMATION
L'Orbe is available from Fortnum & Mason from September. pernod-ricard.com
Receive our daily digest of inspiration, escapism and design stories from around the world direct to your inbox