Veuve Clicquot Creative Makers spread hope and optimism for 2022
Veuve Clicquot rounds off 2021 as it began, with a gathering of six creative talents writing the second chapter of the champagne Maison's 'Inspiration in Bloom Series'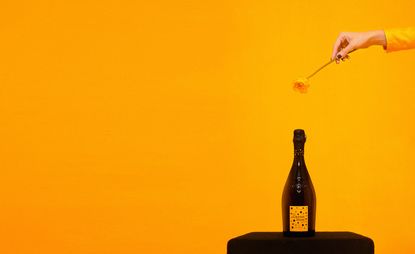 (Image credit: press)
In partnership with Veuve Clicquot
'What makes me bloom?' That's the question the Veuve Clicquot Creative Makers programme asked its talented array of collaborators at the start of an uncertain 2021 – the answers were a chance for creative people from all over the world to share inspiration, joy, hope and optimism for the year ahead.

Conceived as an homage to two visionary women, the programme began back in September 2020, when Veuve Clicquot joined forces with the artist Yayoi Kusama to celebrate the house's new vintage, La Grande Dame 2012.

Kusama's creative contribution – a gift box and a floral sculpture – was the artist's vibrant tribute to 'la grande dame' of champagne, Madame Clicquot herself (who took over the family business after her husband's untimely death in 1805, and who, like Kusama, always pursued a quest for excellence and the avant-garde). Through its flamboyant colours, the collaboration offered a cheerful message of hope and optimism to the world. Veuve Clicquot's La Grande Dame, an iconic cuvée created in 1972, stands for vital energy, love and a celebration of life. It resonates with Kusama's artistic expression, which is both generous and deeply optimistic.
Inspiration In Bloom Series: a curated message of optimism by Creative Makers
In January 2021, Veuve Clicquot announced its creative programme, 'Inspiration In Bloom Series', based around the La Grande Dame x Yayoi Kusama collaboration. Driven by the notion of La Grande Dame being not just a bottle, but a conduit for positive ideas and emotions, ten creative talents were invited to express their vision around this collaboration by responding to the question, 'What makes me bloom?'

The participating talents spanned diverse creative fields, and gave a multidisciplinary response through dance, photography, painting and film, enriching the creative expression surrounding La Grande Dame.

The line-up comprised: Mike Tyus, who has been performing and creating dance for the stage, print, and screen for over 15 years; Alice Gao, a still-life, interiors and travel photographer; Minh T, photographer and creative director; Shini Park, art director, photographer, consultant and founding director of digital atelier Cube; Simon Schmidt, multidisciplinary artist and digital media consultant; Marcelino Sambé, principal dancer at The Royal Ballet; Alice Kong, fashion photographer; Laurent Castellani, photographer; Jiawa Liu, producer, photographer, filmmaker, and contributing editor of Harper's Bazaar Singapore; Tondabayashi Ran, multidisciplinary creator.
Veuve Clicquot Creative Makers and blooming intentions
Now, as 2021 comes to an end, some of those same talents and more have been asked to reflect on their year, share their 'blooming intentions', and answer the question, 'What's your blooming wish?'

'To love fiercely. Give graciously. Create relentlessly,' replied Shini Park, an art director, photographer, consultant and brand ambassador. Born in Seoul and now based between London and Warsaw, Shini is the founding director of digital atelier Cube and the storytelling platform and biannual hardcover book series, Cubicle. 'Whether in flight or in descent, the sun burns as intensely.'
Mike Tyus, born in Seattle, Washington, and raised in Los Angeles has been performing and creating dance for the stage and screen for over 15 years, working with Cirque Du Soleil, FKA Twigs and Sia. 'True interconnectedness beyond differences and borders' is Tyus' blooming intention. 'A bold dance community that supports, encourages, and inspires a new generation of visionaries.'

Singer Kom I's answer lies in her dreams, 'dreams that we saw in this long sleep', says the vocalist for Japanese art pop band Wednesday Campanella. 'And not forgetting any of them, make it real one by one. May a brilliant season come to all of us next year.' Her wish: 'Nourish yourself. Celebrate yourself. Get ready for your next surprising chapter.'
Argentine model and influencer and digital creative director Candela Pelizza has worked with photographers including Bruce Weber, Deborah Tuberville, Michel Comte and Nathaniel Goldberg. As a contributor to Redmilk Magazine, she wrote a fashion column entitled 'Candela Meets…', where she interviewed personalities from the worlds of art, fashion, music and design. Her blooming intention? 'Uniqueness in all its manifestations is my deep blooming intention,' she says, adding a playfully invitational coda: 'Shall we?'

Chloe Wise is a Canadian multidisciplinary artist based in New York City. Her work captures the strange times in which we live diverse media – painting, sculpture, video, and installation art – and has been shown at institutions and events such as The Andy Warhol Museum in Pittsburgh, Art Basel Miami Beach, and Fiac Paris. Her intention is unwritten but exciting. 'I don't know the future,' she says. 'But I can't wait to meet it.'

Sisilia Piring describes herself as a 360-degree talent – a content creator, photographer, videographer and creative director, with a strong penchant for travel, film photography, and all things vintage. While working for luxury brands such as Givenchy, Gucci, and Burberry, her image-making work has cultivated a strong sense of fashion and a peculiarity, oscillating between the sharpness of photography techniques and the grainy and conceptual feeling of analogue cameras. 'My blooming wish is to spread light, inspiration, and optimism,' she says.
'What's your blooming wish?'
Now it's over to you. 'What's your blooming wish?' Veuve Clicquot invites you to share wishes that will pave the way for the year to come; to step back, review, relive and cherish the year's bright memories and celebrate those of tomorrow.

Make your own blooming wish of joy, hope, optimism, energy, laughter, flamboyance and life for the new year. #YayoiKusama #LaGrandeDame #ClicquotCreativeMakers #BloomingIntentions #InspirationInBloom.
INFORMATION
Receive our daily digest of inspiration, escapism and design stories from around the world direct to your inbox