On board the Venice Simplon-Orient-Express with Veuve Clicquot
Champagne house Veuve Clicquot marks its 250th anniversary with a special train journey from Reims to Venice, on board the fabled Venice Simplon-Orient-Express. Wallpaper* Paris editor Amy Serafin went along for an exceptional ride, featuring haute cuisine, live music and alpine scenery, washed down with endless bubbles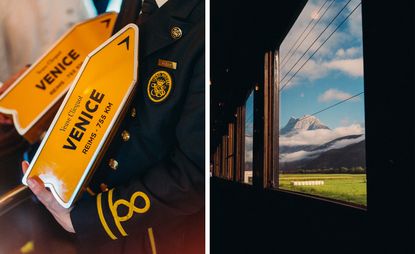 (Image credit: Boby Allin)
In 1772, Philippe Clicquot, a textile merchant in Reims, France, inherited four hectares of vines and founded the champagne house that would later become Veuve Clicquot. That same year, the company sent its first international shipment to a princess in Venice. So it was only fitting that the house celebrate its 250th anniversary with a very special return to Venice, on the fabled Venice Simplon-Orient-Express (VSOE).
'It was a way to close the circle, to have a one-of-a-kind shared experience,' says Jean-Marc Gallot, CEO of Veuve Clicquot.
Though the company was originally created by a man, it was turned into a powerhouse by a formidable woman. Barbe-Nicole Ponsardin married Philippe Clicquot's son, François, then found herself a 27-year-old widow and single mother when her husband died suddenly in 1805. Her father-in-law wanted to close the small and struggling wine business. Instead, Barbe-Nicole decided to run it herself – an extraordinary gamble at a time when women did not work.
She proved herself to be an exceptional pioneer and businesswoman, buying up more vineyards and implementing major innovations that revolutionised the industry. She produced the first millésime in 1810, created the first blended rosé champagne by adding red wine to white, and invented the riddling process to remove yeast and clarify champagne.
Veuve Clicquot was acquired by LVMH in 1986, and continues to be a thriving business today. It is the number one champagne in the United States, a fact that was reflected in the demographic of the anniversary trip.
The celebration started in Reims, in the maison's crayères, a 24km maze of white-walled caves dug by hand between the 2nd and 18th centuries, when chalk was used to make cement, and now providing the ideal conditions for ageing wine.
Here, some 20m underground, more than 100 guests took their seats at a single long table and feasted on a theatrical lunch, complete with spinning plates and masked servers. Horse-drawn carriages then ferried them through the city to the train station, where the midnight blue Venice Simplon-Orient-Express was waiting, a jazz quartet playing on the platform.
What followed was nearly 24 hours of festivity and farniente, well lubricated by champagne from beginning to end. Guests were led to their individual cabins, each one stocked with a bottle of chilled 2012 La Grande Dame.
This is the newest vintage of a prestigious cuvée launched 50 years ago to celebrate 200 years of the house (and comes in a limited edition bottle by Yayoi Kusama). Veuve Clicquot only makes La Grande Dame in certain years, depending on whether the harvest can provide the complex, elegant assemblage it requires.
The train consisted of 12 sleeping cars, three dining carriages, one bar carriage, and two carriages for staff, all vintage, the oldest created in 1926. They had been scattered throughout Europe in various states of dereliction, each with its own individual story. One was stuck in a snowdrift for ten days in 1929, inspiring Agatha Christie's novel. Another was used as a wartime brothel, while yet another had been rented to the Germans between 1942 and 1946. Picked up from different owners or at auctions, all have been lovingly restored with brass fittings, LED light fixtures identical to the original design, and an impressive array of marquetry.
Beautiful and luxurious, the sleeping cabins were nonetheless an exercise in space management – couples in the smallest ones discovered they had to take turns getting dressed for dinner. (Mr Gallot, who is extremely tall, found he had to sleep 'en zig zag'.) Passengers had been advised to travel with small bags, but all managed to pack their finery for dinner, including long gowns and tuxedos. Many guests were surprised to learn that, aside from the six deluxe cabins, the accommodations did not include showers. Each cabin did have its own porcelain sink enclosed in a marquetry cabinet.
Walking through the narrow corridors spurred memories of the film Murder on the Orient Express; whenever two people met, they had to turn sideways to pass each other. Like the film, there was even an elegant American widow on the train, who said one reason she treated herself to this trip was because of the parallel with Madame Clicquot. Fortunately, the voyage involved no foul play – the mood was convivial, and strangers became fast friends. When one woman won first prize at bingo, a customised Veuve Clicquot bicycle, she spontaneously gave it away to the widow, whose heart had been set on winning it. (Hearing of this, the Champagne house offered one to each.)
The train rumbled through France, Switzerland, Liechtenstein, Austria and Italy, past vineyards, mountains, lakes and chalets, each view made picture-perfect by the large, mahogany-framed windows. Even the VSOE's executive chef, the unstoppable Jean Imbert, could not help exclaiming at the beauty of the countryside every few minutes, once he left his minuscule kitchen and sat for an interview. Imbert wrote a long and very personal letter of application when he learned this job was available. 'Since I was little, I've always been fascinated by history, authenticity, places that tell a story,' he explains. 'As soon as you board this train, it's like you've gone back in time.'
The job was his dream – but once he had it, he had to face the reality of preparing haute cuisine in an unpredictably moving vehicle. The two kitchens are well-equipped, yet smaller than some closets; when the chefs are in place they cannot change positions. The train can lurch or move in unexpected ways. 'When you're standing up chopping something, or putting a pot up to boil, any sudden movement can be a surprise,' Imbert says. The kitchens are restocked in Paris, then 'when the train leaves, it leaves. You're not going to stop to buy a tomato.' And forget french fries; for safety reasons, there's no question of deep-frying anything.
Beyond the food, Imbert worked on the aesthetics of the 1920s dining cars: the furniture, menu, carpets, lighting and art deco-inspired presentation plates. Each car has its own colour palette and theme. A gold one has Chinese-style lacquered wood, a green car features 'Etoile du Nord' flower marquetry, and a blue car has a series of René Lalique glass panels depicting Bacchanalian maidens, copied from three surviving originals.
Imbert's menus for the VSOE reimagine French classics of a bygone time. 'If you want to cook something that relates to marquetry, Lalique, lights, boiseries, you must do something historic,' he says. 'The challenge is doing it so that nothing changes and everything changes.' For this trip, he conceived the dishes to be paired with particular Veuve Clicquot champagnes. Homard à la parisienne (lobster with diced vegetables) was served with a Cuvée La Grande Dame 2008 Rosé Magnum. Succulent poached chicken with an Albufera sauce, a 19th-century recipe made with cognac and duck liver, was accompanied by a Cuvée La Grande Dame 1990 Magnum, which had a slightly smoky depth to its freshness.
Also fresh: the strolling musicians and burlesque dancing girls, which provided entertainment throughout dinner, and afterwards in the very full bar car (a second bar car is in the works). The staff, many of them Italian, were remarkably skilled at carrying trays of cocktails in a crowded, swaying bar without spilling a drop
The guests were invited to an optional 5.30am breakfast, when the train would pass through the Tyrolean mountains. Despite the extreme comfort of the bedding (the staff transform sofas into bunk beds during dinner) and the party that lasted into the wee hours, a good number of passengers rallied and showed up, either fully dressed or else wearing the kimonos provided in the rooms.
Time passes differently on a train. Throughout the morning, some people languished in bed, others partook of more bubbly and chatter, still others rediscovered the pleasures of writing postcards (provided onboard and posted with a VSOE stamp). And then suddenly it was time for lunch, when Imbert proved that champagne can go perfectly with street food, making a nod to Italy with a Vitello Venice Burger along with a Veuve Clicquot Extra Brut Extra Old 2 Magnum.
Outside, the green landscape turned to water and the VSOE pulled into Venice, where the guests were whisked off to the legendary Cipriani hotel, with its Olympic-sized saltwater pool.
In the evening, bellinis were served overlooking the lagoon, followed by dinner in impressive former granaries underneath two massive Murano chandeliers. Prepared by chef Riccardo Canella (who worked as a sous-chef at Noma for seven years), the meal included a sublime seafood and seaweed risotto paired with the mineral notes of a Cuvée La Grande Dame 2008 Jeroboam.
The real grande dame, Barbe-Nicole Clicquot, never actually travelled beyond the borders of France. But she built a global empire in her lifetime, and her influence still brings sparkle to parties around the world.
INFORMATION
veuveclicquot.com