Fragile Self's multi-platform debut album is a fervent fusion of sound and vision
The designer behind David Bowie's album covers has released a multimedia album exploring the history of psychology and the definition of 'normality'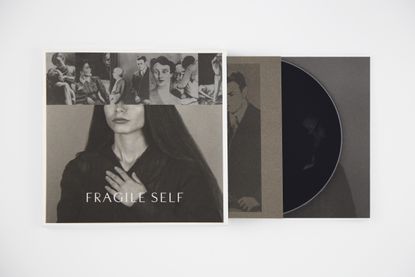 (Image credit: fragileself.com)
You might associate Jonathan Barnbrook with album covers. His studio has designed plenty, from John Foxx to Gazelle Twin, and every David Bowie album since 2002, including the musician's final work, Blackstar.

Now he's created the cover for his own album in collaboration with his partner in life and work, Anıl Aykan. The electronic music duo goes by the name Fragile Self and as debuts go, this isn't a quiet entrance. The album comes in three formats: a CD with origami-esque pop-up packaging, a vinyl with cutout cover, and a 480-page tome with digital download. 'In an age of music being everywhere practically for free, buying a physical product is a good way to support the artist and get something tangible back to them,' says Barnbrook.
The vinyl's cover is structured around the Thematic Apperception Test, a psychological evaluation developed in the 1930s, whereby patients were shown ambiguous imagery and asked to construct a narrative in response. Inside the book, we seem to be doing just that, pacing through 19th century photographer Henry Hering's 'before and after' portraits of 'Bedlam' Hospital patients. 'There is supposedly a visual transformation seen in the photos which is clearly partly staged,' says Barnbrook. 'Their clothes are better, hairstyles properly done. It felt like a metaphor for how we are all forced into the conventional idea of "normality".'

Provocative but meticulously researched, haunting but cathartic, this book is a window into what would now seem like a baffling mental healthcare system of voyeurism, barbarism and ostracism. Archival images paired with Barnbrook and Aykan's photographic reenactments, made in collaboration with photographer Teri Varhol, have the flavour of Theodore Gericault's Portraits of the Insane, and could just as well be accompanied by Bowie's Aladdin Sane.
A poem by Edgar Allan Poe introduces I loved alone, a track about loving a narcissist, followed by a litany of case studies, more literary extracts, shuddering scenes of so-called 'hysteria' and an emetic spread devoted to bloodletting. All told through shapeshifting typography (one based on Ingmar Bergman film titles) and a palette of blacks, umbers and white linear illustrations by artist Peter White. Barnbrook and Aykan assume new characters in Bertha, the former recreating an ominous pose by Sigmund Freud and the latter as Bertha Pappenheim, psychotherapy's first patient.

Fragile Self's sound is hard to place. It's an electroclash; an intelligent collage of meandering frequencies, unpredictable and agitated beats that make more sense when we learn about Aykan's background in drumming. The rhythm is cut with vocal samples, bells, and other galvanic, robotic noises, otherwise known as 'generative analogue modular synthesisers'. Perhaps a parallel could be drawn with Crystal Castles' acerbic bite or Underworld's cyclic drone. Either way, it's not Sunday morning listening, but is utterly immersive. Aykan's vocals – somewhere between a chant and spoken word – are instructive, hypnotic and virtually in the room with you. 'We will pass a song back and forth many times. Sometimes argue, change and go back to what we have done before. It is quite an intense process but also the most pleasurable part,' says Barnbrook.

Experiencing the book and music separately is like driving without a steering wheel. The chapters navigate the tracks, and vice versa. They also have lots in common: sharp edges, hidden messages (a Barnbrook specialty) and all concocted through software.

The music is the sonic equivalent of Edvard Munch and the book more anthology than accompaniment. These are serious topics and no more pertinent than now: what's real, what's constructed and ultimately, what is 'insanity'? This is an introspective, equivocal, informative, staggering exploration of extreme mental states, Fragile Self's own sense of self, and by osmosis, yours.

And that's just after the first listen.
INFORMATION
fragileself.com (opens in new tab)
Harriet Lloyd-Smith is the Arts Editor of Wallpaper*, responsible for the art pages across digital and print, including profiles, exhibition reviews, and contemporary art collaborations. She started at Wallpaper* in 2017 and has written for leading contemporary art publications, auction houses and arts charities, and lectured on review writing and art journalism. When she's not writing about art, she's making her own.