René Redzepi, Mette Søberg and Junichi Takahashi on Noma's new cookbook
Lifting the lid on Noma's secrets, a new cookbook celebrates the pioneering restaurant's season menus, and offers a deep dive behind the scenes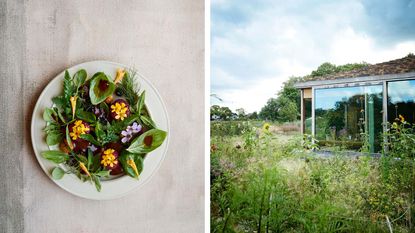 (Image credit: Ditte Isager)
When René Redzepi opened the second iteration of his Noma restaurant in a cluster of farm-like buildings on the outskirts of Copenhagen in 2018 he switched the perception of what was being presented on the plate. The dishes on the three seasonal menus seemed simpler than those of the original Noma, which the Danish chef had opened in 2003, turning fine dining on its head and scaling the heights as the world's best restaurant. But the simplicity was an illusion. To present a dish such as the clear intensely flavoured sea snail broth, the first course served under the nomenclature of Noma 2.0, required more hours of prep than they had ever done before, in order 'to come out looking as if very few things have happened,' as Redzepi said at the time.
Four years later, Redzepi and two test kitchen colleagues Mette Søberg and Junichi Takahashi have produced a book, Noma 2.0: Vegetable, Forest, Ocean, that is both a visual record of 200 dishes and a forensic documentation of what goes on behind the scenes, shot by longtime Noma collaborator Ditte Isager. In fact, there is so much activity that the 356-page book does not even have the recipes, rather it has narrative descriptions of each dish. For the literal instructions you have to scan a QR code and do a deep dive. For instance, one of Takahashi's recipes, cod head roast, runs to eight pages (edited down from his original 16). Yet that dish – a few pieces of glazed fish laid out on a linen-lined basket or served on a flatbread – from the first ocean menu seemed like the embodiment of the Noma 2.0.
'It looks so simple, just pieces of meat,' says Redzepi. 'From old Noma to new Noma, the dishes are more to the point, yet there is so much more going on.' That's one reason why Redzepi would prefer not to call this a cookbook, 'as if you only buy books with food in them to cook from. It's a big book, this is our work, who we are, this is what we've been doing for the last four years.' In some respects the book is more akin to a monograph showcasing the work of an architect or artist. The difference, says Redzepi, is that if you venture into the QR codes everything is revealed. 'People can see how we did it. Believe me, that is something people are looking at in the industry.'
Outside fellow chefs, he hopes people will simply be inspired by the dishes; the story of Noma's garden created by the Dutch landscape designer Piet Oudolf; and an account of foraging and discovery by Søberg.
Noma's only Danish chef, Søberg, who became head of the test kitchen for Noma 2.0, says each season 'needs one truly iconic dish'. Her first was celeriac shawarma, so meaty and rich with umami, it defied any notion of feeling dissatisfied after a vegetarian meal. 'It was the first mark on the menu where Mette had a substantial moment that she was spearheading,' says Redzepi. Søberg relishes the opportunity to design a menu around the plant kingdom, 'a chance to challenge people's perception of luxury.' A more recent dish she's excited about is a broth of wild fungi incorporating a Danish version of sumac, a spice popular in Middle Eastern cuisine, discovered growing wild around Copenhagen. 'We didn't know it was growing here. Now I ride around on my bike and I see it everywhere.'
Takahashi, who hails from Miyagi in Japan, has been at Noma for ten years. He secured a job after eating there, an experience he says is seared into his memory. 'I was super shocked. I used to work at classic, very French restaurants, so when I came here, I had no clue. The Nordic cuisine is completely different but it tastes much better, pure, with super clear flavours.'
Working in the test kitchen since 2016, Takahashi is the chef Redzepi goes to for problem-solving, from how to turn a cod head into a main course or how to refine a wrapped quail egg for the game and forest season, which starts on 25 October. 'He is Mr 100 per cent stable, you know when you provide Jun with a job, he is going to solve it.'
In the foreword to the book, Redzepi reflects on what will be 20 years of Noma in 2023, and his relentless drive for creativity, a cross between intense awareness of feelings and instinct and sheer bloody-minded discipline. 'Creativity, for some strange reason, it's having complete order and then at the same time, complete chaos and freedom,' he says. The balance has shifted over the years. As Noma has grown up as a restaurant, so too has he. Now 44, he still walks into the test kitchen and upends everything but, 'not in a bad way, I would say it is more collaborative now.'
Redzepi currently walks 20km a day as he trains for the Shikoku pilgrimage, a tour of 88 Japanese temples which he undertakes this month. Next year there will be one more pop-up in Kyoto, and then when the team returns to Copenhagen, 'one last year of Noma as we know it,' says Redzepi. Then something new, Noma 3.0, so to speak. Redzepi is yet to reveal exactly what that will be, but has talked about a 'factory of nature' where people can taste ingredients produced at various sites worldwide. He flagged the change in June 2022 when under siege for work practices especially in relation to stagiaires (interns), but he says he always intended to morph Noma into something else. It's why the site was designed around separate adaptable buildings.
'This is 100 per cent the right time. I was looking to do the transformation maybe when we were 25 years in, but that got pushed forward because of the pandemic. It showed the fragility of Noma and everything around it. The foundation is the team and this name that we built up.'
INFORMATION
Noma 2.0: Vegetable, Forest Ocean, by René Redzepi, Mette Søberg and Junichi Takahashi ($75, published by Artisan) is available from 8 November 2022, noma.dk
Receive our daily digest of inspiration, escapism and design stories from around the world direct to your inbox
You might also like
Chic peas: new art cookbook charts a history of hummus

On the Hummus Route traces a utopian track between cities, people, markets and dinner tables. It documents street food in nine Middle Eastern cities, including Cairo, Jerusalem, Gaza, Tel Aviv, Jaffa, and Damascus, and in doing so, offers a fascinating insight into the area's design, food, and culture

By Elly Parsons Last updated
View More ▸