Edible flowers: the how, the what and the why
A new book from Monacelli, Edible Flowers: How, Why, and When We Eat Flowers, uncovers a fascinating history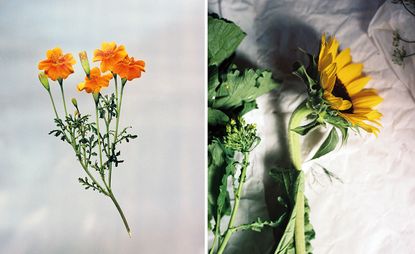 (Image credit: ADRIANNA GLAVIANO)
The history, culture and use of edible flowers is explored in a fragrant new tome from Phaidon, Edible Flowers: How, Why, and When We Eat Flowers. Author Monica Nelson has joined forces with photographer Adrianna Glaviano on the definitive guide, which pairs recipes with personal essays and striking imagery of flowers, in environments from urban gardens to wild meadows.
'The research was really nothing but a delightful journey of surprise,' says Nelson. 'Every flower I wrote about had a fact that revealed something new, either about the history of a place or the people that ate it or a herbal property. My favorite flowers to write about were ones that gave me a view into the indigenous culture of the Americas, like dahlia, sunflower, marigold – flowers that made the 'old to new world' trade routes and became iconic to other cultures; like sunflowers to Arles/Van Gogh, or marigold to Diwali in India.'
Catching her favourite flowers in bloom proved a challenge that took Nelson around the world. To capture okra's single-day of bloom, she travelled to a Savannah, Georgia, community garden, for example.
Chefs, artists and writers, including Fanny Singer, Julia Sherman, Loria Stern and Laila Gohar, have contributed personal essays to the book, which takes a close look at 100 different flowers, organised alphabetically. 'The proposal was written to include "flower eater" essays and recipes from contributors,' Nelson adds. 'The book would not function without them. The contributors are from a variety of disciplines and from around the world. I learned about so many new flowers from them and also let some of the contributions function as the flower entry itself, like for banana flower and mahua.
'For the "flower eaters", I left the call to writers very open-ended, and there are moments that range from political to cultural to very sweet and personal. The recipes are very accessible and written in casual paragraph form and often in the first person. The tone of these makes flowers seem really easy to bring into your life.'
As well as reference notes, the book gives an insight into each flower's taste as well as its traditional and suggested uses. With such a wealth of information, where does Nelson think we should begin? 'A beginner should always start with curiosity! Search every flower you come across with the added search term "edible?". There are also pre-packaged flowers shelved near the fresh herbs at some stores.
'You can start by treating edible flowers as you would cilantro or parsley – just sort of tossing over a cooked dish like rice, pasta, a cheese board, or in a salad as a bit of garnish. By eating them this way you'll start to understand the flavour profiles and how they mix with other flavours, and then you'll start thinking about the peppery quality of nasturtium and how to incorporate it into cooking.'
INFORMATION
Edible Flowers: How, Why, and When We Eat Flowers is published by Monacelli
Hannah Silver joined Wallpaper* in 2019 to work on watches and jewellery. Now, as well as her role as watches and jewellery editor, she writes widely across all areas including on art, architecture, fashion and design. As well as offbeat design trends and in-depth profiles, Hannah is interested in the quirks of what makes for a digital success story.
With contributions from
You might also like
Chic peas: new art cookbook charts a history of hummus

On the Hummus Route traces a utopian track between cities, people, markets and dinner tables. It documents street food in nine Middle Eastern cities, including Cairo, Jerusalem, Gaza, Tel Aviv, Jaffa, and Damascus, and in doing so, offers a fascinating insight into the area's design, food, and culture

By Elly Parsons • Last updated
View More ▸