Match point: learn how to properly pair food and wine
Learn a thing or two about fine cooking and wine selection with this new book from the London Club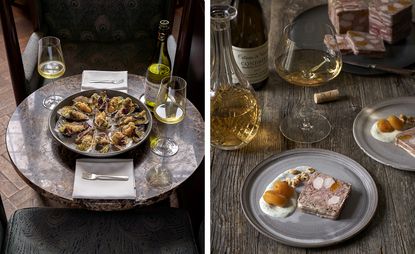 (Image credit: Joakim Blockstrom)
As life skills go, the knowledge of wine and how to pair it with food is particularly seductive, as it explores two of life's greatest pleasures in all their sensory detail. It falls into a category of accomplishments – like learning a new language or to play a musical instrument, that many of us would like to own, and have perhaps mused on mastering during the pandemic time-at-home. Happily, expert tutors are at hand to guide you towards this attainable and rewarding goal.
67 Pall Mall, The Fine Wine Club in London's St James's, has launched its first book, Wine and Food: The Perfect Match – a collaboration between 67 Pall Mall's Head of Wine, Ronan Sayburn MS, and the club's Executive Chef, Marcus Verberne.

Master Sommelier Sayburn brings his considerable expertise (he is CEO of The Court of Master Sommeliers Europe) and clearly and comprehensively maps out the world's great wines, and how to drink them. Grape varieties are explained; where they grow, and why they taste as they do. Once mysterious wine terms are translated, and certain myths debunked (red wine with cheese? not necessarily).

In the second section of the book, your education moves into the kitchen, where Marcus Verberne presents 100 recipes – covering various styles and continents, with Sayburn suggesting a selection of different wines to complement each one.

Verberne's delicious creations range from simple meatballs (try pairing with a nice Chianti) to a luxurious Truffle Risotto (Dom Pérignon champagne suits this dish beautifully) Asian dishes, and how to pair wine with their attendant spices, are not forgotten, (Gewurztraminer is perfect with Thai Octopus Salad).
Wine and Food brings another dimension to the pleasure of entertaining, and the book's format might also inspire a new tactic in the making of culinary arrangements: The next time you are considering what to cook for dinner, and then thinking about what to drink, why not do it the other way around and plan your food around your wine? This, by the way, is the approach of Ronan Sayburn, Master Sommelier.
INFORMATION
67pallmall.com (opens in new tab)
Melina Keays is the entertaining director of Wallpaper*. She has been part of the brand since the magazine's launch in 1996, and is responsible for entertaining content across the print and digital platforms, and for Wallpaper's creative agency Bespoke. A native Londoner, Melina takes inspiration from the whole spectrum of art and design – including film, literature, and fashion. Her work for the brand involves curating content, writing, and creative direction – conceiving luxury interior landscapes with a focus on food, drinks, and entertaining in all its forms