Piet Oudolf's advice on garden design and creating inspirational outside space
See these new photographs of Piet Oudolf's private garden, and hear from the ultimate urban gardener on seasonal planting tips, success in small spaces, and crafting the Vitra HQ garden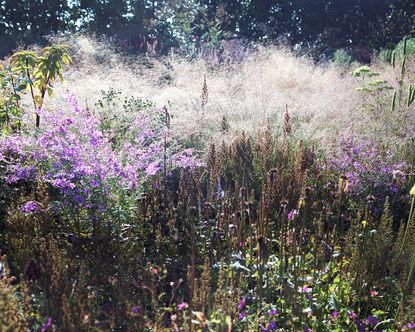 (Image credit: Awoiska van der Molen)
For a new exhibition titled 'Spontaneum' (until 15 March 2022, Via Privata Rezia 2, Milan) Italian leather goods brand Marsèll commissioned photographs of Piet Oudolf's private garden at his home in Hummelo, the Netherlands. The company enlisted Dutch photographer Awoiska van der Molen, known primarily for her black and white abstract images of nature, to explore his space. She visited Oudolf's gardens in September 2021 – a particularly captivating time of year for plants, at the turning of the seasons. The colours of Oudolf's garden in turn inspired the S/S 2022 collection by Marsèll.
On the occasion of the exhibition, we showcase the new photographs and revisit a Wallpaper* interview with Oudolf from May 2020, when much of the world was in lockdown.
Step into one of Piet Oudolf's gardens and you will be transported into a dreamlike meadowscape. His ability to create transportive private gardens extends into our bustling cities and his work can be enjoyed in many urban public spaces. Rating the 'architecture' of a plant just as highly as its colourful bloom, his complex plantings are layered with a multitude of species – evoking a sense of spontaneity, although nothing is ever left to chance.
He has designed gardens for Serpentine Galleries in London and Noma in Copenhagen, filled Hauser & Wirth's Somerset garden with 57,000 plants, and created a private, perennial-packed rooftop in Manhattan. Believing in plants as therapy, he completed the garden for Maggie's Centre at the Royal Marsden Hospital in Sutton, which opened in 2019. Speaking from home – an old farmhouse on an acre of land outside the village of Hummelo, in the eastern Netherlands, where he has lived with his wife Anja since 1982 – Oudolf shares his thoughts on how to transform a miniature plot, work for Vitra's HQ (completed since our interview), and our future reliance on finding pleasure closer to home – and ultimately, in our gardens.
Piet Oudolf on gardens: 'Buy the plants you like, don't try to be a designer'
Wallpaper*: How are you doing currently, at home in Hummelo?
Piet Oudolf: We are doing well. My life is already sort of isolated from living on a farm. So, it sort of feels natural but I can't travel to other countries due to the restrictions. It's not too bad. We have three acres of garden here which is taken care of by someone. Because I've worked so hard in gardens for many years, it feels good to me that I'm not doing the actual work anymore! Our garden is so established that it needs no more than two days a week of maintenance. Other than that, I work in the office surrounded by the garden.
W*: Is the anticipation part of the joy of gardening? What are you looking forward to?
PO: For me, it's all about the moment, the now. If I go out into the garden, I will see something today that was not in flower yesterday. As a gardener, you have an expectation. When I plant a tree, I have an expectation of what it will be next year and in five years' time. Last week I planted some small trees that I will probably never see mature. But you can see it in your imagination. Being engaged, involved and busy with plants, it's my life. I don't think too much to be honest, I just do it.
W*: A lot of your work is related to planting in urban spaces, such as the High Line and Battery Park, both in New York. Why do you think it's important to have planted areas in our cities?
PO: In cities, so many people don't have access to nature. Either they don't have the money to travel outside the city, or if they can afford it, they go on holiday to places where plants are not so important. To do it in the city, and especially in public space, it makes people 'meet' with things they probably would not have otherwise met. Creating something like the High Line makes people think, 'OK, this is also existing in the world.' Because it looks sort of wild, which it is not, it makes them think and ask questions.
W*: Do you approach designing public and private gardens differently?
PO: Private gardens are usually all about a family, or an owner who has their own ideas about the parts of my work they like. Perhaps they have grandchildren that want somewhere to play. It's very personal. And can be complicated – as complicated as public parks are – but in a very different way. A public garden is for more than one family, more persons. It has its own restrictions, such as safety and what you can do in a city.
W*: You often work in expansive spaces, but how do you approach smaller spaces? What do you advise for people who are starting a small garden at home?
PO: I've done many, many small gardens – small public office gardens or private gardens. Most people are not designers, what they see is the plants they like. I say to budding gardeners, 'Buy the plants you like, don't try to be a designer.' That is what people can take from my work. If they see a combination they like in the gardens they visit, such as a grass with a plant, that's perfect. I say, 'Don't think bigger, because then you can do it yourself.'
W*: How far ahead do you work when designing a new garden? How much planning time do you take?
PO: It's at least one year. My planting palette is different to other landscapers, so we need to be sure the plants are available in growing season, or we have to let them grow. We use plants not only from the Netherlands but also from America. Some things like the High Line go on for years and years. I started in 2004 and the opening was in 2009, so five years.
W*: Do you have rules for colour combinations, mixing textures and using different heights and variations of species?
PO: When I'm designing, texture is on the first plan; colour comes second. Texture is the architecture, or the character, of a plant. When you meet a person and you see their body language or expression, you know if it's someone you like or don't like. It's the same with plants, and they don't have to flower to show you their character. A flower is exciting of course, they are beautiful, put them in a vase on your desk. But for many plants, the flowers are only for two or three weeks, or less, and then they are gone. So, it's good to have plants that have more to them than just flowers.
W*: Your approach to garden design considers all seasons. What's important about designing a garden that can provide joy year-round and in all weathers?
PO: I think every season is important, and everything that happens within that season is important for what you feel in the garden. When I design a garden, everything is thought of, including how it develops. In spring, at this time of the year, you don't need much [in your garden]. There is so much happening around you in the woodlands, in the fields, that is so fresh and energetic, that every little thing that happens captures your attention. The colour of the leaves in the woodland that sprout out very white and green, or a little bulb or flower that shows up in your garden. Everything is accelerating. That's how I think about making gardens, it's not just about the whole picture but about the details.
W*: Can you tell me about current projects, including Vitra garden you are creating, and the Detroit Oudolf Garden in Michigan?
PO: The planting at Vitra's headquarters is happening even though we cannot travel. We have good friends in France and Germany who have a network of people who really understand my planting schemes and can carry this out. Also, the team at Vitra is great so we communicate by WhatsApp or Facetime to get the technical details right. Detroit is going ahead, too. The design is done and I have a good network of people in America so if I can't come over they can set out the plants using my drawings. There is a really good understanding there.
The Garden Club of Michigan asked me if I was interested to do a garden and that's how it came about. Detroit is a city I was always interested in and I had never been, and it was just recovering from all the things from the past. It was the combination of exploring the city and creating a garden. The city is very interesting.
W*: You have said, 'Planting is good therapy for the times we live in.' What do you mean by that?
PO: We live in a terrible time at the moment [during the Covid-19 pandemic], and many people are rethinking their lives. People may not be out of jobs now, but you never know what happens after this. So many people were working in the city, and if you are a younger person, and you always were very stressed and working hard to get a good income, especially in very competitive businesses, wouldn't you think about what to do with your life? I've noticed that people in their careers sometimes can be very intelligent and have very good jobs, and then turn to something different, and I think the times we live in now will make that happen more than ever.
W*: How do you think these times will change our relationships with our gardens in the future?
PO: I think the circles will become smaller, of what will be produced and used. You can imagine that we won't want to import everything anymore. By rethinking our lives, we will become more engaged by nature and what is happening in our worlds. That's generalising, because many people don't even think about it, but I think a lot of things such as cities will become self-sufficient in a way.
You can imagine that the many farmers producing for export will consider producing smaller amounts to sell locally rather than to other countries. I think we are going to travel less for pleasure. We will try to find our satisfaction closer to home. And that's why I think gardening will be more important for the future.
Browse more Piet Oudolf gardens below
INFORMATION
oudolf.com
Tilly is a British writer, editor and digital consultant based in New York, covering luxury fashion, jewellery, design, culture, art, travel, wellness and more. An alumna of Central Saint Martins, she is Contributing Editor for Wallpaper* and has interviewed a cross section of design legends including Sir David Adjaye, Samuel Ross, Pamela Shamshiri and Piet Oudolf for the magazine.
With contributions from