Luca Guadagnino judges Wallpaper* Design Awards 2022
Italian film director Luca Guadagnino, who recently expanded his work into design and interiors, talks about his projects and judging the Wallpaper* Design Awards 2022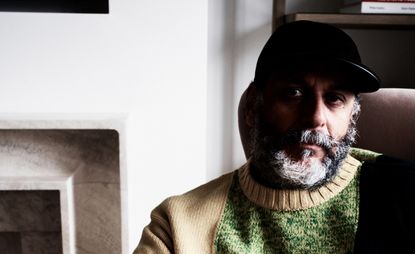 (Image credit: Portrait: Chieska Fortune Smith)
With a visual language that indulges viewers in seductive fashion and architecture, filmmaker Luca Guadagnino has etched a singular mark on the public imagination, giving sumptuous shape to movies like his breakout hit I Am Love and the Oscar-nominated Call Me By Your Name. Yet Guadagnino's eye for settings, costumes and landscapes also turns lavishness into a shroud for layers of emotional appetites, drawing us deeper into his tales as he examines the flares and interactions of human desire, all pulsing with enigmas under the gloss.
Luca Guadagnino: from film to design
The Italian director, who grew up in Ethiopia and Sicily, possesses a polymath's talent that has catapulted him into unexpected territories. He delved into the horror genre with the upcoming Bones and All film, set in America's Midwest and starring Timothée Chalamet, Taylor Russell, André Holland and Chloë Sevigny, after his previous remake of Dario Argento's Suspiria. He experimented with television in the probing coming-of-age series We Are Who We Are. And he took a deep dive into fashion with the recent documentary Salvatore, about Ferragamo's legendary founder, which followed on the heels of several campaign films for the brand alongside a number for Fendi, prompting The New York Times to label him 'fashion's go-to director'.
The Lake Como home of former Yoox Net-A-Porter Group CEO Federico Marchetti, with interiors by Luca Guadagnino
In a move that is at once surprising for an internationally renowned filmmaker, but utterly logical for someone with his precise sense of the sublime, Guadagnino moonlights as an interior designer. This second career began with the interiors of his 17th-century home in Crema, a small town an hour from Milan, which figured as a backdrop in Call Me By Your Name, and the design for a Lake Como getaway for his friend, Yoox founder Federico Marchetti. Guadagnino then founded his eponymous design studio, and current commissions include a new hotel in a landmark Rome building set to open in 2023, terracotta fireplace designs for the historical Nymphenburg porcelain company, and a series of private homes. As with his film sets, his design taste runs towards the misty colours of antique candy shops, and handwrought details by the kind of artisans still found in Italy and central Europe.
'Working in architecture and design has given me a lot of drive and focus,' says Guadagnino. 'Movies have been part of my personal landscape since I was a kid, but in learning new tools to attain new goals, I found something that relieves the repetition of cinema.'
That personal connection to the stimulating power of design drew him to the Space of Mind cabin (opens in new tab) in this year's Life-Enhancer of the Year (opens in new tab) category. 'It's a beautiful and articulate idea,' says Guadagnino of the cabin, whose Finnish timber planks form a construction of oblique geometries that gracefully mirror the natural slopes of terrain. 'It's a lovely organic shape that can easily fit in among green areas, and it would be great for public or private purposes.' He sees the cabin as a useful structure for cities to create havens of tranquillity for their residents, or as contemplative retreats in private gardens, describing it as 'an installation with a real benefit for people'. Guadagnino, who has a newly purchased plot of land to consider, had thought of constructing his own design for a contemplative space there, but, he says, 'I don't think I have to design it myself anymore – this one is already the perfect sanctuary.'
He was also captivated by Objects of Common Interest, citing the duo's intelligent approach to beauty, otherworldly creations, and 'a way of placing objects in space without any need for function'. After all, in Guadagnino's domain, the real function of the pieces of furniture and fashion we see is not utilitarian but to create allure and drama, to conjure an elegant realm as intriguing as the lives he portrays. It's a multi-layered method nourished by his friendship with Silvia Venturini Fendi, which began in 2005 and flowered into a long-running collaboration, including a film of poetic imagery shot at the Fendi headquarters for the A/W2021 couture collection.
'Fashion has a capacity for daring that doesn't exist in cinema,' he says appreciatively. 'When I discovered the world of Silvia, I saw she understood how to make everything contain a sense of memory, and how to simultaneously combine space, time and architecture into what she was doing. She expanded my knowledge of how you can work with many sectors at once, and make them interact.' The insight is at the root of Guadagnino's devastatingly voluptuous splendour, with all the yearning and volatility of his characters framed by the prettiness of his elegiac style.
Luca Guadagnino's film for the Fendi Couture A/W2021 collection
INFORMATION
@studiolucaguadagnino
The Wallpaper* Design Awards 2022 are revealed in full in the Feburary issue, on newsstands. Subscribe today! (opens in new tab)