Solar light and modular cabin win Life-Enhancer of the Year: Wallpaper* Design Awards 2022
Marjan van Aubel's 'Sunne' solar light and the Space of Mind cabin, by Studio Puisto, Made by Choice and Protos Demos, are the joint winners of this year's Life-Enhancer category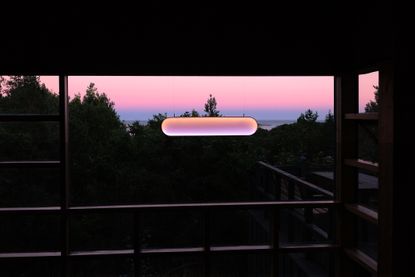 (Image credit: press)
JOINT WINNER
'Sunne' solar light, by Marjan van Aubel
Dutch designer Marjan van Aubel's solar light both captures the sun's energy and mimics its glow, evoking sunrise and sunset in your living room. Dubbing herself a 'solar designer', van Aubel works to promote energy efficiency through intelligent design; 'Sunne' employs technology developed in collaboration with Dutch energy research centre ECN.
At first glance, her design couldn't be simpler: an elongated panel, shaped like the horizon, is designed to hang on a window and capture sunlight during the day. Behind the scenes, a pattern of solar cells captures sunlight and recreates its intensity with three settings. 'I love this moment where we can see the last bit of the sun before it sinks down under the horizon and that is what you can see in the light – imitating different states of the sun during one full day,' she says. The lamp is the first in a range of solar-powered products for the home that van Aubel is developing.
Key features: a solar-powered lamp that recreates the different stages of the sun, from sunrise to sunset
marjanvanaubel.com (opens in new tab)
Read the full story here. (opens in new tab)
JOINT WINNER
Space of Mind cabin, by Studio Puisto, Made by Choice and Protos Demos
A collaboration between architects Studio Puisto, design company Made by Choice and interiors manufacturer Protos Demos, Space of Mind is a contemporary modular Finnish cabin, light enough to transport and install even in the remotest locations. 'Space of Mind is a modern cabin that acts as a dedicated space to think, recharge and unwind – somewhere we can find our own peace of mind,' explain the team.
A clean, minimalist, contemporary design, the cabin is made as a mass timber construction using ecologically sourced Finnish wood. At just under 10 sq m, the compact space comes with its own custom furniture that attaches to the wooden structure. 'As a concept, Space of Mind was initially developed in response to the ongoing pandemic,' say the team. Yet it could be easily applicable to several post-pandemic scenarios, and would make the perfect atelier, yoga studio or guest bedroom.
Key features: a sustainable wooden cabin design with custom furniture, offering flexibility and that coveted extra space to breathe
studiopuisto.fi (opens in new tab); madebychoice.com (opens in new tab); protosdemos.co (opens in new tab)m
SHORTLIST
'Masuku One' face mask, by Pentatonic and Natalia Vodianova, for Masuku
Design firm Pentatonic and entrepreneur and philanthropist Natalia Vodianova's new Masuku brand focuses on producing innovative and sustainable face masks with a perfect fit. Named after the Japanese word for 'mask' and initially devised as an anti-pollution mask, the project has acquired new urgency during the Covid-19 pandemic.
'Masuku One' features a sharp and colourful 'spacer mesh' fabric cover in 100 per cent recycled performance polymer, as well as a high-end compostable filtration membrane – made in the new state-of-the-art AirLab in Yorkshire, UK – that uses over 100 times less filtration material by weight than common mask filters.
Every material is either bio-based or recyclable at the end of its life. 'Between the fit and comfort, filtration and breathability, we created a mask that you can wear for many hours a day without undue inconvenience,' says Pentatonic co-founder Johann Boedecker. Vodianova concludes: 'Our masks offer a truly safe and comfortable breathing experience, with no impact on the planet.'
Key features: a comfortable, sustainable face mask combining cutting-edge technological innovation and a sleek design
Gardenwear capsule collection by Fiskars by Maria Korkeila
A collaboration between the Finnish home tools icon Fiskars and fashion designer Maria Korkeila, this 11-piece capsule collection re-envisions traditional gardenwear through the lens of the brand's Nordic design heritage. Made from organic and recycled materials, along with some vegan leather, the collection – Fiskars' first foray into fashion – blends functionality with a cool streetwear aesthetic.
Korkeila, who works as a fashion and textile designer in Paris and Helsinki, has fused her flair for handcrafted punk aesthetics with rich textures, nature-inspired prints and colours. The styles range from a water-repellent coat with removable hood and sleeves, to a gardening apron that boasts tear and abrasion-resistant pockets. 'The collection found its roots in Fiskars' immensely rich history,' says Korkeila, 'as well as in the activity of gardening itself, and the different positions you would take while working in the garden.'
Key features: a unisex and functional gardenwear collection with a cool streetwear aesthetic, made from recycled and organic materials
fiskarsgardenwear.com (opens in new tab); mariakorkeila.com (opens in new tab)
'Second skin' gift packaging by Ruinart, James Cropper and Pusteria 1880
Champagne house Ruinart's 'Second Skin' is a recyclable casing made entirely from pulped paper that mimics the memorable curves of the champagne bottle. It reflects two years of research by Ruinart, English paper manufacturer James Cropper and Italian packaging specialist Pusterla 1880. Colourform, a thermoformed packaging solution launched by James Cropper in 2017, has been made more opaque to protect the champagne from light exposure, and moisture-resistant so that it is able to withstand several hours in a bucket of ice. Designed as a single piece, it locks together satisfyingly by way of a snap button, recalling the white napkin that maîtres d'hôtels wrap around champagne bottles.
Its impressive sustainability credentials include using only cellulose harvested from FSC- or PEFC-certified forests, and reducing the carbon footprint by 60 per cent compared to traditional gift boxes. Unusually, Ruinart has not sought to patent its design, in the hope that it will kickstart a revolution in industry practices.
Key features: an unpatented, beautifully designed, sustainable gift packaging protecting champagne from light and moisture
ruinart.com (opens in new tab); jamescropper.com (opens in new tab); pusterla1880.com (opens in new tab)
INFORMATION
The Wallpaper* Design Awards 2022 feature in the February 2022 issue of Wallpaper*. Subscribe today! (opens in new tab)
Rosa Bertoli was born in Udine, Italy, and now lives in London. Since 2014, she has been the Design Editor of Wallpaper*, where she oversees design content for the print and online editions, as well as special editorial projects. Through her role at Wallpaper*, she has written extensively about all areas of design. Rosa has been speaker and moderator for various design talks and conferences including London Craft Week, Maison & Objet, The Italian Cultural Institute (London), Clippings, Zaha Hadid Design, Kartell and Frieze Art Fair. Rosa has been on judging panels for the Chart Architecture Award, the Dutch Design Awards and the DesignGuild Marks. She has written for numerous English and Italian language publications, and worked as a content and communication consultant for fashion and design brands.