Design Museum exhibition puts waste front and centre
'Waste Age: What Can Design Do?' at the Design Museum, London (until 20 February 2022), presents design's proposals and solutions to the issue of waste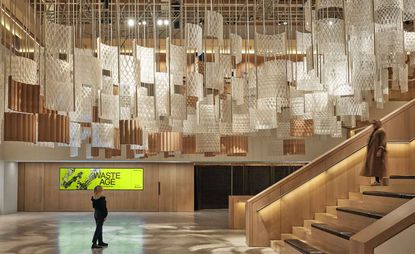 (Image credit: TF CHAN)
'Of all the products of human hands, [waste] is the oeuvre that no one wants to own, discuss or preferably even see,' says Justin McGuirk, chief curator of the Design Museum, as the institution unveils 'Waste Age: What Can Design Do?' (until 20 February 2022). Co-curated by McGuirk alongside Gemma Curtin, the exhibition coincides with the UN Climate Change Conference (COP26) and features the work of design visionaries and pioneers of new ways of repurposing and reinventing our relationship with waste.
The waste problem
The exhibition opens with a section titled 'Peak Waste', highlighting the environmental and waste cost of mass production. Considering landfills, mass production, and throwaway culture through history and design, the display culminates in a timeline exploring humanity's relationship with waste from the 1700s until today.

The timeline in particular offers a sense of the urgency of the problem, as the issues of production, consumption and waste become more multifaceted and complex in contemporary history. 'We must face the problem of waste – we can no longer ignore what happens to things when we get rid of them,' says Curtin.
Designing with waste
After walking through data and images that might give visitors a sense of facts-induced doom, the exhibition opens up (literally and figuratively) into a hall filled with ideas, proposals, prototypes and hope. This section, divided into 'Precious Waste' (celebrating the designers repurposing leftover materials in their work) and 'Post Waste' (exploring ways in which waste can be repurposed for design) is where things turn optimistic, highlighting how designers, makers and creatives are addressing the issue with practical solutions.

'Instead of thinking of objects as things that have an end life, this exhibition proposes that they can have many lives,' says Curtin.
The pieces on display demonstrate the breadth and depth of the design industry's involvement in tackling the waste problem, from Formafantasma's 'Ore Streams' (opens in new tab) investigations to Christien Meindertsma's 'Renoleum' (opens in new tab) project, to Drift's 'Materialism', the result of ongoing research into materials (from steel and rubber tomato oil and porcelain) and their appearance.

The 'Precious Waste' section exhibits range from fashion by Stella McCartney, and Adidas x Parley for the Oceans, to recycled plastic furniture designs by the likes of Soft Baroque, James Shaw and Jasper Morrison for Emeco, and PriestmanGoode's 'Zero' takeaway packaging design (opens in new tab). Bricks, tiles and other construction materials are also featured, as are projects that look at repurposing architectural structures in the spirit of adapting and repairing.

'Post Waste', on the other hand, includes the ongoing work by designers who are working with materials such as mycelium, rice husks, fish-farming and agricultural waste. This section includes innovations such as Faber Futures' 'Project Coelicolor' (opens in new tab), or Fernando Laposse's agave and corn husk waste furniture.

'Design has helped create our wasteful society, and it will be crucial in building a cleaner future,' says McGuirk. 'That means rethinking the lifestyles and materials that do so much damage. This optimistic exhibition demonstrates the energy and ingenuity being applied to the challenge – and we want it to mark a turning point. There is so much we can do, but it begins with understanding our waste.'
Specially commissioned installations
Aurora, by Arthur Mamou-Mani, in partnership with Dassault Systèmes
Suspended from the Design Museum's soaring atrium is a 3D-printed modular installation by London-based French architect Arthur Mamou-Mani, a pioneer in additive manufacturing. The architect, who has created 3D-printed architecture for the likes of Burning Man and Milan Design Week (opens in new tab), has on this occasion devised a cascading curtain of some 300 modules, printed from bioplastic polylactic acid (PLA), a non-toxic thermoplastic derived from sugarcane. Titled Aurora, it's an example of how design, science and industry can come together and enable us to produce more sustainably.

With gentle variations in form and opacity, the alluringly patterned modules are testament the capabilities of parametric design and 3D-printing; their relatively small size and simple metallic rods that hold them in place ensure that they can be easily dismantled and reassembled at another location, or repurposed as room dividers once the exhibition ends. Spotlights have been strategically placed around the installation, filtering through the translucent modules to create playful patterns of light and shadow across the atrium floor.

An accompanying display on the mezzanine level includes statistics that illustrate the virtues of PLA – compared to ABS, a petroleum-derived thermoplastic, it requires less water, minerals and metals, and comes with less risk of respiratory and carcinogenic effects. A 3D-printer and plastic crusher are installed adjacent, so visitors can witness the modules being crushed, melted and reformed, as PLA is recycled and printed again in a continuous loop.

Says Mamou-Mani of the presentation: 'It's crucial that designers start thinking beyond the time frame of their projects, where the material came from, where it is going, how it can be reconfigured. The entire lifecycle needs to be taken into consideration. Aurora demonstrates that this is possible today, if only we adjust our thinking.'
Fadama 40, by Ibrahim Mahama
Ghanaian artist Ibrahim Mahama (opens in new tab), known for transforming materials gathered in urban environments into ambitious installations that explore migration, trade and exploitation, has created a new installation for 'Waste Age'. Titled Fadama 40, it comprises 40 CRT television sets salvaged from Agbogbloshie, the world's largest electronic waste dump, situated outside the city of Accra.

Agbogbloshie is a consequence of the developed world's infatuation with the new – in our aggressive pursuit of sleeker, faster, slimmer electronic devices, we rarely hesitate to throw out older versions. Many of our old electronics end up here, imported as 'secondhand consumer products', then improperly disposed of, causing widespread pollution and chronic illness. Mahama's installation, which has the 40 TVs arranged into a gigantic media wall, suggests the enormity of the issue, but also points to the toil and ingenuity of Agogbloshie's scrap dealers, recyclers and makers.

On some of the screens, we see video footage of people using rudimentary methods to extract copper from electric wires, burning the plastic insulation and creating toxic fumes in the process. Mahama has used this recovered copper to create new frames for the TVs, offering physical evidence of the possibility of renewal but also pointing to its human cost.

Not enough people take the time to understand the people of Agbogbloshie, explained Mahama in a talk at the Design Museum shortly before the opening of 'Waste Age'. They have often been stereotyped, their home likened to Sodom and Gomorrah. He hopes that the installation will give visitors a renewed sense of perspective, a greater appreciation for the hard labour that goes into recycling, as well as a heightened awareness of the global implications of our relentless consumption.
INFORMATION
'Waste Age: What Can Design Do?' is on view until 20 February 2022
designmuseum.org (opens in new tab)
ADDRESS
224-238 Kensington High St
London W8 6AG
VIEW GOOGLE MAPS (opens in new tab)
Rosa Bertoli was born in Udine, Italy, and now lives in London. Since 2014, she has been the Design Editor of Wallpaper*, where she oversees design content for the print and online editions, as well as special editorial projects. Through her role at Wallpaper*, she has written extensively about all areas of design. Rosa has been speaker and moderator for various design talks and conferences including London Craft Week, Maison & Objet, The Italian Cultural Institute (London), Clippings, Zaha Hadid Design, Kartell and Frieze Art Fair. Rosa has been on judging panels for the Chart Architecture Award, the Dutch Design Awards and the DesignGuild Marks. She has written for numerous English and Italian language publications, and worked as a content and communication consultant for fashion and design brands.
With contributions from