'Finding quality through the act of making': Pearson Lloyd celebrates 25 years of design
Pearson Lloyd's show 'Change Making' reflects on past designs from its archives, showcasing the influences on and evolution of the studio, from furniture design to the NHS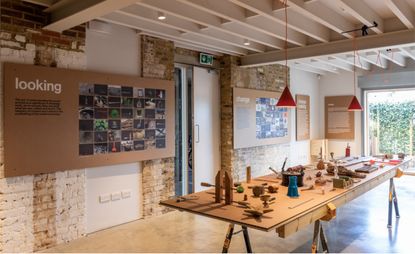 (Image credit: Alex Sarginson)
Wallpaper* Newsletter
Receive our daily digest of inspiration, escapism and design stories from around the world direct to your inbox
Thank you for signing up to Wallpaper. You will receive a verification email shortly.
There was a problem. Please refresh the page and try again.
Established in 1997, Pearson Lloyd prides itself on developing products for a changing world. Its ongoing collaborations with Teknion, as well as a more recent surge towards sustainable design with Bfriends, exhibit the studio's ability to cover all bases with its constant evolutions. To summarise the learning curves explored and experiments pursued over its 25 years of design, the studio presented 'Change Making' as part of London Design Festival 2022 – and as a mark of accumulated knowledge.
The exhibition, which coincided with an open house in the studio's adjoining offices, starts by showcasing everyday objects – a display table covered in naturally worn down fragments of brick, spoons, ladles and an eclectic range of brushes. The table holds a mixture of naturally occurring structures as well as carefully man-made ones – demonstrating the evolving understanding in Pearson Lloyd's designs, and the inspiration derived from logical solutions. The team say that 'as designers, finding quality through the act of making is a constant in our work'.
Looking at a historic collaboration with Knoll, in which the studio came up with the 'Homer' caddie, Pearson Lloyd presents changes made at technological turning points. The caddie, created in 1997, came at a time when mobile working first appeared, thanks to the invention of WiFi and laptops.
While the 'Homer' caddie now sits as a relic of 1990s design, Pearson Lloyd has continued to keep both people's needs and the changing needs of the environment at the centre of its creations. Its collaboration with Bene and Batch.Works caters thoroughly to the needs of our current ecological climate, using 100 per cent recycled bioplastics diverted from post-consumer waste to create 'bfriends', a collection of 3D-printed office organisers, pots, hooks and stands. The pieces are charming and lightweight – for example, in a new product, a simple plastic structure holds together three wooden poles that twist together within the closed-loop circular design to form a coat stand.
The use of 3D-printing removes a plethora of sustainability faux-pas – the removal of injection moulds and the introduction of localised production reduces energy consumption, while the ability to print on demand reduces the need for storage and waste. Elsewhere, the team are looking at genuine material solutions to the climate crisis and have collaborated with Polish company Profim on 'Revo' seating and screens in a confident stride towards a more circular economy. The pieces have been made using recycled expanded propylene to reduce weight, and consequently the carbon footprint of production and transport. The furniture also deconstructs, making it easier to recycle the materials and replace parts.
'Change Making' summarises Pearson Lloyd's vision, showcasing where it has utilised research and observation to design accessible NHS service delivery programmes, social working spaces in collaborations with Teknion, and intriguing and minimalist furniture designs. The exhibition demonstrates the ongoing reflection that the studio channels for ever-evolving relevance in design.
INFORMATION
Receive our daily digest of inspiration, escapism and design stories from around the world direct to your inbox
Martha Elliott is the Junior Digital News Editor at Wallpaper*. After graduating from university she worked in arts-based behavioural therapy, then embarked on a career in journalism, joining Wallpaper* at the start of 2022. She reports on art, design and architecture, as well as covering regular news stories across all channels.
With contributions from