Rossana Orlandi presents Guiltless Plastic at Milan Design Week 2021
Guiltless Plastic is Rossana Orlandi's thrilling exploration of the material's potential for recycling and upcycling in design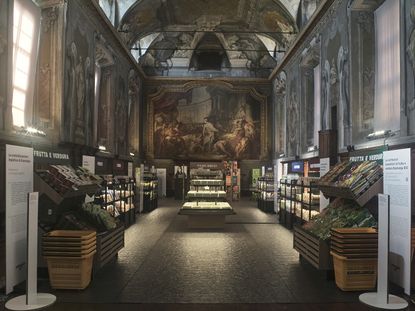 (Image credit: Marco Menghi)
Investigator of trends and promoter of new talents, Rossana Orlandi has selected a series of objects and design ideas that are recycled or recyclable to present at Milan Design Week 2021. Titled Guiltless Plastic, the project originates from the idea that plastic is not in itself something to blame – on the contrary, according to Orlandi, plastic waste can easily be considered one of the biggest resources available with potential to be transformed, so it's fundamental to promote the recycling and upcycling of plastic in design.
Guiltless Plastic 2021
For its 2021 edition, Guiltless Plastic has been impressively set into the Museo Nazionale della Scienza e della Tecnologia Leonardo da Vinci, the largest science and technology museum in Italy. Just a stroll from Orlandi's gallery, it has been turned into a farsighted space where design meets art and architecture to address re-waste.
Inside the museum, the mix of past splendour and tension towards the future is apparent. The cloisters (the museum occupies the spaces of a former Benedictine monastery) are turned into the Hall of Waste, a scenic succession of projects by eco-friendly companies and designers, while the gardens are converted into a TrashFormation Village devoted to low environmental impact architectures. These include the Houseboat designed by Lucio Micheletti, a blue micro-living unit on two levels celebrating life on a boat; and the Circular Lab designed by architect Mario Cucinella, a recyclable arena made through the assembly of tanks usually used for the collection of industrial waste.
Nearby, under impressive Baroque frescoes, the Sala del Cenacolo – a former refectory of the monastery, opened to the public last year after a renovation – is transmuted into a modern supermarket, or Re-Food Market, set up with an installation dedicated to the recovery of food waste. There's even a school, whose walls are made with recycled and recyclable chairs by Danish architecture studio Lendager Group.
Alongside Guiltless Plastic, Rossana Orlandi launched the third edition of its Ro Plastic Prize, an international award committed to stimulating creativity and social responsibility on the issue. The winners of this year's edition, just announced, are Maria Koijck, with a touching video in which she lies in the midst of a huge amount of waste resulting from an operation she underwent for breast cancer; zero-waste portable bluetooth speakers made out battery cells from e-bikes by the sustainable design company Gomi; and Álvaro Catalán de Ocón's rug woven with recycled plastic debris, called 'Plastic River No.6 Ganges' and displaying a map of the Ganges region, one of most polluted rivers in the world.
Patricia Urquiola's 'Nuances' rug for Gan, made by discarded felt fibre
INFORMATION
Receive our daily digest of inspiration, escapism and design stories from around the world direct to your inbox