Inside Bali's new Circular Design Workspace
At Museum of Space Available in southern Bali, creative director Daniel Mitchell reimagines the possibilities of plastic waste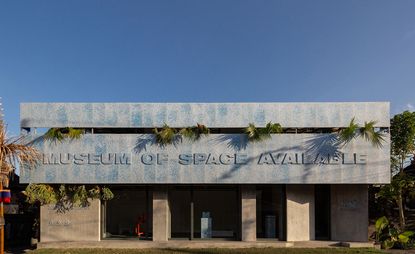 (Image credit: Tommaso Riva)
In times of disruption, new ideas grow. For Daniel Mitchell, the former creative director of Bali's trailblazing beach club and eco-playground Desa Potato Head, that rang true when the pandemic brought the island's tourism industry to a standstill. At Potato Head, he was a linchpin in the project's transformation into one of Asia's most envelope-pushing sustainable communities and oversaw the creation of the craft-forward Katamama Hotel (now renamed Potato Head Suites) and its expansion into the OMA-designed Desa Potato Head creative village.
'When the pandemic struck, there was this void. It was as if the world had stopped,' Mitchell says. 'At Potato Head, we had been striving for years to make these sustainable changes and thought they'd only happen slowly. The space made available because of the pandemic opened up the opportunity to implement new systems and ways of thinking.'
Mitchell filled the void with Space Available, which started out as an online platform and podcast series for his thoughts on everything from mental wellbeing to agro-culture and utopian communities, heavily inspired by Stewart Brand's counterculture bible The Whole Earth Catalog.
In the following year, these ideas manifested into a collection of physical objects, including blue marble-like coasters and incense holders made from recycled bottle caps and chairs made from post-consumer plastic waste (not unlike Jane Atfield's RCP2 chair) designed in collaboration with DJ Peggy Gou. Soon after, Mitchell's recycled plastic homeware and garments from upcycled cotton and twill (hand-coloured with dye from black umbrella leaf) were sold at Selfridges and Dover Street Market boutiques around the globe. And now, with the opening of Museum of Space Available (MoSA) in summer 2022, they're available on Mitchell's home turf.
The new gallery, pitched up in a derelict building along the main road of Canggu, a coastal community in southern Bali, is the product of a collaboration with local architecture studio Sidarta and Sandjaja. The duo stripped the building back to its concrete skeleton and added a pressed-plastic façade from more than 200,000 recycled plastic bottles made in partnership with Surabaya-based design workspace Robries. The two-storey space houses a boutique, a workshop space, and a recycling station offering free repair services for Space Available products.
On the ground floor, research studies by Mitchell and his team of collaborating artists, designers and bio-innovation scientists result in exhibitions that span physical products, sculptures and digital elements such as video installations and NFTs. MoSA's opening exhibition, 'Plastic People', zeroes in on the drastic effects of synthetic plastics on our environment and highlights the alarming presence of plastic particles everywhere from the depths of the Mariana Trench to the very cells of the human body. Next up, an exhibition on fungi explores the creative possibilities of lab-grown mycelium in a post-plastic-waste world.
Mitchell's work draws heavily on local crafts and skilled artisans, using modern materials to propel ancient techniques into the future. Collaborations with Balinese craftspeople such as master weaver Nano Uhero (who helped create a chair from wood, rattan, and woven recycled plastic rope) don't just benefit the local environment, but also uplift the craft community and related businesses. 'Craft culture is at the very core of what we do, and we couldn't have done all this without the people of Indonesia,' Mitchell says. 'It's a real collaboration where everybody wins.'
INFORMATION
spaceavailable.tv (opens in new tab)
ADDRESS
Jalan Pantai Batu Mejan 33a
Kabupaten Badung, Bali
Indonesia
VIEW GOOGLE MAPS (opens in new tab)