Recycled eggshells make cracking sustainable wall tiles
Ethical design brand Nature Squared elevates the egg with its collection of eggshell wall tiles in collaboration with Hong Kong designer Elaine Yan Ling Ng, now presented at Rossana Orlandi in Milan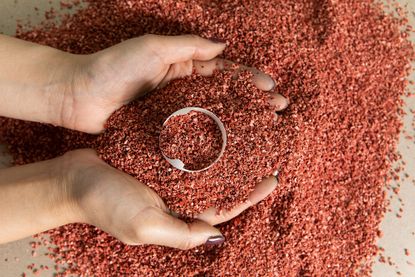 (Image credit: Miguel Nacianceno)
Vegans, look away. Each year, around 250,000 tonnes of chicken eggshell waste is produced around the world and, to no one's surprise, much of this ends up in landfill. All the more reason then to applaud the debut of 'Carrelé', an ecologically sustainable collection of wall tiles, handmade from recycled eggshells, and presented in an installation by Nature Squared at Rossana Orlandi Gallery in Milan, during Salone del Mobile 2021.
Inspired by the use of eggshell waste in medical and dental therapies, 'Carrelé' was created by Elaine Yan Ling Ng, newly appointed chief material innovator for Nature Squared. It is one of her first projects for the UK-based studio that turns natural materials such as abalone shells, abandoned termite nests, grass and seeds, and even stones, into sustainable construction material. If this solid biowaste is good enough for the medical industry, reasoned the British-Chinese designer, 'that's proof enough that it has great strength and stability and, with a change of formula, these properties may be used in other industries such as architecture'.
Eggshell tiles: collection by Nature Squared and Elaine Yan Ling Ng
Two years in the making, 'Carrelé' – the name is a mash-up of the French word for tile and the periodic symbol for calcium – is produced in Nature Squared's factory, in Cebu in the Philippines, where 3,000 organic white eggshells from local bakeries, kitchens and Nature Squared's own eggshell-inlay studio are crushed, combined with a binding agent, then cured at room temperature to create a square metre of tile.

'We tend to associate eggshells with fragility, but they're actually very strong and naturally UV-resistant,' says Ng, a Central Saint Martins alumnus in textiles. 'They also absorb natural colours sustainably in fascinating ways, making them a wonderful building material. We use natural dyes, such as indigo, madder and chlorophyllin.'
The easy-to-clean tiles can be applied to walls, including wet areas in bathrooms and kitchens, and there are plans to extend the product to flooring. 'I love their unexpected visual versatility,' says Lay Koon Tan, who co-founded Nature Squared with Paul Hoeve in 2000. 'They're reminiscent of terrazzo, but they're obviously not terrazzo.'
The 'Carrelé' collection isn't just pretty to look at or touch. It also represents a broader approach to sustainable design, specifically an agenda which Ng says 'strives to achieve and improve social sustainability, local work opportunities and inclusive and circular design, and reduce local methylation'.

It's an ethos that especially resonates with Tan. The appointment of Ng – whom she met at Rossana Orlandi's gallery during Salone del Mobile in 2019 – finally closes a gap in Nature Squared's production loop. In the past, the studio only worked on bespoke designs, including a wellness cabinet with Singaporean designer Olivia Lee for Wallpaper* Handmade 2018. Says Ng, 'Bespoke work doesn't usually involve repeat processes, nor does it maximise an existing supply chain or natural materials' potential, which limits the amount of natural waste that can be used. With eggshells, for example, most people see them as waste, but I see an endless playground and limitless resource.'
Tan agrees. 'We want to divert larger volumes of waste away from landfill and into new methods to create unique and innovative products at more accessible prices.' These are ambitious goals, to be sure, but Ng is pushing ahead. She's currently experimenting with seashells which, like eggs, are bioceramic and CO2-absorbent; and, every year, seven million tonnes of the stuff are generated by the seafood industry. 'Elaine's brief is to apply her creative energies to each of our materials in turn,' says Tan. 'All designers are creative, but she applies her creativity within a wider social and environmental awareness. She designs for a greater good, rather than simply for beauty or function.' 
INFORMATION
'Carrelé' wall tiles, from €595 per sq m, by Nature Squared
naturesquared.com
The Barn installation by Nature Squared is at Rossana Orlandi in Milan until 12 September 2021
rossanaorlandi.com
Daven Wu is the Singapore Editor at Wallpaper*. A former corporate lawyer, he has been covering Singapore and the neighbouring South-East Asian region since 1999, writing extensively about architecture, design, and travel for both the magazine and website. He is also the City Editor for the Phaidon Wallpaper* City Guide to Singapore.
With contributions from