Finnish village Fiskars opens new art and design Biennale
British designer Jasper Morrison co-curates the inaugural festival, appointing 18 international designers to create benches for the village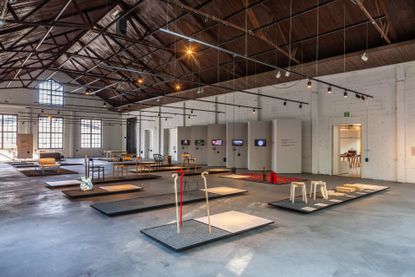 (Image credit: press)
'If one could imagine where an ideal post-pollution society would live, it should probably be modelled on Fiskars,' says British designer Jasper Morrison. He first visited this leafy village in southwest Finland two years ago, and like many others, he was smitten. 'I came away with a rare optimistic sense of what the future might hold,' he says. Now, he is co-curating Fiskars' first Art and Design Biennale.

Fiskars began life as the country's first industrial town, laid out along a river valley, and built up from the 17th century by the corporation that still shares its name. Best known for its ubiquitous orange-handled scissors, Fiskars today owns brands such as Wedgwood, Waterford and Iittala, but its roots are in ironware: knives, tools and cutlery. The company grew too big for the village but before they left, in the 1990s, Fiskars did something rather enlightened. They invited artists and craftsmen from around Finland to come and live in Fiskars, for free, and to use its stock of handsome industrial buildings as workshops, and live in its workers cottages – initially for free.

Today there is a waiting list. Fiskars is a popular place – a thriving, 600-strong community of artists and craftspeople of every description, including furniture makers, sculptors, ceramicists, glassblowers, blacksmiths, jewellers, graphic designers. It also has its own brewery, gin distillery and wood-fired community sauna, not to mention one of the best-stocked gift shops in the world.
Morrison was particularly taken by Nikari, one of Fiskars' first post-industrial settlers, and a furniture company that's almost too Finnish to be true. It was founded in 1967 by master craftsman Kari Virtanen, who once worked with modernist masters such as Alvar Aalto and Kaj Franck. And as one would expect, Nikari turns out elegant, timeless, beautifully made furniture, using mainly northern european wood provided by the sawmill next door. Its base is a 19th century machinery workshop.

In 2012, Nikari commissioned Morrison and Wataru Kumano to design their December Chair, part of a series of designs to mark Helsinki's World Design Capital status. It was a meeting of minds, says Morrison. 'I have always been drawn to the richness of Finnish design, its mix of clean modern lines and its mysterious, atmosphere-lifting character. Nikari is an ideal platform for continuing the tradition.'
For Fiskars' inaugural Biennale they are working together again. Morrison has commissioned 18 international designers – including Martino Gamper, Inga Sempé, Maria Jeglinska and Keiji Takeuchi – to design benches for the village, some of which are fabricated by Nikari. 'I wanted to find a project with a social angle,' says Morrison, 'and thinking of the beautiful river which runs through the village and happens to link the two venues of the biennale, the idea of placing benches along it was an obvious choice.'

Perhaps Morrison is thinking in the long term. Like most visitors to Fiskars, he is planning on returning regularly. In fact, he confesses. 'I wouldn't mind living there one day.'
INFORMATION
Fiskars Village Art and Design Biennale is on view until 15 September. For more information visit the website (opens in new tab)