Porto Design Biennale evaluates post-millennium creativity
For the first edition of Porto Design Biennale, curators ask big questions about global issues in locations across the coastal city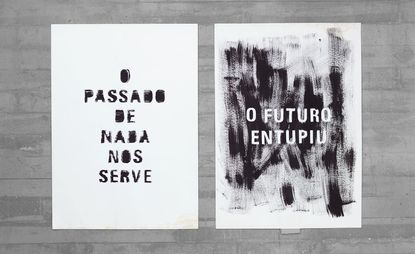 (Image credit: Photography: Inês D'Orey)
In Portugal's current positive economic climate and the recent political elections, this was high time for the first edition of Porto Design Biennale to open. The public event is curated by José Bàrtolo, promoted by the University of Art and Design ESAD and takes place between the city of Porto and the nearby town of Matosinhos until December.
The festival lives up to the format of a contemporary biennale with multi-formatting and multi-media projects, shows and activities diffused throughout the different venues. Here, design is once again cast in a complex role, as a vehicle for transformation. With the title 'Post Millenium Tension,' the biennale evoked an immediate sense of urgency. This theme comes to fruition via a number of ways – exploring the relationships between environment and industry, finance and technology, freedom of expression and new media. For visitors to the Biennale, there is also an offering of public events including forums, round tables and performances.
At Galeria Municipal do Porto, exhibition 'Millennials – New Millennium Design' maps out not only how the intentions, values and processes of design have changed over the last twenty years, but also how the idea of authorship and the whole driving force behind the industry have developed. With his exhibition, Bàrtolo aims to bring the visitor closer to a wide range of areas and interactive themes present in design today.

Some of Portugal's most prominent curators, such as Vera Sacchetti, Mariana Pestana and Marina Otero Verzier, are celebrated at 'Fiction Practice – Young Curators Lab,' a workshop of expanded curatorship imagining new relationships between objects and ideas. Climate change and civil rights in graphic design and visual communications was explored by Helena Sofia Silva. Her exhibition at Casa da Arquitectura, titled 'Que Força É Essa — Protest and Democratic Engagement In Portugal: Handmade Posters From The Ephemera Archive,' is explicit and powerful, and relays the immediacy of a global issue that effects politics, communities. Included is a collection of direct first hand accounts of Portugal's public protests from 2012 to the present day.
Elsewhere, 'Portugal Industrial – Links Between Design and Industry' is a clear example of how political ideals can be pursued from the more traditional fields of industrial design. Curated by Megan Dinius and Michel Charlot, the exhibition is situated in the halls of Artes Mota Galiza and shows a selection of products that illustrate the extraordinary potential of Portuguese industrial production. In our design conscious landscape, this exhibition is not just another case of greenwashing, and rather it aims to highlight the intellectual honesty of well-designed, functional, long-lasting, beautiful objects.

'Portugal Industrial' also raises the question of the environmental impact of contemporary production – a query that is as important as reducing emissions and using environmentally friendly or recycled materials in the quest to change the paradigm of the production industry. Here the audience is made to question the labels 'Made in Germany', 'Made in Italy' and 'Crafted in France,' as some items are actually finished or partially produced in Portugal.

Porto Design Biennale invited Italy to be its guest of honour for this first edition with three exhibitions dedicated to Italian design. The first is a retrospective of the work of Neapolitan maestro Riccardo Dalisi; the second is a new interpretation of design icons of the 20th century by radical designer Paolo Deganello; and the third, entitled 'Frontiers (Frontiere),' is dedicated to the new generation of young Italian designers.
INFORMATION
Porto Design Biennale runs until 8 December 2019. portodesignbiennale.pt (opens in new tab)