Inside Casa do Passadiço's dynamic new interior boutique in Lisbon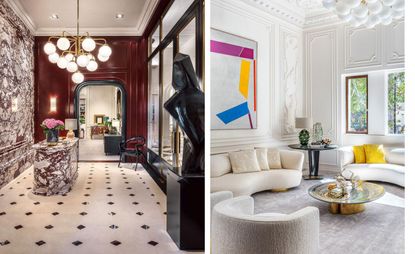 (Image credit: press)
'We think the same. We never have to speak, she knows what I am thinking,' says Cláudia Soares Pereira of the connection with her sister Catarina when designing interiors under their family brand, Casa do Passadiço. This powerful family spirit lays the foundations of their latest project, a glittering new Lisbon boutique.

The sisters grew up around great taste and keen eyes for design. 'My grandfather was an industrialist but was also interested in antiques. He loved to go to auction houses and was very cultivated man. My mother inherited that, and so was my father. We are from a family that loves beautiful things.'

Casa do Passadiço was founded in 1992 by their mother Catarina Rosas in Northern Portugal, in the region of Braga, where their flagship atelier lives in an 18th century manor house. Here, strong female energy was embedded into the brand from the onset. 'She was very brave, and we know that we owe her a lot,' Cláudia says. ' Everything we know, it is from her.' While being proudly Portuguese, the duo scour flea markets to auction houses across the globe to bring to fruition their treasure trove inside the new Lisbon boutique, which of course, got the seal of approval from their mother.
Facing the Spanish Consulate on one of the most reputable fashion streets in Lisbon, Avenida da Liberdade, the building was realised by an Italian architect in the 1900s as the private home of a wealthy musician, before turning into bank later on in life. Now, original marble flooring and restored classical plaster frescos retain its era appearance, while a peppering of vintage, contemporary and midcentury comes together as the Casa's eclectic aesthetic.

'It is very important to make this mix,' the duo says of the their decoration of the 200 sq m space. Venetian Chic, Eternally Ritz and Chateau Life are just come of the Assouline tomes found in the space – a nod to the grand aura that includes a Vittorio Dassi table in marble, Vladimir Kagan sofa, and a unique wooden bench from Africa that appears as a recliner, but that was a bed for malaria sufferers in the past.
Rich compositions in the showroom unravel as a playground of the sister's stimulating experimentation and discovery. A large Julian Opie print brings playfulness to another room, while the back room is an Instagrammable meld of large mirrors, leopard print chairs and coral walls.

Casa do Passadiço are best known for forming the visual identify inside stores for fashion brand Aquazzura. From Moscow to Dubai, the duo immerse themselves in the culture and architecture of a city – 'we get a lot of inspiration in cathedrals,' they muse.

When discussing how Portuguese landscape design has evolved, Claudia understands it has been a rocky road. 'We have always had the good manufacturing to make pieces, but we didn't have good design, but now it is changing.' With so much under their belt already, next in the Casa do Passadiço plan is to launch their own furniture, for which they will call upon their artisans in Northern Portugal to produce locally made products, 'it is the right time to be present here.'
INFORMATION
ADDRESS
Avenida da Liberdade, 166
1250-096 Lisboa, Portugal