Assessing the pitfalls and potentials of the information age
The world's longest running Biennial of Design in Ljubljana questions data, fake news, AI in the post-truth era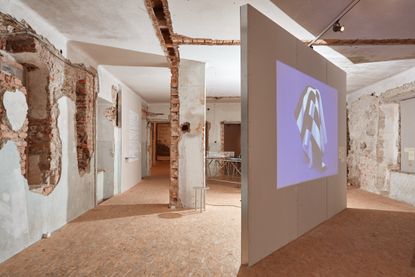 (Image credit: Press)
Ljubljana: a picturesque, mountain-ringed town, spliced in two by a meandering river. Known for its ever-present rain and quaint cobbled streets, it's also – somewhat surprisingly – an increasingly hospitable place for contemporary design research.

The Ljubljana Biennial of Design is the longest-running design Biennial in the world. Founded in 1963, it is now on its 26th iteration. What started as a showcase for Slovenian industrial design has evolved in recent years to tackle decidedly bigger picture issues. 2017's BIO 25, curated by Angela Rui and Maja Vardjan, animated rural areas throughout the country with a series of offsite projects, while BIO 24, the fair's 50th anniversary curated by Jan Boelen, highlighted the role of design in everyday life.
The 26th edition, however, looks at how design is influenced by the less tangible aspects of modernity. Under the banner, 'Common Knowledge,' co-curators Thomas Geisler and Aline Lara Rezende set out to map the proliferation and manipulation of information in contemporary society.

Writing in the curatorial statement, the Geisler and Rezende state: 'How and where do we receive our knowledge? Which sources do we trust? How can we be sure of the information we use to build our store of knowledge? Although we have access to more information than any generation before, we are increasingly challenged in our effort to make well-informed decisions. In today's knowledge society, we have to deal with manipulated news and alternative facts. Citizenship and governance both appear to have been shaken to their very foundations in this post-truth era.'
Comprising a central exhibition at MAO, Ljubljana's museum of architecture and design, as well as six off-site 'design challenges', the main showcase was organised into four sections, informed by Russell L. Ackoff's 1989 essay From Data to Wisdom: Data, Information, Knowledge, Wisdom and Information Crisis. Projects dealt with censorship, data privacy, visual communication, copyright — all the way to agriculture and exploration of the natural world.
The pieces ranged from the playful — for example, Giorgia Lupi and Stefanie Posavec's Dear Data, a series of hand-drawn and illustrated postcards that tracked the pair's domestic data between London and New York — to the perverse. Netherlands-based Cream on Chrome presented their latest project, 4D News, which followed the evolution of news media messaging. In this case, stories covering the war in Syria, and how journalism can become 'prey to polemical spin.' Using a sliding scale that allowed the viewer toggle between years, the team exhibited how easily political messaging can be manipulated over time.
Indeed, projects focussed on Fake News were a common theme. In a video clip, entitled Fake Good News, Slovenian artist The Miha Artnak manufactures hysteria around a non-existent artwork — an expressionist painting slathered with pigeon faeces purportedly sold for 1 million euros in China — by creating fake news stories and videos online. The hoax inevitably goes viral and ends up on the front page of the Slovenian newspaper, proving the artist's point that 'Good News' travels fast.
A timely inclusion was that of Kate Crawford, one of the leading researchers into the social implications of data systems, who presented her Anatomy of an AI System, which won the Design Museum's Beazley Design of the Year the following week.
The biennial's offsite projects were a particularly bright spot. Partnering with local institutions, six groups of students and their mentors created projects designed to enable the sharing of knowledge within each particular context. A university, library, botanical garden, contemporary art museum, local newspaper and retirement home were chosen to participate.
One example, 'Bodies of Knowledge' exhibited at The Museum of Modern and Contemporary Art, created an interactive archive of contemporary dance. Drawing from the museum's otherwise under-utilised collection, the fascinating installation invited visitors to attempt a series of prescribed dance moves. When performed successfully, a mechanism would be triggered to search and display a similar movement from the museum's video archive. The project was both playful and telling. It exhibited just how sensitive motion surveillance technology has become in reading and interpreting our movements in the public sphere, illustrating in a legitimately engaging way the pitfalls and potentials of the information age.
Laura May Todd is a Canadian-born, Milan-based journalist covering design, architecture and style. In addition to the Italian dispatches she writes for Wallpaper*, she regularly contributes to a range of international publications, including T: The New York Times Style Magazine, Architectural Digest, Elle Decor, Azure and Sight Unseen. Prior to her work as a journalist, she was assistant editor at London-based publishing house Phaidon Press.